Well, dear readers, I finished listening to the mammoth eighty-six CD Charles Munch box and I found most of it wonderful, with the later recordings not quite as exciting as the early stereo stuff, but still sounding pretty great.  The final disc in the set was an album done for Columbia rather than RCA and with the Philadelphia Orchestra rather than the Boston Symphony Orchestra.  That disc is a total gem – mostly Ravel and a brilliant performance of just about my favorite Ravel piece, Valses Nobles et Sentimentales in glorious Columbia stereo from 1962.  I heard some music that I'd never heard before, including a LOT of Berlioz, some of which I enjoyed and some of which I didn't.  It was quite the journey and these box sets, which you really have to grab with they come out, are really great.  The big box of Previn on RCA, which I got the day it came out, not even a year later is going for big dough – cheapest copy anywhere that I could find is nine hundred bucks for what cost under a hundred fifty on its release.  I'd like to have the Fritz Reiner RCA box but prices are insane.  And as I sit here writing these here notes I'm listening to something completely delightful and incredible ear candy.  I've never knowingly heard anything by this prolific composer because I'm not that into operetta, but this thing is just wonderful.  More in a bit.
Yesterday, I got nine hours of sleep, got up, did stuff I needed to do, answered a lot of e-mails, had some telephonic conversations, then made two tuna sandwiches on bagels for food.  It was so good after that skanky chicken sandwich thing from Popeye's yesterday.  And I sampled half a chocolate chip cookie in that big box o' treats the Darling Daughter sent and it was great.
Then I did some work on the computer, did fixes to a track and some other stuff for the Kritzerland show, and then did a quick trip to the mail place to pick up a couple of packages, one of which was so mangled it was horrifying.  Sadly, that envelope contained some original art – there was a letter of apology from the post office, who, of course, is at fault because they're so damn lame but the artwork didn't quite escape completely from damage.  Thankfully, the image itself is fine but the paper around it is ripped in one place and very wrinkled, but I think if I have it backed it will take care of most of that.  This nice fellow on Facebook posted a caricature of The Creature from The Creature Wasn't Nice and he offered to send me the original, which is what this was.  Here's the one he posted to Facebook – the one I got doesn't have color, which was added digitally later.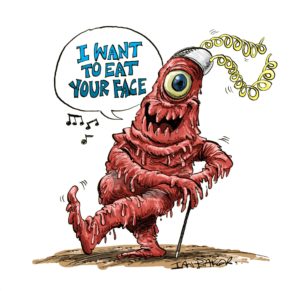 Then I came back home, did some more work on the computer, then finally sat on my couch like so much fish.
Last night, I watched a motion picture on a Warner Archive DVD called The Rain People, an early Coppola film that barely got a release back in 1969.  The film stars Shirley Knight, James Caan, and Robert Duvall.  It's a really unpleasant film that critics mostly didn't like and of course audiences really didn't want to see it.  But, as these things go, it of course has developed a cult following and the usual suspect auteurists LOVE it and think it's a MASTERPIECE.  It's not.  What it has are excellent performances.  Coppola is clearly letting his actors improvise frequently and that's not a good thing, as that dialogue is just amateurish.  Since Mr. Coppola is the writer, I'm not sure why he would be happy with this kind of lame stuff.  The lead character is ultimately annoying, as is the Robert Duvall character – well, all the characters are annoying except for James Caan's mentally damaged ex-college football player (he'd been involved in a bad accident on the field, which damaged his brain) – he's the only really noble character in the film.  It's also an ugly-looking film, but it does have a nice score by Ronald Stein.  For me, a disappointment.
After that, I had two little tortillas with cheese for my evening snack, whilst I finished the Munch set.  I then began listening to the delightful CD I spoke of above.  Someone posted about it on some Facebook group and it looked like it might be fun and it's part of a CD series I'm fond of.  The person who wrote about it said it was now very pricey and it certainly can be, but I found a copy of the two-CD set for fifteen bucks, so it can be had reasonably without too much effort.  I gather the composer was quite popular with the populace, but I'd never heard of him – Emmerich Kalman.  I'm not that into operettas, which was his field.  Several of his operettas did play on Broadway, but not this one – this one played in tryouts but never came in.  It's called Die Herzogin von Chicago (The Duchess of Chicago) and it's truly a delight, filled with fun tunes, both perky and pretty, it fluctuates between German and English, and it's got jazzy elements to it that are really fun.  I may have to listen to some of his other stuff, because this is just such a fun listen.  Highly recommended by the likes of me.
Today, I'll be up when I'm up, then I'll do whatever needs doing, I'll get the final track to the singer who needs it, and then that part of the show is done until we do the show.  I'll eat, I'll hopefully pick up some packages, I'll do Kritzerland show stuff and do six Zoom invitations for our rehearsal on Friday, and then I'll watch, listen, and relax.
Tomorrow is more of the same plus the big garage hunt, then on Friday we have our three hours of Zoom rehearsals.
Well, dear readers, I must take the day, I must do the things I do, I must, for example, be up when I'm up, do whatever needs doing, get the final track to the singer, eat, hopefully pick up some packages, do Kritzerland show stuff, do six Zoom invitations, then watch, listen, and relax.  Today's topic of discussion: Enlighten me about operettas – your favorites, your least favorites.  And for those who don't know from operettas, what are your favorite films of Francis Ford Coppola?  Let's have loads of lovely postings, shall we, whilst I hit the road to dreamland, happy to have discovered an operetta I actually like.