Well, dear readers, today is Father's Day.  As those who've read the Kritzer books know, I was not terribly close or enamored of my parents.  I suppose they had their moments, my father more so than my mother, certainly.  But I feel no special nostalgia on either Mother's or Father's Day.  In the three years before he passed away, we'd certainly gotten on better ground.  I think in his way when he brought Arthur O'Connell to see one of the early preview of The First Nudie Musical (just prior to selling the film to Paramount) at a theater in Westwood, and hearing the screams of non-stop laughter that greeted the film, I think he began to understand that maybe his son had some talent.  I think deep down that Mr. O'Connell liked it, but I think he'd never seen anything quite that raunchy before, and you must understand just how raunchy the film was back then.  And he was a big fan of mystery novels and always liked when I'd bring him something I'd enjoyed – and I do know that he would have liked my mystery novels.  When he had a series of strokes, I was one of the only people who visited him in the hospital, pretty much daily.  And we breakfasted every Sunday at the Beverly Hills Hamburger Hamlet – the wife, the daughter, and me.  While he made a remarkable recovery from the strokes, they weakened his heart and that's what he died from – a heart attack at seventy-five, which, at that time, seemed quite old.  Now, I'm a mere three years from that age.  Go know.
But Father's Day for me is really Daughter's Day, because becoming a father, while completely unplanned and at such a young age (22) turned out to be so much fun that I wouldn't have traded that for anything.  I wasn't always the best daddy in the world – when you're that young and at that time I sometimes had no patience, which I regret, but the Darling Daughter seems okay with whatever my impatience yielded and we've discussed it, so that's good.  I was asked in an interview recently which of my projects or books or whatever brought me the most joy and which did I consider my best.  I can't even remember what I answered, but the reality is I co-made one masterpiece in my life and that was the Darling Daughter.  So, it's really her day, not mine.  Here she is, pretty as a picture.  This photo was almost all pink, but I managed to restore some of the color.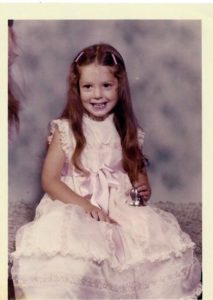 Yesterday, I only got four-and-a-half hours of sleep.  I got up at eight-thirty, she of the Evil Eye arrived at nine, and I moseyed on over to Jerry's Deli to have a light breakfast.  There were only three diners and I was well away from them.  I had the matzoh brei, which is the lightest breakfast they do, and just some fruit on the side.  Then I went to the Infiniti jernt because when the first AAA guy was here, he removed the plastic thing that goes over the battery compartment, and he obviously took it with him, although how I have no idea.  So, I bought a new one – they won't have it until Tuesday.  Then I picked up a couple of packages, including this amazing thing – our beloved Madame Spivy singing gay songs on 78s.  I'm going to try and find someone here who can transfer these sides to CD.  I have a few other 78s I need to have transferred, along with a few vinyl things and a rare 45.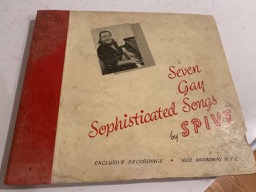 Then I came home just as she of the Evil Eye was on her way out, so that was good timing.  I got more tracks to singers, made some harmonic adjustments to one track then got that on its way, so there are only two more tracks to go and that part is finished.  Then I sat on my couch like so much tired fish.
Yesterday, I watched a motion picture on DVD called The Browning Version, starring Michael Redgrave.  I've only seen it once before and I had almost no memory of it, so it was fun to see it again.  It's a lovely film and Redgrave gives a brilliant performance.  I have a weird little history with The Browning Version.  Way back in 1961, I'd discovered jazz thanks to Brubeck's Take Five, which, as I wrote in one of the Kritzer books, I heard on the radio, was so taken with it that I called the station and that led to a friendship with the disc jockey who'd played it.  That's all covered in the book.  He introduced me to some wonderful stuff, and we had long conversations on the phone in between him playing tracks.  He eventually invited me to come to the radio station one evening, so I took some dough from my father's pants pocket and cabbed it to the station, which I believe was on either La Brea or Highland, probably near Melrose or something like that.
He was a really nice guy.  I was thirteen at the time – one would never be allowed to do anything like that then.  He showed me how everything worked, which I found fascinating, and before I left he handed me a play he wanted me to read because I'd told him I wanted only to be an actor and he said there was a perfect role for me and that maybe he'd try to get the play on (never happened, obviously).  The play was, of course, The Browning Version, and the role was the young teen called Taplow and I fell in love with the play and the role.  I called him one night and read a few lines to him, because even then I could do a perfect English accent.  That's my little The Browning Version story and it all came back to me as I watched the film.
After that, I watched another motion picture, this one called 1984, the first film version of Orwell's Nineteen Eight-Four, back in the mid-1950s, with Edmund O'Brien, Jan Sterling, and the just watched Michael Redgrave.  In that very same year of my Browning Version story, I discovered this film version of 1984, which played on the Million Dollar Movie two or three times a day for an entire week and I do believe I caught every single showing.  I'd already read the book and loved it, and I thought the film was very good, even though it wasn't quite the book.  It was a very hard movie to see for many, many years, and still is – this UK DVD is a terrible transfer in the wrong ratio, but it's all there is.  Columbia distributed the film in the US and I wish they'd do a proper release.  I still own a 16mm print of it, actually.  I enjoyed seeing it again, especially the chilling performance of Redgrave – what a brilliant actor he was.
After that, I listened to quite a bit of music whilst working on the computer.  Oh, and earlier I had Panda Express, which was very good.  And some ice cream, which was even better.
Today is Father's Day and the Darling Daughter has already informed me something is being delivered between nine and noon.  I hope it's closer to noon.  I don't have any plans, really, just a day of rest for the likes of me.  I may go to Gelson's and get stuff to make here, but I just have to eat something light.  I could get a cube steak and a baked potato – really light in calories as long as I don't load the potato with too much butter – and it's very filling.  We shall see.  Otherwise, I'll just watch, listen, and relax.
This week is all Kritzerland show stuff.  We should be getting all the videos for the group number by Wednesday, then we can put that together.  There are more people in it than the last group number so that will be fun.  Towards mid-week we'll do the first of our Zoom rehearsals – each person gets thirty minutes and that takes most of an afternoon.
Well, dear readers, I must take the day, I must do the things I do, I must, for example, take possession of whatever's being delivered, I must eat something light but fun, otherwise I'm just having a ME day.  Today's topic of discussion: It's free-for-all day, the day in which you dear readers get to make with the topics and we all get to post about them.  So, let's have loads of lovely topics and loads of lovely postings, shall we, whilst I hit the road to dreamland, happy to have fondly remembered my The Browning Version story.