Well, dear readers, I am enjoying my journey through this eighty-six CD set of the complete Charles Munch RCA recordings (with a couple of Columbia albums thrown in).  I'm still in the mono section and there are some real classics in there in excellent sound.  In fact, the one I'm listening to as I write these here notes is the Brahms second piano concerto in a great performance with Arthur Rubinstein at the piano.  I have a couple of treasured stereo recordings, but this is just brilliant, and what a concerto it is.  As I've said many times, and as this set proves to me again, I'm not that fond of the old boys pre 1890.  But Brahms I'm fond of – very forward thinking and his music is just beautiful.  I've had fun hearing some Schumann and Mozart and Haydn, but in the end, and as great as these performances are, I probably won't revisit those.  But his performances of a few Beethoven symphonies I will revisit because I found them to be delightful and the mono sound actually helps.  The eighty-six CDs may seem daunting, but because this is an original jackets collection, many of these CDs have really short playing times, some under thirty minutes.  People get up in arms about that, but I'm fine with it because I love the reproduction of the original jackets and the original label art.  The price on this set was really reasonable when it came out, like two bucks a CD.  I'm lucky to have found a copy like that because some folks are already charging five to eight hundred bucks for it.  You really have to grab these behemoth box sets when they're released because they tend to go out of print very quickly and then the prices zoom up. The huge Andre Previn set is already out of print and going for high prices a mere year later.  Anyway, so far this is a fantastic set.  And now playing is the complete Berlioz Romeo and Juliet, which I've never heard because I've never been crazy about Berlioz.
Yesterday was an okay day with some good parts.  I was up at noon after almost eight hours of sleep.  I answered e-mails and did stuff on the computer, did a little hunting in the garage to no avail, and then I had a nice Zoom thing at two and repaired a problem that almost ruined a nice working relationship, so I was happy about that.  After that, I ordered food from the Cheesecake Factory – my spicy cashew chicken over rice.  It arrived about thirty minutes later and was not as good as it usually is.  I ate most of it, though, but it was a little spicier than usual and my tummy is not so happy at this particular moment.
Then I did more Kritzerland show stuff.  I didn't get around to a show order, but will today for sure, unless I get adventurous after I post these here notes.  Then I sat on my couch like so much fish.
Last night, I finished watching a motion picture on DVD called The High and the Mighty, starring John Wayne, Robert Stack, Claire Trevor, Jan Sterling, and many others, directed by William Wellman in that new-fangled thing called Cinemascope.  I'll recap my history with this film.  I used to think I first saw it back in 1954 at the Village Theater in Westwood.  But when I was perusing that newspaper site, I found no evidence that it ever played there, but it did play in Westwood at the Picwood – in fact, I have a photograph of it.  And here it is.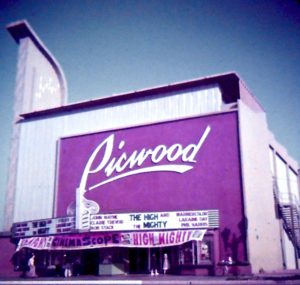 So, that's where I had to have seen it – it wouldn't have moved over from the Village and, as I said, I could find no evidence in any ads or theater listings that it was at the Village.  It played exclusively at the Egyptian when it opened.  In any case, you cannot imagine what seeing this film was like at a young age – I was six – I thought it was the greatest, most exciting movie ever made.  I think it was the combination of a lot of factors – Cinemascope, stereo sound, and airplane travel depicted on the screen was still fairly novel – and then there was that Dimitri Tiomkin score, which I thought was amazing then and I find it amazing now.  That was the first movie theme record I owned – on a 78rpm record, which I played over and over again.  I went to see the film over and over – at least ten times during its run at the Picwood.  All these years later and as silly as it seems now, I still love it.  Yes, it's a soap opera in the sky, yes, it's corny, heaven knows it's dated, but the essential story is still great and the ending is fantastic.  It was the first of its kind and many imitators came after.  The Duke is great and so is his whistling, provided by Muzzy Marcellino. The acting is mostly terrific – poor Sidney Blackmer is saddled with the worst role and he overplays it terribly.  Paul Fix is great and Jan Sterling is beyond great.  The transfer isn't bad, with excellent color – one hopes that someday we get a new transfer for Blu-ray.
After that, I watched a couple of Alfred Hitchcock Presents episodes – neither great.  Then I went back to Munch, did a quick Rite Aid run, and that was that.
Today, I'll be up when I'm up, I'll do whatever needs doing, I'll eat, I'll hopefully pick up some packages, I'll make a show order and start writing the commentary, and I still have to find three people for our group number.  And I'll do a little more hunting in the garage.  After that, I'll watch, listen, and relax.
The rest of the week is more of the same.  I'm hoping we have a Zoom rehearsal for Tuesday, and then maybe towards the end of the week we'll schedule the private Zoom rehearsals.  Lots to do, that's for sure.
Well, dear readers, I must take the day, I must do the things I do, I must, for example, be up when I'm up, do whatever needs doing, eat, hopefully pick up packages, make a show order and write commentary, find three people for the group number, hunt in the garage, and then watch, listen, and relax.  Today's topic of discussion: What are your favorite movies involving aeroplanes?  Let's have loads of lovely postings, shall we, whilst I hit the road to dreamland, as I do my best Muzzy Marcellino and whistle The High and the Mighty.