Well, dear readers, yesterday we had the return of the Trousdale.  Yes, you heard it here, dear readers, yesterday we had the return of the Trousdale.  Now, some of you are undoubtedly sitting there like so much fish, scratching your collective heads and thinking, "What in tarnation IS this Trousdale malarkey," so let me remind you so that we are all on the same page.  I feel it is a good thing that we all be on the same page, whether Victoria or Geraldine or Genevieve or Anthony.  That's a lot of pages when you think about it.  You may remember that the nearby coffee shop Corky's closed and with the closing so went the way of the dodo bird my beloved Trousdale sandwich.  The Trousdale sandwich was comprised of rye bread, turkey, swiss cheese, cole slaw, and 1000-Island dressing, which I always had grilled.  I loved the sandwich and had it quite often and introduced it to several people who also became fans.  In fact, one such fan, our very own Marshall Harvey, and I went there to have our final Trousdale just a few days before they closed.
So, in nosing around DoorDash two weeks ago, I noticed they had Paty's coffee shop in Toluca Lake.  I remembered that I very much liked their BLTA there, as well as their potato salad, so I perused their menu and surprise of surprises found they had the very same Trousdale sandwich.  I couldn't believe it – they even recommended trying it grilled.  I think it's new on the menu because had I seen it, I would have had it.  That very day I tried to order it, but it said it wasn't available for delivery to me.  I tried several times thereafter and always got that message.  Yesterday, just for grins, I tried again and wonder of wonders, miracle of miracles, the order went through, and thirty minutes later this arrived at my door.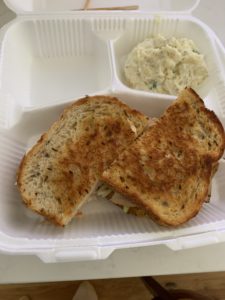 I ate it all up and it was great, just as good as Corky's.  I had the potato salad and that was great, too.  A perfect little lunch that made me very happy.  And so, all hail the return of the Trousdale.
Yesterday was certainly a day.  I got seven hours of sleep, got up, did stuff on the computer and answered e-mails, ascertained there was no mail or packages, and then got a little Ralph's delivery, mostly Diet Coke – they apparently were out of Caffeine Free, so they brought regular.  I have noticed that Caffeine Free has become scarce this past week – no one ever bought it before, but I guess they read these here notes and decided what was good for the goose was good for the gander, whatever the HELL that means.  Then I had my Trousdale and was happy for a time.  No one seems to want any happiness right now, but I'm sorry, I'm not going to live my life like that.  We need happiness, we need smiles, we need music, we need light.  Others may not have those needs, but I and many of those I know do.  Where was I?  Oh, yes, the happy Trousdale.
After eating, I ascertained that half the books had shipped out by noon and the other half were going out in the early evening, so with the exception of two orders that had other things ordered that have to be gotten from the warehouse (that will happen today), all are on their way.  Who will be the first dear reader to review it on the Amazon?  I did some Kritzerland show stuff, and then I finally sat on my couch like so much fish.  Last night, I watched the first of three Dr. Mabuse movies on one DVD.  These were made subsequent to the final Fritz Lang film, The 1,000 Eyes of Dr. Mabuse.  These were very low-budget programmers, mostly shown here on the bottom half of double bills or on TV in dubbed versions.  The first of them, The Return of Dr. Mabuse, still had Gert Frobe (Goldfinger) as Inspector Lohmann, and Lex Barker was back, too.  It's not a very good movie, but I kind of enjoy this sort of thing.  Terrible transfer and open matte, but these simply have never been released any other way.  I began the second one, The Invisible Dr. Mabuse, and will finish that one tonight.
After that, I had several telephonic calls, made the decision about the Kritzerland show going on as planned Sunday – we all feel that music is a healing art and that an eighty-minute bit of it won't hurt anyone.  People can watch then or come back and watch it later.  There are several songs of hope in this show, and I just feel that we need music and hope.  For my evening snack, I had an English muffin and then an egg burrito – both not too bad in terms of calories and I'd only had the Trousdale earlier, so it was fine.  Then I listened to music and relaxed.
Today, I'll be up when I'm up, I'll do whatever needs doing, I'll hopefully pick up some packages, I'll eat, I'll send out an eBlast to selected friends, and then I'll watch, listen, and relax.
Tomorrow will be more of the same, then on Saturday she of the Evil Eye comes for the first time in eleven weeks.  I'm sure I'll take a drive or find something to do while she cleans up this jernt.  Then on Sunday we do the Kritzerland show, and then I start planning the the July show – much to do – cast it, figure out what it is, choose songs, and all that stuff.
Well, dear readers, I must take the day, I must do the things I do, I must, for example, be up when I'm up, hopefully pick up packages, eat, send out an eBlast to selected friends, then watch, listen, and relax.  Today's topic of discussion: What music brings you the most comfort, helps you relax, gets you through tough times?  Let's have loads of lovely postings, shall we, whilst I hit the road to dreamland, happy for the return of the Trousdale.