Well, dear readers, I am sitting here like so much nauseous fish, thanks to two rather wretched fried chicken sandwiches from Popeye's.  I blame DoorDash, as I'd originally wanted Chick-fil-A because their sandwiches are tasty and not overdone.  But DoorDash apparently loses restaurants faster than they lose customers, so they weren't doing that restaurant anymore.  Since I had it in my head that that's what I wanted, I went the Popeye's route.  The only time I had it there I didn't think much of it, but I figured I'd give it another try, since everyone thinks it's the greatest thing ever.  I mean, it's not the greatest thing ever, let's start there.  And yet, people have waited an hour in line to get it.  They talk themselves into thinking it's the greatest thing ever because they heard it somewhere and want to be part of the now thing.  Anyway, the DoorDash driver was kind of dopey – it took him thirty minutes to get to the location, and from there he drove down to Ventura Blvd. for reasons unknown, since that's totally unnecessary coming from where he was coming from.  From the time he left Popeye's till the time he arrived here was twenty minutes – it's a five-minute ride.  Thankfully, they do put the sandwiches in one of those heat-keeping bag things.  Then he drops it at the front door and doesn't ring the bell, just leaves, like I'm supposed to divine that it's there by osmosis. Thankfully, I get alerts and it said he'd been here, so I got it about a minute after he'd left.  These guys get twenty percent tips and I expect a bit more – most of them are great, however.
The first time I had it, I noted that there was some kind of sauce on the bun – like a seasoned mayo or something – it was very light, and I didn't mind it.  I pulled the first sandwich out and that damn white whatever it is was OOZING out of the sandwich.  The chicken was too big for the bun (that isn't the case with Chick-fil-A).  And then I ate it and it was just gross – all that OOZING white stuff and the pickles were yucky and even the chicken wasn't too good.  But I'd paid and figured I should eat both.  So, I opened the second sandwich and that was ever OOZIER in terms of the white stuff.  This time I opened the sandwich and removed as much of the white stuff as I could, then ate it and it was still equally gross.  So, the bottom line here is I will never eat at that Popeye's or probably any Popeye's ever again.  And here I am, ten hours later, and I'm still nauseous and feel gross.  I've been popping Pepcids all day and evening, to no avail.  I couldn't even eat one of the sweet treats that the Darling Daughter sent me.  That big ol' box arrived at one and I was looking forward to sampling a couple of the things inside, but tummy turmoil prevented it.  That was very thoughtful of the Darling Daughter.  Here's a photograph of what she sent.
I did get eight hours of sleep, with many strange dreams.  Once up, I got my delivery, I did some Kritzerland show stuff, got the last two tracks, one of which has to have a few adjustments, which I'll hopefully do later this evening, then all the singers will have their tracks.  Then I had the yuckilicious food from Popeye's, did some more work on the computer, and finally had to sit on my couch like so much nauseous fish.
Yesterday, I watched a motion picture on DVD called The Lone Ranger.  A few weeks ago, I'd watched its sequel and I had a hankering to watch the first feature film.  I really enjoyed it – I love the character, I love Clayton Moore and Jay Silverheels, and it was well directed.  It's 4×3 letterboxed with good color, but it's really not a good transfer and we need these on Blu and Ray in pristine transfers.  After the movie, I watched the two interview extras.  The first was with Dawn Moore, Clayton's daughter – Leonard Maltin did that one and it was fun.  The other interview was with Michael Ansara, and that interviewer was none other than Druxy.  I can't say Mr. Ansara is one of the most talkative subjects, and you don't really learn anything interesting, but it was fun in its way.  I found it interesting that Mr. Moore lived in Calabasas back then, because prior to that, in the early 1980s he lived in the condo next door to my ex-wife.  In fact, she gifted me with something signed by him and I wonder where that is – I haven't seen it since, but I know I wouldn't have thrown such a thing away.
After that, I listened to music and relaxed and felt nauseous.  The Darling Daughter had texted me earlier that I was on some cable station in a Happy Days episode.  Then someone posted a still shot from it on Facebook, and then someone texted me this thing, which I thought was fun.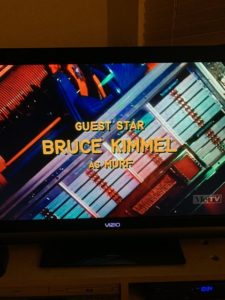 Today, I'll be up when I'm up, and hopefully sans nausea, I'll do whatever needs doing, I will not eat at Popeye's – actually after I finished the movie, I did a Gelson's run and got enough food to last me for the week in terms of eating here.  And I've decided the ONLY thing I'll have delivered is Stanley's – that's always great.  Although, they've now opened for dining in and I might just do that – go in the off-hours when people won't really be there, like around three-thirty.  Then I'll hopefully pick up some packages, I'll do Kritzerland show stuff – I've gotten half the ensemble videos and am hoping for the other four today and tomorrow.  After that, we'll hopefully do the little fixes on the final track and then I'll watch, listen, and relax.
The rest of the week is all Kritzerland show stuff and not eating at Popeye's.  There's a lot to do this week, and we need some good news around these here parts.  I'll also finish the garage hunt and if we don't find what we need then the warehouse search will begin.
And now, a digression.  I always list The Unsinkable Molly Brown as the first musical I ever saw – the national tour here at the old Biltmore Theater, with most of the original cast.  But the reality is that I'd seen one musical prior to that, but it simply didn't feel like a real musical to me, so I never counted it, although I did write about it in Kritzerland.  In July of 1960, I went to St. Louis with a waitress from my father's restaurant and her family – my first time out of LA.  I didn't like being away, frankly, but I did eat at Stan Musial's steakhouse, went to some beer factory, maybe Busch or something like that, and a few nights before we came home, I was taken to the Muny to see a show.  That show was called Rosalie.  I couldn't tell you much about it other than I can still sing the title song having not heard it a single time since the end of July in 1960, when I saw it.  On the plane ride going to St. Louis, I'd started reading a paperback called Psycho, by Robert Bloch.  It was terrifying.  I bought it because it was a tie-in to a new Alfred Hitchcock picture.  I finished the book on the plane ride home, and a few days later, on August 10, a Wednesday, I went to the first show at noon at the El Rey Theater on Wilshire Blvd. to see the film of Psycho.  Like the book, but a million times worse, it was the most terrifying movie I'd ever seen.  So, Rosalie and Psycho are forever linked in my mind.  But that's not the point of this digression.  The point of this digression is that I've always wondered who I saw in that production or Rosalie in that humungous theater.  And I finally found out by using Google and searching Rosalie, the Muny, and 1960.  And up came an old newspaper article with a photograph of the leading actors.  So, would you like to know who I saw in Rosalie?  Well, here it is:  Dorothy Collins, Arthur Treacher, and Bobby Van.  Pretty cool, huh?  A year later, I'd see Mr. Treacher here in LA in A Thurber Carnival, and of course a decade after that I'd see Miss Collins in Follies.
Well, dear readers, I must take the day, I must do the things I do, I must, for example, be up when I'm up, do whatever needs doing, not eat at Popeye's but instead make something here, perhaps some tuna fish sandwiches if my nausea is over, I'll hopefully pick up packages, do Kritzerland show stuff, do some light fixes to the final track and get that to the singer, then schedule a Zoom rehearsal for Friday.  Today's topic of discussion: What was the first musical you ever saw, and do you remember who was in it and where you saw it?  Let's have loads of lovely postings, shall we, whilst I hit the road to dreamland, happy to have remembered and told The Rosalie Story.