Well, dear readers, hello again.  Or should that be cello again, since as I begin these here notes coming out of the stereophonic speakers is the Walton cello concerto, a wonderful work that is for the cello and a concerto, in case there were doubts.  I, for one, enjoy a good cello concerto just as I, for one, enjoy a good violin concerto or viola concerto or piano concerto or clarinet concerto or harp concerto or French horn concerto or harmonic concerto or saxophone concerto or flute concerto or guitar concerto or oboe concerto.  I can, however, live without tuba concertos, bassoon concertos, and tympani concerto.  If I had to get exotic, I do enjoy a couple of marimba concertos.  But why haven't we had any concertos for cymbal?  Why haven't we had any concertos for xylophone?  Or have we?  Let us research.  Why, there are a handful – I must listen to them as I have been known to love the xylophone, as dear reader elmore probably well remembers.  I have not, however, found a single concerto for thongophone.  As you know, I do not like thongs and therefore doubt I would like a thongophone, which was used in the recordings of Yanni.  Anyone remember Yanni?  Here is an actual photograph of a thongophone, although there are seemingly all kinds of thongophones.  I think the thongophone may become the official instrument of my campaign for president, for those of you who remember I AM running for president.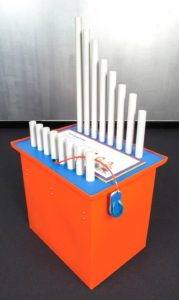 I ask you, where else on all the Internet today can you find a photograph of a thongophone?  I feel that soon we will be the most popular site on all the Internet.  Meanwhile, the Walton cello concerto is coming to its wonderful ending.  And we've moved onto Bloch's Hebraic Rhapsody for cello and orchestra.  Bloch was, of course, a chip off the old Bloch.  We don't allow groaning here at haineshisway.com.
Yesterday was yet another day of not enough sleep.  I was up at six for a while after not getting to bed until four – I do think I ultimately got a total of five hours of sleep after I went back to bed.  Once up, I answered e-mails, did some Kritzerland show work and posted about our three Facebook Live tests, details of which follow in a little while.  Then I moseyed on over to the mail place and picked up yesterday's package today and nothing else.  I came right home.  Now, remember when I said I was done with food delivery – well, I made an exception yesterday and I'll tell you why: Every day I get deal e-mails from DoorDash and Postmates and Grubhub.  It's been Postmates mostly lately and it's always free delivery.  Well, in the e-mail their new restaurant partner is Canter's Deli.  Canter's isn't my favorite, but I've had good meals there occasionally, and it sounded like just the ticket for the meal o' the day.  I was surprised that they'd deliver that far a distance and for free, but they do and they did.  I ordered a pastrami with cole slaw and Russian dressing on rye, with the side of cole slaw.  I also ordered extra pickles and a thing of potato salad, which turned out to be rather a large thing of potato salad, although naturally that didn't stop me from eating all of it, since one sandwich wasn't going to be enough food for the day.  Well, I set the order to arrive between two and two-thirty and it arrived at two-thirty, to my delight.  And to my delight, the sandwich was really good – nice, lean pastrami full of flavor, fresh rye, decent cole slaw and Russian dressing.  And I quite liked the potato salad, too.  I may end up ordering from there again, as long as the delivery charge is free.
After eating it all up, I read some more of the Paul Hirsch memoir, did some more work on the computer, and had more fun with the mystery thing – not fun, really, but very enjoyable and more I cannot say, oh, no, more I cannot say, at this TIME.  After that, I finally sat on my couch like so much fish.
Last night, I continued with my Brian De Palma viewing, interesting because I've just read Mr. Hirsch's stories on all these early De Palma films.  First up was Sisters.  I've always found Sisters a really weird little movie, but I like it more than I probably should.  Some of that is because of the wonderful score by Bernard Herrmann, his comeback score that led to Obsession and his final score, Taxi Driver.  I also like Margot Kidder.  It's got one shocker moment of violence that's very effective, and the one split screen effect works pretty well in this one.  Also in the cast is Jennifer Salt and Charles Durning.  It was a low-budget affair, but the transfer is really excellent on the Criterion Blu-ray.  After finishing it, I watched some interviews from 2004 with Hirsch, De Palma and the producer.  And there was a new interview with Jennifer Salt – quite a long piece and she had fun stories to tell.
Then I watched the first half of Phantom of the Paradise, the De Palma film I'm most fond of, along with Carrie.  I have three iterations of this film on Blu-ray: My first was the French Blu-ray.  Then came one from Arrow, purportedly from a newer transfer than the French, and finally came one from Scream Factory, which sported the same underlying transfer of the Arrow but with the color tweaked a bit.  I wrote about this a lot when these discs came out.  Even though the French disc has the older transfer, it's the only one that looks correct and like the release prints did.  Arrow and Scream Factory's transfers from the newer scan are way too dark and contrasty with weirdly boosted colors and with the Arrow having a decidedly yellow cast to the film.  Scream Factory got rid of the yellow but not the dark and not the contrasty.  The first half I watched the Scream Factory Blu-ray.  For the second half I may switch to the French Blu-ray.  And there are a ton of extras on the Arrow, most of which are repeated on the Scream Factory, and I actually haven't watched any of those yet.
After that, I listened to music and relaxed, and then it was time to write these here notes whilst listening to a cello concerto.
Today, I'll be up when I'm up, I'll do whatever needs doing, I'll eat something, I'll hopefully pick up some packages, and then I'll get ready for the first of our three Facebook and YouTube Live tests.  Please do join us, the more the merrier, say I. That is this very evening at 6:00 PDT and 9:00 EDT.  Be there or be round.  Here are the two links you'll need.  Tell your friends, spread the word, and let's have some FUN.
https://www.facebook.com/KritzerlandUpstairsatVitellos/
https://www.youtube.com/channel/UCEtKuDonRVT0hUV9k4LwIeg?view_as=subscriber
Tomorrow will be more of the same and our second test, Saturday will be our third test, and then Sunday we do our show at 5:00 PDT and 8:00 EDT.  We're very excited about this one and you won't want to miss it and I do hope you'll watch it live rather than after the fact.  Same links as above.
Well, dear readers, I must take the day, I must do the things I do, I must, for example, be up when I'm up, do whatever needs doing, eat, hopefully pick up packages, and do our first Facebook and YouTube Live test, after which I'll finish Phantom of the Paradise and dive into the extras, and then I'll listen and relax.  Today's topic of discussion: What are your favorite solo instruments to hear?  What are your favorite concertos?  Let's have loads of lovely postings, shall we, whilst I hit the road to dreamland, after which I'll arise and say, "Cello again."