Well, dear readers, our third Facebook and YouTube Live test was fine, so I suppose we are ready to do our show this very evening, details to follow.  I was thinking (never a good idea) about what things I used to love to do as a young lad – oh, the obvious things were playing records and seeing movies and watching TV, playing miniature golf at our nearby jernt, eating out at favorite jernts, hanging out at various local record stores, and that kind of thing.  I can still do some of those things still, so that's nice.  But one of my favorite things to do as a young lad, starting when I was probably 13, was hang out in department stores, most specifically the May Company at Wilshire and Fairfax, one of the most famous of all LA landmarks that are still with us.  Oh, I loved the May Company.  I loved it more than Ohrbach's, and its only competition for me was right across the street with the exotic Seibu department store, although that didn't open until 1962 – it was the first Japanese department store in LA.  I could spend half a day in the May Company, going from department to department, up and down the escalator, maybe even have a sandwich in their coffee shop.  But mostly I hung out in the TV and stereo department, looking at all the latest doo-dads and dad-doos.  I was obsessed with their portable tape recorders and wanted one badly and got one eventually – that story is in Kritzerland.  I loved looking at the latest TVs, and all the record players of all kinds.  And then there was the furniture department, where I enjoyed sitting in chairs or on sofas – they even had a chess board and that is where I learned to play chess with my friend.  The employees were always very friendly and never chased us out a department.  Everyone dressed well to go to the department store, especially the May Company.  And after a few hours there, I could walk the length of the Miracle Mile as it was called, basically a mile between Fairfax and La Brea, hence the moniker, Miracle Mile.  In those days, there were three movie theaters in the Miracle Mile – the El Rey (still there but now a rock club), the Ritz (which closed as a movie theater in the early 1960s but where I saw Scent of Mystery in Smell-O-Vision) and then just east of La Brea, the Four Star, where I saw many movies and had one major life event, which you'll actually hear about in tonight's Kritzerland show.   Here is that glorious May Company.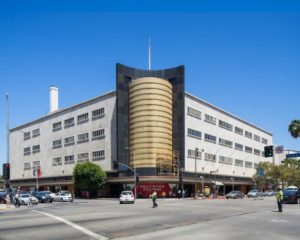 On every block, there were wonderful, classy stores – clothes, electronics, small markets, and several wonderful restaurants, including Ontra Cafeteria and Van de Kamp's.  It was a wonderful, magical street that today is, for me, sad and pathetic, filled with the fruits of so-called progress – ugly, large office buildings and no more real stores – not a single department store is left.  I never enjoyed department stores that were part of malls – those weren't really special.  But I know there were classic department stores everywhere in major and even less-major cities.  Target and Walmart just don't cut the mustard, I'm afraid.  Yes, there are still classy stores around – Rodeo comes to mind – but nothing like we had back in the day.  End of nostalgia portion of the notes.  Perhaps I'll dream of the May Company.  Oh, and here's the Miracle Mile.  Two things to note: The Du-Par's was once my father's restaurant, the Kiru West, which was a failure.  And the tall green building, at one time the tallest building on Wilshire in that area – on the top floor my father contemplated opening another version of the Kiru, with that spectacular view.  I remember well him taking us up there – it had barely been completed and the top floor was empty, but the view was unbelievable.  In the end, he didn't do it.  That was probably wise, as there wasn't really a lot going on in the evenings, which is when people would have to come to enjoy that view at night.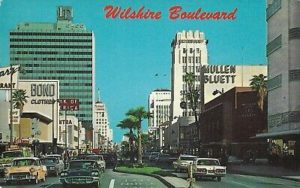 Yesterday turned out to be a pleasant day.  I slept ten glorious hours, which I really needed, got up at one-thirty, did a few things on the computer, then went and picked up a couple of packages.  Once again, these Amazon return people were lined up out the door, so I just called and they brought my stuff out to me.  Then I came right home and ordered Chinese chicken salad from Stanley's, which was supposed to be free delivery and wasn't, so I've written and complained and asked for a credit back – they sent an e-mail saying free delivery so they have no justification for charging, even though it was only three bucks.  The salad arrived thirty minutes later and was superb, as always.  So, I ate that all up and a couple of pieces of their wonderful bread.  Then I read a bit, listened to more Toscanini doing composers I don't love, but I did enjoy at least hearing some music I didn't know.  But beginning with disc 17 we're into Mendelssohn, who I do like, and then we finally get to the later 19th century and early 20th century folks and all that is much more to my liking.  I will say that Mr. Toscanini was not one for languorous tempos – this guy was PEPPY.  Then it was time for our third test and that went well, and then I finally sat on my couch like so much fish.
Last night, I checked out the later Scream Factor Blu-ray of Obsession, which I'd never even opened, as it turns out.  Even though I'm sure it's the same transfer as the Arrow Blu-ray, it doesn't look as good, for reasons I can't quite fathom.  But it did have two extras not on the Arrow Blu – a long interview with producer George Litto that's pretty irritating – I defy you to watch it and count the number he finishes a sentence with, "Right?"  And then there's an interview with editor Paul Hirsch who, amusingly, tells the exact same anecdotes that are in his book – that's not the amusing part – the amusing part is that he tells them exactly as they're written – word for word.
After that, I listened to more music, read a bit more, had a fun telephonic conversation with an old friend, the wonderful pianist Michael Orland, and then I shaved and relaxed.
Today, I'll be up when I'm up but not after noon o'clock.  Once up, I'll do the usual doings, I'll have something light to eat to tide me over until after the show, and then I'll relax until it's time to do our show.  We go live on Facebook and YouTube Live at 5:00 PDT and 8:00 EDT and 7:00 ODT (Other Daylight Time).  We do hope you'll actually watch it live, that's the most fun, when your comments and emojis happen in real time, so do join us – I think it's going to be a very good show.  Here are the links for Facebook and YouTube.
https://www.facebook.com/KritzerlandUpstairsatVitellos/
https://www.youtube.com/channel/UCEtKuDonRVT0hUV9k4LwIeg?view_as=subscriber&fbclid=IwAR3QJwok6eQHnxGPZHI_iHIY7MvtN1ztY8J55OW4SwmUuYolN8Urku40aWw
After the show, I'll eat a little something else and relax.
Tomorrow we start the whole process over again.  I have to make a show order, write the commentary, have a couple of early Zoom rehearsals for the three numbers that require multiple people, and that will take up the entire week.  I'll hopefully pick up packages, I'll eat stuff, hopefully start to lose weight, hopefully do some banking, and that will be that.
Well, dear readers, I must take the day, I must do the things I do, I must, for example, be up when I'm up, do the usual doings, eat something light to tide me over, relax, and then do Kritzerland 107, after which I'll eat something light and relax.  Today's topic of discussion: It's free-for-all day, the day in which you dear readers get to make with the topics and we all get to post about them.  So, let's have loads of lovely topics and loads of lovely postings, shall we, whilst I hit the road to dreamland, wishing the great department stores, especially the May Company, were still with us.