Well, dear readers, I am sitting here like so much fish, listening to a piece of Mahler's – namely the tenth symphony – he died before finishing it but left short scores for the whole thing, along with, I believe, one completed full orchestration for the opening movement.  It was finished and orchestrated and there are several versions of that performing edition.  Then another person had a go at it – in all, think there may be on additional person's version.  I'm listening to the Eugene Ormandy recording, which has, I think, never been topped.  I really love the first movement, but the whole thing is fascinating and it all sounds very Mahleresque.  I'm quite exhausted from the big chunk of work I did yesterday, basically two hours' worth.  But now I'm relaxing with Mahler, although much of his music is the stuff of turmoil.  So, I'm relaxing with occasional turmoil.  One amusing thing that was pointed out to me yesterday I'm still chuckling about – the fact that I went on and on about the terrible De Palma movie I watched without once actually naming the film, which was, of course, Body Double.  Frankly, I could use a body double right about now.
Yesterday was pretty okay.  I was up at eight-thirty and out the door by nine-fifteen.  I picked up the packages that had arrived the day before, then spent the next couple of hours driving around.  I drove down Ventura Blvd. all the way to Woodland Hills, turned north on Topanga Canyon and drove past all these malls that are there, where once there was only empty land, a movie theater and the only mall that existed in that area in the late 1960s, the Topanga Plaza Mall.  I suppose it's still there but completely different.  The entire area on that side of the street is unrecognizable, frankly.  The other side of the street is certainly becoming unrecognizable.  There are like four or five malls in a row now, going right up to Victory Blvd.  Turning right there, all the mom-and-pop stores are long gone – some nice book and record shops were there that I really liked.  The car dealership where I bought my car is long gone.  There is literally not a single building left for eight blocks straight.  That's progress.
I got back home around 11:45 as she of the Evil Eye was leaving.  I then finessed the commentary, answered e-mails, and did the two exhausting hours of work.  Once that was done, I made two tuna sandwiches, which were really good, on rye bread. Then I sat on my couch like so much exhausted fish.
Last night, I watched the documentary called De Palma about director Brian De Palma.  Well, it's not really a documentary, it's kind of an oral history – just De Palma talking about all his movies for an hour and forty minutes.  There are lots of clips and De Palma does have wonderful stories and he's charming in his own way, so it's interesting and fun.  He only occasionally cops to errors of judgment, but never outright says something was a terrible movie – like Body Double.  In fact, I think he loves Body Double.  It all goes by very quickly and he's a good raconteur and I enjoyed it very much.  I saw it when it first came out but really didn't remember anything, so it was like seeing it with fresh eyes.
After that, I got some pistachio and rocky road ice cream but not from Baskin-Robbins but from some other jernt and I took a bite of each and didn't really care for either.  So, I had some shrimp I'd gotten at Gelson's with some cocktail sauce, and that was very good as an evening snack.  After that, I had a long telephonic conversation, and then began relaxing with Mahler.
I'm happy to share with you the brilliant cast we've assembled for Kritzerland 108 – check out this flyer, baby.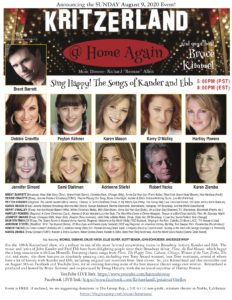 Isn't that a splendidly splendid company of players?  And we do love our Kander and Ebb.
Today, I'll be up when I'm up, and then I'm having a ME day and I may just order from Dino's Pizza and drive over there and pick it up myself.  I just may and I don't care who knows it.  Otherwise, I'll continue reading Cinema 62, the book about the films of 1962, which I'll talk about when I've finished, I'll watch some motion pictures, I'll listen to music, and then at some point I'll relax.
This entire week is all Kritzerland show stuff, and then at the end of the week we'll do our Zoom rehearsals.  I also have other stuff to do and do it I shall.
Well, dear readers, I must take the day, I must do the things I do, I must, for example, be up when I'm up, have a ME day, perhaps order from Dino's Pizza or eat something a bit more local, I'll read, I'll watch, I'll listen, and I'll relax.  Today's topic of discussion: It's free-for-all day, the day in which you dear readers get to make with the topics and we all get to post about them.  So, let's have loads of lovely topics and loads of lovely postings, shall we, whilst I hit the road to dreamland, happy to have spent at least a little time relaxing with Mahler.