Well, dear readers, I am sitting here like so much fish, eating a late-night snack that is not fish, funnily, but a fried chicken sandwich from a late-night jernt in Studio City – in fact, this jernt is open all night.  On Postmates they call it Honey Butter Chicken but the name on the store and other sites is 24 Hot Chicken and Waffle Bar.  I've been wanting to try it and since I'd only had mac-and-cheese for food and that much earlier in the day, I bit the bullet (no mean feat) and ordered.  Now, as you know, I hate the Popeye's fried chicken sandwich – rank.  The Chick-fil-A is okay but kind of boring, really.  Well, this fried chicken sandwich has ATTITUDE, baby, it has flavor and oomph and pizazz.  On the sandwich is coleslaw, pickles and something called "comeback sauce."  You can order anything from no heat to a lot of heat, spice-wise.  I ordered no heat.  Well, whatever this comeback sauce is, it's really good and this sandwich is very, very tasty, with flavors bursting forth.  It comes with a small number of fries, which are also very good.  I was, needless to say, very pleased with my food and shall be giving it a rave review on the Yelp.  In, fact, I'm still eating it as I write these here notes, the comeback notes.  If sauce can have a damn comeback, so can these here notes, and frankly I could use a comeback, too.  Whilst I am eating and writing, I'm also listening to Bruno with a B Walter doing Mozart, first symphony 40, whose tunes I recognized right away, and now symphony 35.  Under Walter, they're both more enjoyable than I'd imagined for someone who does not respond to Mozart.  Go know.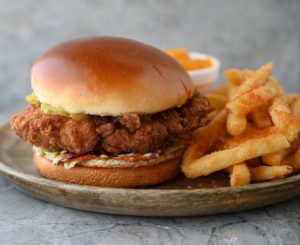 Yesterday was a busy little day.  I got eight hours of sleep, got up, answered e-mails, did things that needed doing, had more fun with the mystery project, which is nearing its completion, and then ordered food.  I ordered my beloved Trousdale sandwich from Paty's.  That turned into a really annoying comedy of errors and after an hour, weird texts, having the name of the driver change twice, they cancelled the order.  I then ordered from Granville – mac-and-cheese with some chicken chunks, asparagus, and peas.  That arrived thirty minutes later and was very good.
After that, I did more work on the computer, ascertained there was no mail to pick up, had the finessing tracks session pushed until six-thirty, so just listened to music and read.  Then we finessed, so all the tracks are now finished and with the singers.  Whew.  Then I sat on my couch like so much fish.
Last night, I watched two more episodes of Thriller, both considered classics.  Pigeons from Hell was the first, and while it had a pretty gory scene at the top, it really didn't add up to much for me and I found the acting so over the top I couldn't really get with it.  It was directed by John Newland, who a decade later would cast me in my first guest star role on TV – actually, my first role on TV period.  It did have a good score by Morton Stevens.  Then I watched the episode that followed it – The Grim Reaper – which played like a living, breating EC Comics story – it was okay in its way.  So, I'll watch Yours Truly, Jack the Ripper tonight, and then I believe I'm done with trying to love this series.
After that, it was more music and I finished the book I was reading, Frank Langella's Dropping Names.  I've never really been a fan – his acting always seems arch and for effect.  He got better later in life when he became a character actor.  The book is very much him – arch and for effect.  It's exactly what it purports to be – each "chapter" is a celebrity name.  There are some interesting stories, there are some chapters that drop names just to do so, in that he really had such a tenuous connection there's no reason for him to really write anything, other than the dropping of the name.  But there is an unpleasantness about his writing that goes straight through the book and ranges from ego-ridden to nasty.  In the end, I found it a little distasteful and not all that entertaining.
After that, I ordered the chicken sandwich, it arrived, I have now polished it off and am still nibbling on the fries, whilst listening to some Mozart arias sung by Eleanor Steber, who has a beautiful voice.  While I don't love the music, I'm enjoying hearing her voice.
Today, I have a lot of stuff to do and do it I shall.  I'll be up when I'm up, I'll do whatever needs doing, I'll do Kritzerland show stuff, I'll hopefully pick up packages, I'll eat something light, I'll pick another non-fiction book to read, and then I'll watch, listen, read, and relax.
Tomorrow is our Zoom rehearsal day, so I'm looking forward to that very much and that pretty much takes up all afternoon.  I probably won't eat until afterwards.  I'm not sure what's going on on the weekend, but I'm sure I'll get out and about a little.
Well, dear readers, I must take the day, I must do the things I do, I must, for example, be up when I'm up, do whatever needs doing, do Kritzerland show stuff, hopefully pick up packages, eat, then watch, listen, read, and relax.  Today's topic of discussion: What are your favorite arias?  Let's have loads of lovely postings, shall we, whilst I hit the road to dreamland, happy to have written these here comeback notes filled with comeback saucy sauce.