Well, dear readers, I am sitting here like so much fish, listening to the soundtrack of Bell, Book, and Candle, having finished my book and without benefit of bell or candle, and thinking By George – Duning, that is.  I do love the composer of this music, Mr. George Duning, and what a pleasure to have released some of his wonderful music.  I fell in love with his music in the late 1950s, but it was the score for The Devil at 4 O'Clock that really solidified that love.  Of course, I had the Bell, Book, and Candle Colpix album (Devil was on the same label), and I'd seen Picnic and enjoyed that score back in the day.  His sense of melody and harmony was right up my alley and every time I'd see a film with a score by him his music was always perfect even if the film was not.  He really, for me, could do no wrong.  I went bonkers for Toys in the Attic and was so upset there was no album (that would be rectified when Film Score Monthly finally issued it – as the head of that label put it to me, he did it because I'd raved about it so much – turned out to be a horrible seller because, well, people are dolts sometimes.  I adored his score for Any Wednesday, his Star Trek scores were the best of that series, and as I began collecting 16mm films, I suddenly discovered his amazing 1950s output for Columbia, as I was buying up a lot of those films, things like Cowboy, Full of Life (one of his most beautiful themes), his noir scores for Tight Spot and Nightfall, Me and the Colonel, Strangers When We Meet, and then post Columbia, Houseboat, The World of Suzie Wong, winners all, and those are just the tip of the iceberg.  Prolific in TV, as well, he did The Big Valley, Then Came Bronson, Tightrope, Naked City, and, as fate would have it, a little show called The Partridge Family.  I remember when I saw the diary episode and I had my confession scene, thinking how glorious the underscore was and how it improved my performance – and was astonished to find out it was Duning.  He died in 2000 at the ripe old age of 92 and I only wish I'd met him to tell him how much his music meant to me.
Yesterday was a day, I suppose.  I got about seven-and-a-half hours of sleep, got up, answered e-mails, and much to my delight there was something for the mystery project waiting for me, so that was the best part of the day.  I got another track and sent that to the singer, I did a few things that needed doing, and then I made two tuna sandwiches on rye and ate them up – very good.  After that, I did some work on the computer, had some telephonic conversations, one of them quite lengthy, and decided not to go pick up the one little thing there was at the mail place.  In fact, I never left the house, which I'm about to rectify with a short drive.  Then I finally sat on my couch like so much fish.
Last night, I watched another Thriller, this one the beginning of the new production team.  I didn't love it, but at least it was getting the show on the right track, had good direction (Douglas Heyes, a Twilight Zone regular), and a decent script.  William Shatner was the star and if memory serves, Jerry Goldsmith did the score.  That was enough of that, so I pulled a show biz book off the shelf, one I hadn't read, and started reading that, a book called Dropped Names, an odd kind of memoir by Frank Langella, which I'm both enjoying and not enjoying.  Then my eyes got tired, so I began listening to the Duning music, starting in alphabetical order in iTunes with Any Wednesday – I'm currently up to Picnic, not the album but the full original score, which was an isolated track on the Twilight Time Blu-ray, which I might find today and watch this evening.  What a score it is.  Then I had two pieces of rye toast for my evening snack and that was that.
Today, I'll be up when I'm up, I'll do whatever needs doing, I'll hopefully pick up packages, I'll figure out what the meal o' the day will be and then I'll eat it, I'll do some Kritzerland show stuff, and then at some point I'll read, watch, listen, and relax.
The rest of the week is Kritzerland show stuff, doing whatever needs doing, then I think we'll try and do all our Zoom rehearsals on Friday and get that done, and that will leave the weekend clear to go hither and thither and perhaps even yon, which, of course, is noy spelled backwards.  I gotta tell you.  Oh, and I occasionally search eBay for LA stuff – photos, slides, and ephemera, and I found a slide of Hollywood and Vine that is fantastic.  The guy who's selling it is nuts and wants 80 bucks for it, so I just saved it to the computer.  I love this, because the double bill is two Universal films just before Spartacus began its reserved seat roadshow engagement.  You can see the huge Spartacus art on the side of the building.  Fantastic photograph and here it is for your mental delectation.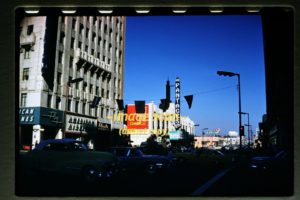 Well, dear readers, I must take the day, I must do the things I do, I must, for example, be up when I'm up, do whatever needs doing, hopefully pick up packages, eat something, do Kritzerland show stuff, and then read, watch, listen, and relax.  Today's topic of discussion: Whose film music do you love best and what are your favorites of their scores?  Let's have loads of lovely postings, shall we, whilst I hit the road to dreamland, where I shall fall asleep with the strains of George Duning music playing in my head.