Well, dear readers, the fly is dead.  Yes, you heard it here, dear readers, the fly is dead.  The fly passed away at approximately four o'clock yesterday afternoon after coming into the home environment without being invited, flying around in hyperdrive for thirty minutes, annoying me to no end, and finally, tuckered out, flew over to the front door and finally lighted there at which point I was there in a flash and the fly breathed its last breath.  When will flies learn not to enter a dwelling without being invited?  Do they have no brains?  Ah, well, the fly has met its maker, the fly is no more, the fly has ceased to be, the fly is bereft of breath – in other words, the fly is dead.  In any language, the fly is dead: La mouche est morte.  Die fliege ist tot.  La mosca e morta.  Fluen er dod.  Moucha je mrtva.  Mukha mertva.  Other than that, I am sitting here like so much fish, listening to music.  I finally finshed the Bruno Walter box set, a marathon of listening for five days, but what fun.  I have moved on to Mr. Leinsdorf's wonderful recording of the Mahler fifth with the Boston Symphony Orchestra.  What a wonderful conductor he was, but it's fashionable to poo-poo him because, horror of horrors, he was popular and a hugely successful recording artist with the masses.  Ormandy is another they like to poo-poo, these know-it-all, pretentious and pompous classical aesthetes.  Well, it was conductors like Ormandy, Leinsdorf, Walter, and the Bernstein of the Columbia years, who made the classics popular again, so we should be nothing but thankful to them.  I know I am.
Yesterday seemed like a Tuesday to me, which is good since it was, in fact, Tuesday.  I got nine hours of sleep, which I needed, got up, did stuff that needed doing, did some Kritzerland show stuff (not just for the upcoming August show, but for the big tenth anniversary September show – I've set two fun guests so far.  I'd ordered food the night before from Daugher's Deli, having loved my first experience there – Daughter being the daughter of the owner of Langer's Deli.  This time I ordered their classic lean pastrami on double baked rye bread, with Swiss cheese, coleslaw, and Russian dressing, and I got an extra side of potato salad rather than the more caloric potato pancakes.  It arrived right on time at two o'clock.  It's a bit too far for it to arrive really hot, but boy was it great – just a perfect sandwich that I ate all up.  I had a sweet leftover from the night before, a tiny slice of chocolate mousse cake and I had that, too, and it was very good.  Then I had to do the fly dance and we all know how that ended.  Oh, this time there is photographic evidence of the sandwich and here it is for your mental delectation.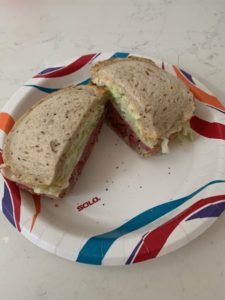 After that, I went to the mail place and picked up a couple of packages – Sambucol and I can't even remember what else.  No mail, though.  Then I came home, did more work on the computer, and then I finally sat on my couch like so much fish.
Last night, I dove into season three of Alfred Hitchcock Presents, which I found sealed in the garage.  The first episode was one of my all-time favorites – The Glass Eye, starring Jessica Tandy and Tom Conway.  Stirling Silliphant did the teleplay from a short story by a writer named John Keir Cross.  It's superbly directed by Robert Stevens.  I watched the second and third episodes, too.  The second was an entertaining trifle with Jack Klugman and E.G. Marshall – not great, but they were terrific.  Direction by James Nielson was rudimentary.  And then it was The Perfect Crime with Vincent Price and James Gregory, which was fun and was directed by someone named Alfred Hitchcock, with no Hitchcock touches whatsoever.  Which brings me back to Robert Stevens.  He had a prolific career in TV and did only a few feature films, but it is baffling to me that he didn't become a major director because his TV work is great and classic.  He directed forty-four episodes of Alfred Hitchcock Presents including several of my favorites – besides The Glass Eye he did the great Specialty of the House, De Mortuis, Momentum, Premonition, and others.  On The Alfred Hitchcock Hour he did Consider Her Ways (one of the weirdest shows EVER done on TV), The Monkey's Paw, and a few others.  He also directed two of the best Twilight Zone episodes, including its first, Where Is Everybody, and the amazing Walking Distance.  He also did six Playhouse 90s.  He hardly worked in the seventies – three jobs the entire decade, and then directed once in the eighties – an episode of Amazing Stories.  He died at sixty-eight – he was robbed and beaten in his home and died later of a heart attack.
After that, I relaxed and listened to music.  I've begun to take a fancy to Robert Schumann, thanks to Bruno with a B and a wonderful performance I found on the Tube of You of Arthur Rubinstein and the Guarneri Quartet doing the Piano Quintet – wonderful music.  And because I so enjoyed Bruno with a B's Bruckner with a B, I'm reinvestigating the Bruckner symphonies – I have two sets – Eugen Jochum and Gunter Wand.  I'll see which I like better.  I began with Symphony 1 with Jochum – the sound is great, 1958 stereo on Deutsche Grammophon.  The Wand cycle is from the 1980s. Have I mentioned that the fly is dead?
Today, I'll arise when I arise, do whatever needs doing, do Kritzerland show stuff for the upcoming show and the anniversary show, I'll hopefully pick up some packages, I'm thinking I'll make some pasta with sautéed onions, butter, and cheese, and then at some point I'll watch, listen, and relax.
The rest of the week is more of the same, I'm hoping for important envelopes, and I think a few miracles would be nice right about now.
Well, dear readers, I must take the day, I must do the things I do, I must, for example, arise when I arise, do whatever needs doing, do Kritzerland show stuff, hopefully pick up packages, eat, and then at some point, watch, listen, and relax. Today's topic of discussion: It's Ask BK Day, the day in which you get to ask me or any dear readers any old question you like and we get to give any old answer we like.  So, let's have loads of lovely questions and loads of lovely answers and loads of lovely postings, shall we, whilst I hit the road to dreamland, sorry/grateful that the fly is dead.