Well, dear readers, I have the sudden urge to type the word aardvark.  Don't ask me why because I have no clew.  What do they call it in Anatomy of a Murder – an irresistible urge.  I felt compelled to write the word aardvark.  I must say, looking at the word aardvark I find it to be a completely weird looking word, as if someone threw some random letters in the air and they landed like that.  On the other hand, doesn't the word aardvark perfectly describe an aardvark?  I mean, look at this aardvark.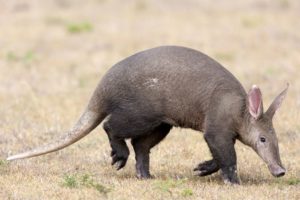 I ask you, could that be anything else but an aardvark?   That just reeks of being an aardvark, doesn't it?  You couldn't call that a tuna.  You couldn't call it a cow.  You could only call it an aardvark.  Can someone please explain to me what the HELL I'm talking about?  Because I have no clew whatsoever.  It's especially weird talking about an aardvark whilst listening to Bruno with a B doing Wagner with a W, notably the overture to Tannhauser, which I have renamed Tannhauser and the Aardvark, which is also the title of my next novel.  I feel if I continue in this vein, I will surely win the Samuel Beckett award for most obtuse notes.
Yesterday was certainly a day.  I didn't fall asleep until six in the morning, then slept until eleven-thirty – five-and-a-half hours.  I got up, answered e-mails, did stuff that needed doing, had some telephonic calls and then made some tortillas with beans, cheese, guacamole, onions, and a touch of sour cream – I had three of those and they were very good.  Then I did Kritzerland show stuff for a couple of hours, read a little, listened to music, and had more telephonic calls.
I then watched a little Group Rep thing, a live stream thing.  It's wasn't my cuppa, subject matter-wise, but it was well put together by Hartley Powers.  After that, I realized I hadn't been out of the house and so I went for a drive for about twenty minutes, came home, had a bagel and cream cheese for my evening snack and I suppose I should mention that I also had a sweet treat – some kind of chocolate peanut butter thing from a place called Bella's How Sweet It Is – it was very gooey and very good and I don't believe it had a single calorie.  Or maybe it did, who remembers?
Then I listened to more music.  I'm almost through the Bruno with a B box – in fact, the box has been put away, as I already have it all in iTunes.  I nuke what I know I won't listen to again for a while.  Right now, as I type these here notes I'm listening to the two B's – Bruno and Bruckner, specifically the Bruckner seventh, which Bruno with a B is doing to a fare thee well in stereophonic sound.  And it was right about this time that I began to have an irresistible urge – or is it impulse – to write the word aardvark, which, if you've been paying attention, you know that I did.  In other words, I did not resist the irresistible urge or impulse, I just damn well did it.
Today, I'll be up when I'm up, I'll do whatever needs doing, I'll hopefully pick up some packages and I have something to mail, as well, I'll eat something, not sure what, though, and then I'll do Kritzerland show stuff, perhaps read a bit, and then at some point I'll watch, listen, and relax.
The rest of the week is more of the same – a lot of Kritzerland show stuff, some errands and whatnot, hopefully some important envelopes will arrive and then, and I know this is hard to believe, it will be a new month.  I have to say, and I will say, that this month has flown by, like a gazelle recounting the story of The Randy Vicar and the Eggplant.  And speaking of eggplant, who thought it was a good idea to fuse an egg with a plant?
Well, dear readers, I must take the day, I must do the things I do, I must, for example, be up when I'm up, do whatever needs doing, hopefully pick up packages, eat, do a lot of Kritzerland show stuff, read, and then watch, listen, and relax.  Today's topic of discussion: What are your favorite vegetables to eat and how do you like to eat them?  Let's have some fun vegetable dishes to try, shall we?  Let's have loads of lovely postings, shall we, whilst I hit the road to dreamland, happy to have given in to my irresistible urge or impulse to type the word aardvark.