Well, dear readers, I am sitting here like so much fish, happy because I just finished watching the first half of The Music Man, the wonderful 1962 motion picture starring Robert Preston, Shirley Jones, Hermione Gingold, Paul Ford, and other wonderful actors, all at the top of their games.  It is, for me, a perfect movie and a great adaptation of the show.  Yes, I know there are those who are DEVASTATED that My White Knight has been replaced by Being in Love (which retains the entire middle section of My White Knight, by the way), but while I know it's heresy to some, I prefer Being in Love, especially as delivered by Shirley Jones.  While the Broadway orchestrations are fine, they are a distant second to the movie orchestrations, which are brilliantly done, supervised by music director Ray Heindorf.  There is a classic Warner Bros. sound from that era and Mr. Heindorf captures it the best it's ever been captured.  The CD release of the soundtrack sounds pretty good but recently I was sent a couple of selections from the original three-track tape from which the album master was made.  Shockingly, Warners trashed these three-track tapes for almost all their soundtrack releases, but let's just say they were "saved" from the dumpster and survive in pristine condition.  Hearing them is a revelation – not just The Music Man, but Auntie Mame and The Nun's Story, as well.  But back to the film, which I'll write more about when I've finished what is basically act two – has there ever been a more quotable musical book ever written?  I think not.  As most know, and it's detailed in Kritzer Time, I saw this movie three times on its opening day.  I was mad for it.  It was stunningly beautiful as projected at the Paramount Theater in Hollywood (now the El Capitan), shot in Technirama, a process like VistaVision, which yielded incredible prints, the dye transfer Technicolor prints were gorgeous, and the stereo sound was unbelievable really.  During its very long (over three months, I think) release there, I saw it many times, I could not get enough of it, and then, of course, in August of that year I was allowed to be in an acting class and on the first day of said class, me nervously sitting and not knowing anyone, just before it started in walks a young girl who sits next to me.  I'm staring at my shoes at that point, but I look up and say hi and I realize I'm saying hi to Miss Monique Vermont, the one and only Amaryllis from the film (she'd played the role in the national tour, succeeding Miss Kay Cole).  We became friends and much to her mother's chagrin, had many nice telephonic conversations until her mom stopped them.  We reacquainted in the mid-2000s and remain Facebook friends.  So, I get all nostalgic when I watch this movie because it brings back so many lovely memories.  I'll talk more about the Blu-ray itself after I've finished, oh, yes, I'll talk more about the Blu-ray after I've finished.
Oh, and speaking of nostalgia, I've been meaning to share this wonderful photograph, the first I've ever seen of this market and the store next to it.  If you've read the Kritzer books, and who hasn't, you know that I spent a good deal of my childhood going to Big Town Market and the Ralph's Five-and-Dime next door (you actually could enter the five-and-dime through the market).  Big Town is where I had my very first slice of pizza and I still remember that taste and watching the guy spin the dough in the air.  If you were to enter the market via these front doors, the pizza place was literally to your right as you walked in.  The only thing missing from this photo, which is clearly from the 1960s, is the mechanical horse that used to be to the left of the front doors, which I rode many times.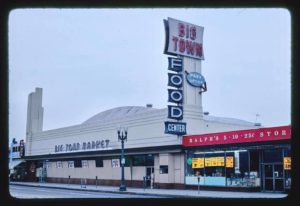 Isn't that a great visual aid?  Yesterday was a kooky day.  I got up around nine-thirty after only five-and-a-half hours of sleep, did some stuff on the computer, then went back to bed around eleven thirty and slept for a couple of hours more.  Once up again, I answered e-mails and did a little work, but day after show days are for relaxing and recuperating and recharging, all of which I did.
I rustled up a batch of Wacky Noodles for the meal o' the day, ate them all up, then I ascertained that there was neither mail nor packages so I just listened to some music, had some telephonic conversations and then finally sat on my couch like so much fish.
Last night, I watched a motion picture on Blu and Ray called Blazing Saddles, starring Cleavon Little, Gene Wilder, Madeline Kahn, Harvey Korman, and a host of great comic actors.  I saw the film on its opening day and the laughs were so long and loud that I went back right away to see it again.  It was audacious, irreverent, took no prisoners, and while it petered out a bit at the end, the run time was a brisk 91-minutes.  I fear for the film now.  How will the poor, sweet dears who are offended by any and everything and who want to cancel everything that causes them any distress deal with Blazing Saddles?  They won't be able to see the real point of its satire, of course, because these little darlings have zero sense of humor – speaking of zero, I'd forgotten that Zero Mostel has a cameo.  Because yes, the film has multiple uses of the "n" word, and its comedy trappings pushed many boundaries back then, especially the campfire scene, which is still hilarious to this day.  In fact, the entire film is still hilarious to this day only it wouldn't be made this day and isn't that a shame.  The transfer is over a decade old now and really needs to be done again – this should look spectacular and it doesn't.  And why not do it while Mr. Brooks is still with us so he could do a commentary track?
Then I watched the first act of The Music Man, right up to the end of Wells Fargo Wagon, which is the show's intermission point (the film has no intermission). After that, I listened to two symphonies by Douglas Moore, which are very nice, taking a break from the Toscanini set.  As great as most of the performances are, the sound is just not good on most of the set and it's a real hinderance, I must say and did say.  I'm hoping that at some point the mono sound improves and is on a par with the Sony early 50s mono sound that's so impressive.
Today, I'll be up when I'm up, but no later than eleven, I'll do whatever needs doing, and then at one I have a Zoom meeting with two wonderful ladies who are doing a duet in the August Kritzerland, just to talk through all the technical aspects of it, so we can get it done in the next week or so.  We have to do that and the two numbers involving groups as early as possible, just because they're complicated and take a while to put together.  After that, I have food coming from a place I've been longing to try and now they have delivery and it's free right now – it's on the other side of the hill on Sunset Blvd. and it's called Daughter's Deli. What makes it intriguing is that it's owned by the daughter of the owner of Langer's Deli.  Normally, I would have tried the pastrami with cole slaw and Russian dressing, but they have that exact sandwich but with turkey and that just sounded too good to resist.  If I love it, then I'll do the pastrami the next day.  I also am getting potato pancakes, because if there as good as Langer's I will be in heaven.  That will be here by three.  I'll also hopefully pick up some packages, then I'll come home and do more stuff for the upcoming Kritzerland show, especially writing the commentary so I can get that out of the way.
The rest of the week is more of the same, and then we have another Zoom session for the two group numbers on Friday after two o'clock.
Well, dear readers, I  must take the day, I must do the things I do, I must, for example, be up when I'm up but no later than eleven, I must have a Zoom session, eat, hopefully pick up packages, write commentary, and then watch, listen, and relax.  Today's topic of discussions:  Well, what better time to quote our favorite lines from The Music Man.  And – go.  Let's have loads of lovely postings, shall we, whilst I hit the road to dreamland, happy to have been happy watching The Music Man.