Well, dear readers, the fireworks have been loud and irritating for the past six hours.  Yes, you heard it here, dear readers, the fireworks have been loud and irritating for the past six hours.  Why, you'd never have a clew that shooting them off is illegal.  Why, you'd never have a clew that there was actual law enforcement.  The people – sorry – cretins shooting off these industrial strength fireworks clearly do not own any pets.  Hopefully, at some point they'll stop, but since they've been going off for over a month now, who knows?  Perhaps this is how people get their rockets off, these days.  Or, more likely, they're just cretins.  90% of the posts on the Facebook are annoyed people posting about fireworks and their poor pets.  I suspect this is being done by the same sorts who go to bars, but that's just a supposition on my part.  Thankfully, the people I was most worried about, fireworks and party-wise, the noisy neighbors, don't seem to be home, so that's good.  I'm listening to Mr. Claude Debussy's musique, which has a calming effect.
Yesterday was not much of a day, which was fine by me.  I got six hours of sleep, got up, left the home environment at nine, went to Jerry's Deli and got lox, cream cheese, and bagels to go – I asked if they were serving outside, but they've put all the wait staff on hiatus again, even though they observed all the correct protocols.  But you can eat outside – you just have to buy the food to go, then you can sit at the outside tables.  But I wasn't ready to eat so I decided since I had a couple of hours to kill to take a drive.
I got on the freeway, the 101 to be exact, and went into Hollywood, got off, drove down to Hollywood Boulevard and drove from Vine to Highland.  The boulevard is very said.  Idiocy in high places dictated that the prettification take place from Highland to past the Chinese Theater.  That's it.  And they did the same for one block from Vine to Argyle and a half-block south on Vine but only on the east side of the street.  Traveling from Vine to Highland is just nauseating – boarded up, run-down stores and buildings, movie theaters turned into clubs that no one is going to, buildings torn down with nothing in their place, and yet there sits Musso and Frank in the midst of all that horror.  Sadly, Musso is also boarded up and gated – they were scheduled to reopen for dine in this week, after spending many thousands of dollars to get everything up to speed per the many requirements and telling their staff they'd be employed again – but thanks to our governor and mayor, both of whom, rather than punishing the actual guilty parties who did not follow the protocols, they paint with a broad brush and punish everyone.  I don't like either of them, frankly.  There were very few cars.  I don't know what they were doing to the west of Highland, but the entire middle of the street was blocked, leaving only a single lane on either side.  I could stand no more, so I turned left and headed south on Highland.
Highland to Melrose was also decrepit and horrible.  This neighborhood was once so very sweet, but that's LA for you.  But the worst had yet to come.  I took Highland all the way down to Wilshire and turned right, heading west.  Both the northwest and southwest corners are empty lots at the moment, the buildings that have sat there for sixty or seventy years, torn down and who knows what is going up there?  As I proceeded down what is known as Miracle Mile, there was nothing miraculous about the empty storefronts, the repulsive behemoth buildings that have replaced either classic buildings that one housed wonderful stores and department stores or the mom-and-pop one-off stores.  The El Rey movie theater is still there, albeit a rock club.  And then the horror show.  They have torn down Museum Square AND the museum, which will be replaced with yet another grotesquely ugly building.  There as not a damn thing wrong with that museum or Museum Square but down they came because LA has no sense of its own history or what was unique about it – it's all about developers and money, not history, not preservation.  It was all but recognizable to what it once was.  Further west, the May Company will be in use by the Academy of Arts and Sciences, but who knows when that will open or what it will be like.  And directly across from it, where once the wonderful Seibu department store sat (and where Orbachs would end up) is, perhaps, the single ugliest façade in the history of our fair city.  In case you haven't seen this nauseating thing, here it is for your mental delectation.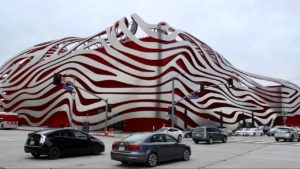 Also, major parts of Wilshire by Fairfax are ripped up, as that's becoming subway route, heaven knows when.  Moving along west from Fairfax is pretty dead, then from La Cienega down to Pico, it's empty stores, boarded up stuff, and sorry looking duplexes.  Continuing south past Pico is saddest of all – my old neighborhood.  It's all dilapidated, mostly empty stores, everything gone to seed.  Now, you must understand, two decades ago or more, this neighborhood, which was all seedy, did a turnaround and the Jews all moved back there, buying up houses and duplexes.  It's VERY expensive to live there.  So, wouldn't you just think that businesses would thrive there in that kind of now upscale neighborhood?  There are few restaurants, and most of the jernts I saw are places you would never want to go into.  I turned off La Cienega to see if my house had been replaced yet, since two-thirds of the houses on that block have been.  But thankfully, it's still there with no add-ons.  Then I drove over to Robertson and back towards Pico and it was more of the same.  I then took Robertson all the way up to Santa Monica Boulevard and turned right.  Now, the entire way, there weren't but a handful of cars in sight.  But immediately on Santa Monica Boulevard there was traffic and it remained until I got back to Crescent Heights.  That is because West Hollywood has somehow become a poster child for what not to do in a pandemic.
I then came back to the Valley, because I'd seen enough.  LA is simply no longer the city in which I grew up.  It has lost its personality; it has lost what made it special.  When Dragnet used to do its opening narration, always beginning with "This is the city" – all the information imparted was about how unique we were.
I went to the mail place, but they were closed for the weekend for the holiday.  So, that was irritating.  Then I came home just as she of the Evil Eye was finishing up.  Once she was gone, I had two lox, cream cheese and bagel sandwiches, which were excellent.  Then I did a few things on the computer, did some Kritzerland show stuff, and then I finally sat on my couch like so much fish.
Last night, after dozing off for an hour, I watched three count them three Sherlock Holmes movies.  The Spider Woman, The Scarlet Claw, and The Pearl of Death.  Amusingly, the menu for that disc calls The Spider Woman Sherlock Holmes in The Spider Woman.  That made me chuckle.  The three movies are very much of a piece and they were all okay.  It was fun to see Gale Sondergaard as The Spider Woman.  And it's also fun to see how many of the actors come back for film after film, always as different characters.  The Inspector Lestrade character is simply annoying in these films, but Rathbone and Bruce always are fun, especially with Rathbone's many disguises.  Also, a few of the films that came before these three were co-written by none other than Lynn Riggs, writer of Green Grow the Lilacs which, of course, became Oklahoma!
After that, I had the other two bagels, lox, and cream cheese and they were excellent, too.  Then I listened to music, was annoyed by the firework, which are still going on sporadically, and then it was time to write these here notes.
Today, I'll get up when I get up, and I'm hoping I can just have a ME day, although there is a little work to be done.  I need a Sherlock Holmes break, so I'll watch something else.  Mail place is closed, which is annoying since two packages were slated to arrive today, but I suppose they'll arrive on Monday now.  I'm hoping I can get into Gelson's and if so, I'll get some kind of steak and a baked potato for my meal o' the day.  Then I'll watch, listen and relax.
Tomorrow we begin the Kritzerland show week – we'll be doing our Facebook Live tests and I'll be singing songs in each of the three, we'll make sure everyone and everything is ready, and then we do our show on Sunday at 5:00 Pacific Something Time and 8:00 Eastern Something Time.  So, a busy week, and I'll also be finalizing the song choices for the August show, as we'll get right into that the day after we do our show.  I'll remind you of our fabulous cast.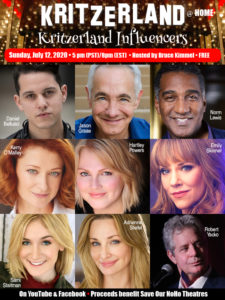 Well, dear readers, I must take the day, I must do the things I do, I must, for example, get up when I get up, do a little work, have a ME day, eat, and watch, listen, and relax.  Today's topic of discussion: It's free-for-all day, the day in which you dear readers get to make with the topics and we all get to post about them.  So, let's have loads of lovely topics and loads of lovely postings, shall we, whilst I hit the road to dreamland, wishing that this is the city, Los Angeles, could be the magical place it once was.