Well, dear readers, I am sitting here like so much fish, listening to yet another Mahler 10 – I am determined to hear every iteration of this symphony, which I'm obsessed with – there aren't all that many so at some point soon I'll write up my thoughts about which I feel are the best performances and those who are interested in such trivial pursuits can take those thoughts for whatever they may be worth, which is probably peanuts.  And speaking of peanuts, I have a LOT of peanuts in the house right now – I went on a peanut buying frenzy, getting six cans in all from an online peanut place – the first time you order they give you a great deal and I must say these peanuts are the berries, which, of course, is no mean feat considering these peanuts are also the peanuts.  So, I eat a measured amount each night – nothing to cause any real harm.  I have honey-roasted, toffee-covered, plain, redskins, and plain with dried cranberries so those really are both the peanuts and the berries.  I also had cashew nuts but it was the Geissmans anniversary two days ago and so I gave them that as a gift.  Why am I going on about peanuts?  Don't I have other more important things to talk about?  Doubtful, but let's give it a try, shall we?
Yesterday, I woke up at nine after five not enough hours of sleep, went back to bed at ten, fell asleep around ten-thirty, and woke up at one, so I think that's eight hours.  Once up, I checked the pile of e-mails and the first one I came upon was a good one: The Scenie Awards from a local LA critic were announced, really for less than half a season of shows.  There are mostly a lot of categories with multiple winners in each category.  And The Man Who Came to Dinner won quite a few awards and good awards at that, and I won for best director of a classic play, my second Scenie directing award and I think my third personal Scenie (I won last year for best music and lyrics for A Carol Christmas).  And one of our In My Mind's Eye actors also won, so that was nice.  Doug Haverty did a little flyer, so you can see what we won.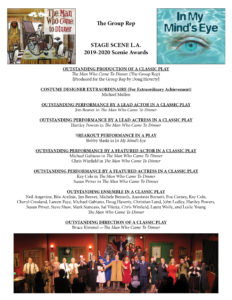 Isn't that fun?  Then I answered a ton of e-mails, did some work on the computer, made a decision about some stuff I wanted to accomplish yesterday, went to the mail place and picked up a couple of packages from the day before, and of course within three minutes of leaving another package arrived – triple A batteries, as I ran out the other day.  Much cheaper to by Duracell batteries on Amazon than in stores, I must say.  I came home and then accomplished what I'd hoped to accomplish, which took about an hour, I guess.  Then I ordered a fried chicken sandwich from a jernt I like and that came thirty minutes later, and I ate it all up whilst having a telephonic conversation about how we're going to do the It Might Be Fun remixed downloads thing.  I prefer it all to be done on the site but that requires some programming Doug doesn't know how to do, but it will only take a few minutes to do and then all that will happen is that you purchase via PayPal, as always, and that generates an e-mail that's sent to you and from there you get a code and can download right from the site.  Not sure how long that will all take, but hopefully it will be soon.  Meanwhile, if anyone would like to be the first, we can do it via PayPal and me sending you the files.  I'm hoping someone will take advantage of that as I'm anxious for someone to hear the difference.
After that, I did some more work on the computer, had the air on for some of the day as it's not really bugging me now that the filter has changed, and then I finally sat on my couch like so much fish.
Last night, I watched the last of the De Palmas that I own – Snake Eyes.  I think this was my third viewing.  It's not completely awful.  Some of it is entertaining but then it just gets to be a bore after a while and then limps to its unsatisfying conclusion.  Nice photography and music.  Nicolas Cage is so all over the place that one can never do the one thing one needs to, which is root for his character, which is a real problem in a movie like this.  Of course, the opening twenty minutes is typical De Palma show off stuff, then the next twenty minutes we get Rashomon, where we see the same events through different points of view.  I don't think I like a single De Palma movie after this one.
After that, I listened to music and relaxed, not necessarily in that order.
Today, I'll be up when I'm up, I'll do whatever needs doing, I'll hopefully pick up some packages, I'll do Kritzerland show stuff, I'll eat, and then at some point I'll watch, listen, and relax.
Tomorrow is more of the same and then at three we begin our Zoom rehearsals.  One of the rehearsals got pushed to Sunday, otherwise I'm not exactly sure what the weekend holds.
Well, dear readers, I must take the day, I must do the things I do, I must, for example, be up when I'm up, do whatever needs doing, hopefully pick up some packages, do Kritzerland show stuff, eat, and then watch, listen, and relax.  Today's topic of discussion: What are your favorite romantic comedy motion pictures?  And your least favorites?  Let's have loads of lovely postings, shall we, whilst I hit the road to dreamland, happy to have had a good Scenie Awards day.