Well, dear readers, there are times when you simply must write about a sandwich and this is one of those times, so hold on to your hats because I'm about to write about a sandwich because there are times you simply must.  Friend Marshall Harvey told me he'd found an incredible Eyetalian sandwich in Pasadena, at a place called Roma Market.  And since he was going to be down in that area yesterday, he was going to two and bring me one.  Well, I don't think it's much of a secret that I'm always up for an Eyetalian sandwich.  As you know, I have them regularly at Subway or Jersey Mike's.  So, what would be the big deal about some other Eyetalian sandwich, I asked myself, and myself had no answer being that myself is a contrarian and numbskull.  To cut to the chase, Marshall arrived a bit after one-thirty with a cutely wrapped pink package containing one Eyetalian sandwich.  We chatted and then left to go eat his, and I went immediately to the kitchen environment, where I unwrapped the sandwich quickly.  I was confronted with an Eyetalian sandwich – not too large – on a baguette, I guess or something like that – crusty bread is how it's described, I later learned.  You could see salami and capicola and provolone cheese peeking out so that made me very happy.  There was also another meat in there, peeking out, and it had a weird look to it, so I knew it was mortadella.  I will admit here and now and also now and here that mortadella and I are no friends.  There's just something about mortadella that I don't care for, and therefore if ordering a sub somewhere I always make sure they leave it off.  So, I removed it from the sandwich – it was only one small piece anyway.  Then I had my first bite and it was heaven on crusty bread, a literally perfect sandwich with each meat flavor complimenting the other and the perfect amount of provolone.  I ate it all up and could have eaten another two of them, frankly.  But the reality is that it was the perfect size and nothing like the humungous footlongs at Subway and Jersey Mike's.  Then, later, I found out the history of this marvelous sandwich.
The fellow who makes it has never missed a day of work at his café in seventy years – he makes these sandwiches seven days a week and the jernt is quite popular with the populace.  The fellow, Rosario Mazzeo is eighty-one years young.  He came up with the sandwich back in 1959 and has been making them ever since.  According to an LA Times article, he makes between 400 and 600 a day.  And they all sell.  They do other things to, but this is what the market is known for – the sandwich, as it's called.  The only other thing on the sandwich is a drizzle of good olive oil.  Sometimes it's the simplest things that make the best meals.  I'll be getting more of these – it's a twenty-minute drive but why not?  Here is a photograph of the wrapped sandwiches.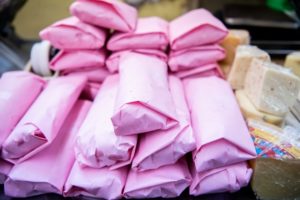 And here is the sandwich itself.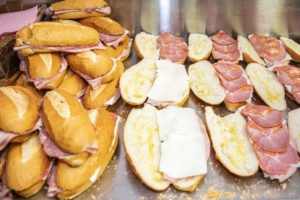 So, now I have written about the sandwich because occasionally one simply must, it's that simple.
Yesterday was otherwise okay, I suppose.  I did get eight hours of sleep, maybe a little more.  Once up, I did things that needed doing, got the first track for the anniversary show, then got a second track later, so things are proceeding.  I thought about songs, chose one, and then Marshall arrived with the sandwich, I ate it, and then I moseyed on over to the mail place and picked up some packages, including one from Walmart.  I came right home and, wondering what in tarnation was IN the Walmart box I opened it to find disposable washcloths.  The one thing I suppose I would never order in my entire life was a supply of disposable washcloths.  So, I went to the Walmart site, initiated a chat, and the fellow said it was an error and that I should keep it, throw it out, or give it away.  I chose the latter, and the fellow who lives in the back house took them.
Then I did some work on the computer, and then around six I decided the sandwich wasn't really enough food for the day, so I ordered from a café nearby a wedge salad with ranch dressing.  It arrived about twenty minutes later.  The salad itself was fresh and had bacon and bleu cheese and candied walnuts, but unfortunately it got a fail from me because the ranch dressing wasn't fresh – it came in packets and was Ken's Ranch Dressing, which I've had and which doesn't really taste like ranch dressing, it tastes like something that came out of a plastic packet.  I ate it and it would have been great with some real ranch.  They ought to let people know the dressing story, but they don't. Then I finally sat on my couch like so much fish.
Last night, I watched a motion picture on one of those Warner Archive DVDs, entitled Song of Love, starring Miss Katharine Hepburn, Mr. Paul Henried, and Mr. Robert Walker.  It was made in the year of my birth.  I only wanted to see it because it's a film about Robert and Clara Schumann, Johannes Brahms, and even Franz Liszt.  It's not very good, unfortunately.  It's laboriously laborious, turgid, but does have some nice musical moments.  It's also highly fictionalized, as you might imagine.  Most of the piano playing is Arthur Rubinstein, but all the actors do a pretty good job of pretending to play the piano.  Anyway, I was glad to have seen it and never need to see it again.  As sometimes with these Archive DVDs, the transfer looks pretty bad.
I then watched a motion picture on Blu and Ray entitled Body Heat.  I hadn't watched it since it came out, which was back in 2008.  I saw the film on its opening day in Westwood.  We were still in our Creature Wasn't Nice offices at Laird Studios (The Culver Studios) and we all just picked up and went to the first showing at noon-thirty.  From the first notes of John Barry's score I knew we were seeing a classic and it was.  I was very critical of most movies back then but found not a single thing to criticize in Body Heat, and I have loved it just as much every time I've seen it, including last night.  It's just perfectly cast (all the leads, except for Richard Crenna, were basically up-and-coming young actors), well directed, beautifully written.  It was a fairly low-budget film and the release prints weren't all that wonderful, frankly.  This Blu-ray was made from an existing master from the DVD days and boy is it due for a new transfer, preferably off the camera negative.  This old transfer simply doesn't look very good.  I believe it has all the extras from the special edition DVD of the early 2000s.  If somehow you've missed this film and you love film noir, check it out.
After the movies, I listened to some music and relaxed.
Today, I'll be up by noon at the latest, then I'll just relax until it's show time at 5:00 PDT and 8:00 EDT.  Hoping most of you will watch it live so you can comment and join in that fun.  Here are the links to Facebook and YouTube.
https://www.facebook.com/KritzerlandUpstairsatVitellos
https://www.youtube.com/haineshisway
After the show, I'll treat myself to something nice to eat, and then just relax.
Tomorrow, we'll dive right into the next Kritzerland show, our big tenth anniversary show.  But I must also deal with some unpleasantness and that will be unpleasant.  As Mrs. Lovett would say, "Times is hard, Mr. Todd, times is hard."  Little miracles, that's the ticket.  The rest of the week will be more of the same.
Well, dear readers, I must take the day, I must do the things I do, I must, for example, be up by noon, relax, do our show, have something nice and fun to eat, and then watch, listen, and relax.  Today's topic of discussion: It's free-for-all day, the day in which you dear readers get to make with the topics and we all get to post about them.  So, let's have loads of lovely topics and loads of lovely postings, shall we, whilst I hit the road to dreamland, happy to have had and loved the sandwich.