Well, dear readers, Kritzerland at Home 109 seems like it was a rousing success, certainly the most people who've ever seen one of our shows.  I was pleased by how many dear readers watched this one live, much appreciated.  I thought maybe we'd really explode with Petula fans but that didn't happen.  I think her most loyal were with us – we posted on her page and her fan page repeatedly, but the problem with Facebook is that not everyone is looking at group pages all the time and the Facebook algorithms tend to make sure that no one sees anything that can't be monetized by them.  And for whatever reason, we don't seem to be able to get actual musical theater fans to watch.  I post on all those groups and no one from those groups can be bothered, whereas they'll watch those Stars in the House things religiously, day in, day out, or they'll pay to watch other concerts.  I mean, we could not have had a starrier cast for these people, but they're just hard-headed, I guess.  But enough about those types.
We've been working on this show intensely for the past four weeks.  I'd actually begun the hunt for the guest singers prior to our last show airing.  I had a couple who then dropped out for whatever reason, but I ended up with the right folks for this show.  And I knew I wanted the drop-in surprises sprinkled throughout the show.  That ended up being the most daunting thing of all.  Certain people I asked never even responded, but most who responded did say they'd do it.  Wrangling all that took forever.  And figuring out how it would all work took some time, too.  In the end, I could not have been more pleased.  I spent days choosing the songs, decided there wouldn't be any put-togethers in this show and also decided the only group number would be our opener and instead of our usual group of group singers that the core cast would do it.  The group stuff is always challenging, mostly because we don't ever have a real session where they learn the phrasing exactly so they're all singing precisely the same thing with the same timing.  So, a lot of the ragged stuff gets fixed after we get the recordings and lay them back on the track.  It's really sloppy, usually, and Richard Allen and I spend lots of time cleaning all that up so that it's perfect.  And then Hartley works her visual magic.  One of the numbers I was most pleased with last night was Smile – I knew the concept would be to do the photos as he sings, and once Hartley understood that she made it all work beautifully.  When I saw that one all put together, after we'd smoothed out all the ragged stuff, I absolutely loved it.
But, for me, I was determined to pull out all the stops and I think we did.  It was one highlight after another, and I thought the structure worked really well – it took me several tries to get the balance and build of the show right.  I thought ever performer shined brightly: Daniel Bellusci was hilarious in his What If, which he's done twice before, and wonderfully winning in Smile, along with Mackenzie Wrap.  Jason Graae was his usual brilliant self and Murray did especially well.  Peyton Kirkner's done Annie before but she did it wonderfully last night and I loved her singing Kitchen Table Divorce, the first time anyone's heard any of the songs that Adryan Russ and I have written for the musical version of Nothing in Common.  Her mom tells me she walks around the house singing it all day.  Beth Malone was fall out of your chair hilarious with the song from Tootsie – I can't imagine anyone doing a better job of it, frankly.  Pamela Myers was incredible doing her signature song from Company.  I'd decided in advance to have Richard do a little orchestration so that it sounded like what she's used to.  She's such a delight and I think that was a real audience favorite. Kerry O'Malley absolutely did one of the best Losing My Mind renditions ever.  I knew she'd do it perfectly and she did.  She's done Fifty Percent before at Kritzerland but last night's performance was just amazing.
I always like finding a great song for Hartley to sing.  She puts so much effort and work and heart into our shows and I like her to also shine as a performer.  I've recorded How Can I Forget twice – I love the song and Hartley got all the humor as well as the touching stuff just great. Sami did so well with Lion Tamer – she didn't want to sing it, even though she sang it in a Kritzerland show, but I was insistent and of course once we'd rehearsed and she worked on it, she grew to love it.  And she belted out the Side Show cut song with those lungs of steel – very powerful song, too.  I could listen to Adrienne Stiefel sing anything – just a great, great voice, a wonderful interpreter, and beautiful to boot.  I knew she'd do Here You Come Again perfectly because of the show I directed her in – similar country feel.  But her rendition of On My Way to You was breathtaking, I thought.
I knew Robert Yacko would do Finishing the Hat – he did it at Kritzerland and having been the first person to play Georges in regional theater, he knows the song intimately and sings it superbly.  I don't think he'd heard Where Do You Start prior to my choosing it for him, but he fell in love with it and did a great job of it.  Of course, I saved Petula for last – who wouldn't?  She's eighty-seven, I believe, and that voice is still so incredible and hearing her do Feed the Birds was beyond thrilling.  She's a class act and I adore her and was so happy she could do it.  And how much fun were our drop-in guests?  The happiest surprise of them all was Twiggy, who looks fantastic.  Richard Allen did a huge amount of work on this one, but thankfully we had some other wonderful pianists to help lighten his load – John Boswell, Alex Rybeck, David Dyer, Grant Sturiale, and Tom Griep.   And again, none of this would happen without my other right arm, Hartley Powers.
After the show, I went to Gelson's and got some melon squares, came home and ate them, and then all I could do was relax and listen to music.
Prior to all that, I'd gotten just about eight hours of sleep.  Once up, I answered e-mails and then relaxed and puttered around the home environment.  Then I shaved and showered, relaxed some more, and, of course, posted relentlessly about the show.  And then it was show time.  This is what my set-up looks like.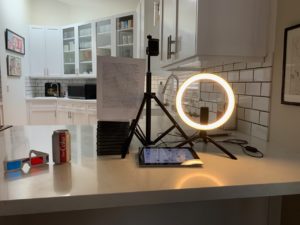 Today, I'll be up when I'm up, I'll do whatever needs doing, I'll hopefully pick up some packages, I'll figure out what I want for food and I'll eat whatever that is, but mostly I'll be relaxing and recuperating.  At some point, I'll watch, listen, and relax.
The rest of the week is recuperating, a couple of lunch meetings at restaurants that have outdoor seating and the meetings will be at off times.  And boy do we need some little miracles right about now and I do mean right about now.
Well, dear readers, I must take the day, I must do the things I do, I must, for example, be up when I'm up, do whatever needs doing, hopefully pick up packages, eat whatever food I ultimately choose, and then I'll recuperate, watch, listen, and relax.  Today's topic of discussion: What were your favorite things in the tenth anniversary Kritzerland show, your favorite highlights?  Let's have loads of lovely postings, shall we, whilst I hit the road to dreamland, happy that Kritzerland at Home 109 went as well as I hoped it would.