Well, dear readers, it was 117 degrees in the shade yesterday.  That is six degrees of separation from being a musical, if you get my meaning, which I know you do because you dear readers are with it and happening, not necessarily in that order.  Yes, you heard it here, dear readers, 117 degrees.  It's closing in on midnight as I write these here notes and would you like to know the temperature outside?  93, down from 99, which it was ninety minutes ago.  Can we just tell the people in charge that that is too darn hot?  In fact, it's too damn hot, if you must know.  The air quality is terrible, and yet when I too my drive a bit earlier, when it was still 100 degrees out, the main drag around these parts were jammed with outdoor diners sitting in this heat.  In any case, we need to be over this heat wave pronto because it is disgusting in the extreme.  As I write these here notes I am listeing to Mr. Arnold Schoenberg and his popular piece Ferklempt Night or whatever it's called.  It's quite a good piece and I am listening to an excellent monophonic version conducted by Vladimir Golschmann.  I also have a good version by Herbert von Karajan and a few others.  I have for the ninth day in a row stuck to my 1000 calories a day diet, so I feel good about that, although I'd feel better if it wasn't so damnably hot.  Let me just say it again: 117 degrees. Anyone who thinks that is normal in September should instantly remove their head from their nether regions, if you get my meaning, which I know you do because you dear readers are with it and happening, not necessarily in that order.  But there is much to write about so let's have at it, shall we?
Yesterday was a day in which I had ten-and-a-half hours of sleep, arising at around one, which was far too late in the day for my taste, but I guess I needed the sleep.  Let's face it, when you need the sleep you need the sleep and there's nothing to be done about it except sleep, which you need.  But once up, I was a dynamo.  Sensing that it was already 117 degrees out, I turned on the air conditioning, which helped and didn't bother me as much as the eighty-one-degree house would have.  Yes, I was a dynamo, a human dynamo as opposed to a cigar dynamo or a pissant dynamo.  I answered emails, did things that needed doing, but mostly dealt with Miss Petula Clark and what better way to spend one's time on a Saturday than dealing with Miss Petula Clark?  There were some technical difficulties to sort out but sort them out we did, quickly and efficiently, and now all is well and well is all in the Petula Clark department.
There was no way I was even stepping outside, so I did a few more things that needed doing, then I rustled up the meal o' the day – two wonderful cheeseburgers, comprised of the following items: Burgers, cheese, lettuce, tomato, chopped onions, and some 1000-Island dressing – I just plopped a big glob of ketchup on each bun, then added just a tiny bit of mayonnaise, mixed it all together and voila, 1000-Island dressing.  The burgers were really yummilicious and very filling – I suspect my larger-than-life tummy may be shrinking a bit, so that makes it easier to feel full.  The chopped onions didn't really do the trick, so for today's set of cheeseburgers, I'll do slices instead.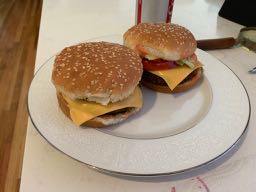 After food, I did a few more things, and then got a wee bit irritated when I found out yet another online event decided to do September 13.  When I set that date, there was one other event, a paid concert thing that I had no concern about, and that was IT.  In the last week, FIVE other events have announced for that date.  Why?  There are no other dates?  There are no other days of the week?  Are these people so stupid that they don't check on what other things are happening?  Or do they think it's just about them and they don't care about anything but themselves.  Well, I'm here to tell you, when I set the date for the next Kritzerland I will not share that date until a week before and then I can either move to a different date if there's too much going on or keep it if there's not.  There's simply too much of this online stuff going on, mostly by people trying to stay relevant or by big stars doing readings of things on Zoom, which, for me, is strictly from hungerville.  But we do hope you dear readers will be loyal and true and watch the other stuff at other times, as it will all be available.  We want you with US, live as it happens, making with your fun comments.  Then I sat on my couch like so much fish.
Last night, I watched a motion picture on Blu and Ray entitled Human Desire, a film of Fritz Lang from 1954, starring Mr. Glenn Ford, Mr. Broderick Crawford, and Miss Gloria Grahame.  It's an Americanized sort of remake of the French classic, La Bete Humaine.  It's really not a great film, but I do enjoy Mr. Lang's direction and the performances are all fine.  The problem lies in the script, which simply isn't very good.  A very good score, though, by the underrated Daniele Amfitheatrof.
After that, I watched the first half of the Fritz Lang film that preceded Human Desire, the classic The Big Heat, an absolutely brilliant film in all departments – every performance, the screenplay, the direction, the score, all of it.  If you've never seen it, you really must.  Film noir at its finest.  I'll finish it up tonight.
Then I took my drive, took note of all the outdoor diners at every restaurant that lines Ventura Boulevard.  I came home, began listening to Ferklempt Night or whatever it's called, and that was pretty much it.
Today, I'll be up when I'm up, but hopefully not as late as yesterday.  I'm thinking today can mostly be a ME day.  I do have to go to the mail place to pick up a couple of packages that came in the last couple of days, I'll make the two cheeseburgers, but this time around with sliced onions and ketchup and mustard, I'll do whatever little stuff that needs doing, then I'll watch, listen, and relax.
This coming week is all getting ready for the tenth anniversary show.  We'll do our one and only Facebook and YouTube Live test on Thursday, which we hope you'll watch, as I'll be answering a lot of really fun questions very frankly, and then on Sunday we do our show.  This one's been very complex due to its many moving parts, but we hope it all works out the way we want it to.
Well, dear readers, I must take the day, I must do the things I do, I must, for example, be up when I'm up, I must have a mostly ME day, I must hopefully pick up packages, I'll eat two cheeseburgers, and then I'll watch, listen, and relax.  Today's topic of discussion: It's free-for-all day, the day in which you dear readers get to make with the topics and we all get to post about them.  So, let's have loads of lovely topics and loads of lovely postings, shall we, whilst I hit the road to dreamland, hoping we don't have a replay of six degrees of separation from a musical, if you get my meaning, which I know you do because you dear readers are with it and happening, not necessarily in that order.