Well, dear readers, I am sitting here like so much fish, listening to music and relaxing, after doing two back-to-back Partridge Family events last night.  It's hard to believe the show debuted fifty years ago.  For the first of them, we convened on Google Meet – I think they said there were over 100 fans there.  For that one, I was the one guest and a lot of folks had pre-submitted questions. There was some difficulty actually getting on, but finally I was in and I just dove right into the questions, since we were beginning a bit late.  I always enjoy Q & A's, so I answered all submitted questions – I never see a reason to hold back or censor my answers, I only see a need to be truthful and hopefully amusing.  The questions were quite interesting, most of them obviously about the show.  While I was answering I'd see little messages go by and they were all so sweet and lovely, which is, frankly, just what the doctor ordered.  It's amazing how the love for this show has lasted and lasted, not only for David Cassidy, but the show itself.  I'll get to more about that later because I was asked specifically about why that was so in the second event.  There were questions about each member for the cast, specifics about the episodes I did, questions about my relationship with David and Susan, and I just had a splendidly splendid time, and everyone was so nice.
We actually ran a bit long, so I had to vamoose and log into the other event, which was happening on a Zoom-like platform called Streamyard, which is what most people are using for these online reunion things.  But they all have the same issues – Wi-fi problems, you get disconnected occasionally, the sound is terrible and cuts in and out, the images freeze and unfreeze unpredictably.  At some point, someone will figure it all out.  I was disconnected about five times in the first ten minutes, but then thankfully that didn't happen again.  It was a fun group of people – at the beginning it was Shirley Jones, Danny Bonaduce, Brian Forster (who had the most technical issues and who actually never got to speak), Jeremy Gelbwaks, Ricky Segall, a woman named Ann Moses from Teen Beat magazine, photographer Henry Diltz, and a late addition was John Bahler who did all the background vocal arrangements for the Partridge Family.  Our host was Johnny Ray Miller, who wrote a wonderful book about The Partridge Family music.
It was a blast seeing everyone.  Shirley only was there for ten minutes, but we all got to pay our respects and she seemed genuinely happy to see us all.  Everyone got a chance to tell stories, yours truly included.  They actually referred to the ship episode a lot, so I got to chime in with some funny stories about that.  And when the first brought it up, Henry Diltz, who was on the boat with us, had some story or other and there was a lull for a minute, and I help up this photo of Henry and me and he was mind-boggled and got a screen grab of it.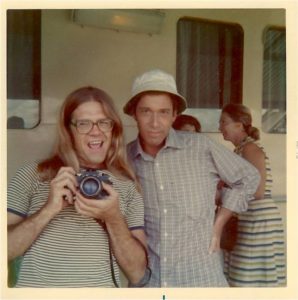 Isn't that a great photograph? Henry also had a page from a diary he kept when we were on the ship, talking about one of our many dinners, and my name was mentioned in the diary.  Who knew?  Danny was very funny and very kind to me, but everyone was great. Everyone was asked why they felt the show's popularity has lasted so long and everyone gave great answers, mostly to do with the music.  I said I felt it was because it was a perfectly cast show, well-written, genuinely funny, and warm and wise, with no negativity.  So, that one lasted about ninety minutes and by the end of it, I'd been sitting on my stool where I do the Kritzerland show stuff for two-and-a-half hours.  Here's a screen capture of what it looked like.
Otherwise, yesterday was a little stressful, as all days have been for the past week.  I did get eight hours of sleep, so that was good.  I answered e-mails, I did stuff that needed doing, and then I had my three hot dogs (low-calorie – low-fat).  My Three Hot Dogs – that's the title of my next novel, which will be turned into a popular sitcom on ABC next season.  Then I shaved and showered, did more stuff on the computer, printed out the questions for the first event and then it was time to do all that.
After finishing the second event, I had a very long and good telephonic conversation, so that was a bit of a pick-me-up, then, since I'd only eaten about 640 calories, I moseyed on over to Gelson's and got some small bites kinds of treats – a tiny bit of spicy Thai pasta salad, four tiny egg rolls (200 calories), one potato pancake (99 calories), and some more Honey Crisp apples.  I came right home and ate it all up – so, either close to 1000 calories or perhaps 50 over that, which is fine.  Then I listened to the last of the New York Philharmonic set – some newer music I didn't love, but the set ended with a perfectly wonderful clarinet concerto by the always interesting William Bolcom.
Today, I'll be up by eight-thirty, then she of the Evil Eye comes, and I'll go eat a light breakfast somewhere, then do stuff until she's gone and I can come back home.  Then I can relax and have a nice day and evening.  I'll do some Kritzerland show stuff for the November show, but also the October Backstage at Kritzerland interview show.  Then I'll watch, listen, and relax.
Tomorrow will be more of the same, then come Monday I'll know about a potential little miracle, and then the rest of the week is planning and trying to move this idea I have along to the next stage.
Well, dear readers, I must take the day, I must do the things I do, I must, for example, be up by eight-thirty, have a light breakfast, do stuff, hopefully pick up packages, do some work on the Kritzerland shows, eat something else to bring me to 1000 calories, and then watch, listen, and relax.  Today's topic of discussion: What were your favorite TV sitcoms about families?  Let's have loads of lovely postings, shall we, whilst I hit the road to dreamland, happy to have been part of The Partridge Family at 50.