Well, dear readers, I will say this: listening to Rachmaninoff makes everything seem brighter and more beautiful.  There, I've said it and I'm glad.  As I write these here notes I am listening to the brilliant pianist Byron Janis work his Rachmaninoff magic on the second and third piano concertos in gloriously glorious Mercury Living Presence sound.  For whatever reasons, Mr. Janis only recorded the first three concertos and only the third did he record twice, once on RCA and once for Mercury.  What a pity he never got around to the fourth concerto.  While the second concerto is justifiably considered the most popular of all Rachmaninoff pieces (even more so than the Rhapsody on a Theme of Paginini), I like the third concerto almost as well.  And I like the first and fourth, too.  There is certainly no shortage of great recordings of the concertos, especially the second, but frankly I'd stack Janis up against any of them and sound-wise I can't imagine any come up to the Mercury sound.  I'm not always in love with the Mercury Living Presence recordings, because some of them are simply too dry and brittle sounding, but when they got it right, boy did they get it right.  You have NEVER heard better piano sound than on this Janis CD – not then and not today.  It's astonishing, really.  Four years ago, when I got most of these SACD releases, all could be had really inexpensively.  But this year, prices have really shot way up on many of these, some into the stratosphere.  I'm not sure those copies ever sell, but it's fun to watch them as they climb.  I know I had a point when I began this paragraph, but I haven't a clew as to what it might have been.  Oh, yes, listening to Rachmaninoff makes everything seem brighter and more beautiful and, as you may remember, I needed a bit of that after a difficult two days when I was not feeling wonderful about the world and some of its inhabitants.  Yesterday was, thankfully, a bit better and a bit more positive, so I'll take it.
Yesterday was, thankfully, a bit better and a bit more positive.  One of the things that was bugging me most, regarding someone who is behaving like a twelve-year-old child, I decided is not only not worth my time but not anything I need to spend even one second thinking about.  I have learned that karma comes to those who behave like that, so having come to that realization, which I should have come to earlier, it was so easy not to give this person another moment's thought.  I got ten hours of sleep, and once up I answered e-mails and did things that needed doing.  Of course, the day was more than half over by then.  I had some things to puzzle out before dining, as I wanted to discuss said things over dinner, so I did that whilst listening to the rest of the Grieg orchestral works, most of which I found utterly delightful.  Then I shaved and showered, and then moseyed on over to the Smoke House for some fine dining, a celebratory meal with Hartley Powers, for all the hard work we've done on the online shows.  Five in a row was really taxing and I felt we deserved it for the hours upon hours of work they were.
We dined on their patio, which faces The Burbank Studios or whatever they call it these days – I only think of it as Warner Bros.  There were about four other tables in use, but all the tables on that patio are really well spaced apart (they also have taken half the front parking lot and put tables there, but I don't think I'd enjoy sitting there because they also park the cars on the other half of the lot.  Luckily, I found street parking.
Dinner was grand fun.  I'd figured out what I was having before arriving and I stuck to it: a small cup of clam chowder, a shrimp cocktail, and a wedge salad with 1000-Island dressing, which I knew would be well under 1000 calories, and I just happen to love all three of those items.  And, of course, we shared the garlic cheese bread, which was great, as always.  I had four pieces of that, but they're very small.  Imagine, if you will, a six-inch Subway sandwich.  Take the top half of the bread and slice it into fifths.  I had four of those pieces, so not a horrible calorie thing.  Hartley had the prime rib and a baked potato.  We're very proud of what we achieved with these online shows – we became the poster child on how to do these professionally and properly and almost immediately people started imitating the way in which we did, which, I suppose, is only natural and even flattering, all that emulating us.  It becomes just a little tiresome when people I know start doing that – and I know one upcoming thing by a tiresome musical theatre company is not only doing what we do but including – wait for it – little commentaries preceding the songs.  WHERE did they get that idea?  I've already been told that they're dry and dry isn't very interesting.
Then we discussed the rest of the year for our shows.  We're all tired and need a break, but I felt that if we took October off that people would just slide in there and try to steal our thunder – two of the copycat things are already happening in October.  So, I'd come up with an idea for October that would be easy and simple to do and that's what we're going to do, and friend Marshall Harvey will be helping with that show.  Then we'll be back full force in November and December, and I have some fun stuff planned for those shows.
We also discussed another idea that I've been pondering, and Hartley really liked it so I'm going to start seriously working on it and developing it and put it on the fast track.  I think, if we can pull it off, it will be a real eye opener in many ways.  After dinner, I came right home.
I had a telephonic conversation with someone who's involved in this Partridge Family celebration I'm doing – I'm involved in two back-to-back events, one fan oriented where I think I'm either the main guest or one of a couple, and then another event that will have Danny Bonaduce and a few other cast members and other interesting folks, so that will be fun.  Tonight, I'll be doing a little test to see how the platform they're using works, so that will be interesting.  My deal from the start was I would only do them if I could do the video on my end on the phone, as I do with our shows, because I know the phone camera and I know the lighting for that.  And it seems I'll be able to, so that's good.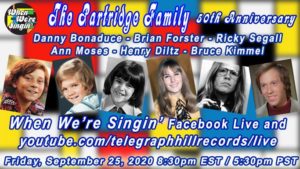 Once home, I watched the first forty minutes of the 1969 film musical version of Goodbye, Mr. Chips, mostly to see Petula Clark.  I know everyone seems to have a soft spot for this film, but it's really dreadfully directed by first-timer Herbert Ross.  Why anyone would have handed him a big budget movie when his only film experience was choreographing Funny Girl and a couple of Cliff Richard movies is anyone's guess.  He clearly knows nothing about film or how to shoot a movie – he learned as he went and he certainly made some okay movies, but here he decided the a zoom lens was cinema and its overuse is actually nausea-inducing.  The pacing is slack and the diffusion filters are so heavy that the film seems out of focus for much of that first forty minutes.  I'll slog it out till the end, but it's just charmless, at least for me.  Mr. O'Toole has chosen a very weird way to play Mr. Chips, but Petula is wonderful – fresh and real.  The score is hit and miss, mostly miss.
After that, I began my Rachmaninoff listening and that just perked everything up, even though I wasn't in a funk like the last two days and wasn't having a malaise.
Today, I'll be up when I'm up, I'll work on my idea, I'll do whatever needs doing, then at three I have a meeting at a favorite jernt that does outdoor dining and I know their tables are properly spaced apart.  I'll either go to the mail place before or after the meeting, probably before, where I'll hopefully pick up some packages and perhaps even an important envelope, which would be very helpful right about now.  And I'll keep hoping for some little miracles.  Then I'll come home and watch, listen, and relax.
The rest of the week will be figuring out the idea, fleshing out the idea, so that at some point soon I can start the realization of the idea.  I have no idea what the weekend holds.
Well, dear readers, I must take the day, I must do the things I do, I must, for example, be up when I'm up, work on my idea, do whatever needs doing, have a lunch meeting, hopefully pick up packages and an important envelope, and then watch, listen, and relax.  Today's topic of discussion: What are your favorite films of Mr. Peter O'Toole?  Let's have loads of lovely postings, shall we, whilst I hit the road to dreamland, happy to have had a slightly better day.