Well, dear readers, I am sitting here like so much fish, listening to the tenth symphony of Villa-Lobos, which is an epic, I must say and just did, and pondering how heat like we're having can simply suck the very life out of you, turning you into a lethargic lump of nothing much, and depleting whatever energy you're trying to have.  I and everyone else here have had it and yet on it goes with no respite in sight and no sight in respite.  No, it didn't reach 99-degrees but did reach a completely arid 92.  I wasn't out much but it just feels like there's no air to breathe at all.  Also, I was determined to not use the air conditioning because having to have it on as much as I have had to do has endangered my well-being with being on the verge of getting sick.  And I didn't have it on – thankfully, the house was at least tolerable until the early evening when it was eighty-one in here.  So, before I went to do a quick Gelson's run, I turned it on and by the time I got back it was seventy-seven, so that was better.  I also just satisfied by diet black cherry Dr. Brown's urge by having a Dr. Brown's Diet Black Cherry soda pop, bottled, of course.  Gelson's had 'em and I got four, which are now three.  And I was right – it really quenched the dry mouth very well.  Other than that, there isn't much interesting going on whilst I type these here notes.  I need an energy boost right about now, I need a pick-me-up, I need DOLLS so I can SPARKLE, NEELY, SPARKLE.  I seem to have just had a Valley of the Dolls moment.  And it's about time.  So, do send some can't get sick most excellent vibes and xylophones, won't you?
Yesterday was okay.  I was up at ten after six hours of sleep, got up, did a few things, then went back to bed and thankfully got another two hours of sleep.  Once back up, I did some work on the computer and at the piano, did stuff for the Backstage at Kritzerland thing, and then I got one of those you have updates to do that require a computer restart.  So, I did them, it was very slow to restart, took way too long to load everything, especially all my desktop stuff, and then instantly I got another notification saying there was ANOTHER update that would require a restart.  Nauseated, I did it and just left to go to the mail place.  I picked up the latest supply of Gerther's Pastilles, came home, and happily the update was done and successful.  Then I ordered a Chinese chicken salad for food.  It arrived about forty minutes later and I ate it all up.  That was it for food and it was very good.  Then I sat on my couch like so much fish.
Last night, I watched a motion picture on Blu and Ray entitled The Lives of Others, a German film from Germany.  I've only seen it once, on DVD back in 2008 and I absolutely loved every minute of it (I just reread my comments here).  At some point, I guess, I got the Blu-ray but never watched it.  The film came out in 2006 and fourteen years later it's every bit as good.  It's a classically made film – no modern BS anywhere.  It begins in 1984 and I don't want to say much because it's just so good you need to see it with fresh eyes.  The direction is superb, as is the screenplay (amazingly, it was the director's first film), the score is fantastic, the photography is great, but it's the cast that makes it – they're all perfect, none more so than leading man, Ulrich Muhe, who should not only have been nominated for an Oscar, but won.  The transfer is now older but it's fine.  I looked up the director to see what he's done since – two major films, both of which I want to see – one called The Tourist, with Johnny Depp and Angelina Jolie – can't imagine I'll like that one much, and then two years ago a film that won a lot of awards and was up for two Oscars – Never Look Away – that one sounds good to me.  Then I looked up Ulrich Muhe and was rather shocked to find that he passed away the year after the film was made, at fifty-four, of stomach cancer.  In any case, I cannot recommend this film highly enough.  I remembered very little of it except its premise, so it was like seeing it for the first time, really.
After that, I listened to music, did the Gelson's run and the rest you know, especially the most important part, the Dr. Brown's Diet Black Cherry soda pop. Here is the proof.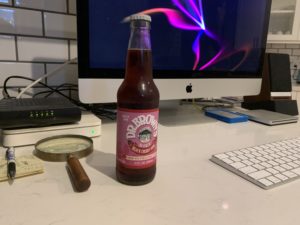 Today, I'll be up when I'm up, I'll do whatever needs doing, oh, the helper's mom is coming at eleven so I guess I'll be up by then – there's stuff piled up here that needs to be shipped so it will be good to get that stuff out and on its merry way.  I think today will be a three hot dog day and then some light snack or salad later – the three dogs come in at 555 calories, so I'll have another 445 to play with and play with them I shall.  I'll hopefully pick up some packages, I'll do more Kritzerland show work, and then at some point I'll watch, listen, and relax.
Tomorrow will be more of the same and then next week is very busy as we get ready to air the Backstage at Kritzerland thing – it may go over two nights rather than one – I have to make that decision soon.
Well, dear readers, I must take the day, I must do the things I do, I must, for example, be up when I'm up as long as it's before eleven, I must do whatever needs doing, I'll eat three hot dogs, I'll hopefully pick up some packages, I'll have a snack of some sort, and then I'll watch, listen, and relax.  Today's topic of discussion: Growing up, what were your all time favorite soda pops, especially ones where you, as a kid, would get them from a store in bottles?  Let's have loads of lovely postings, shall we, whilst I hit the road to dreamland, hoping the heat dissipates so I don't feel like a lethargic lump of nothing much.