Well, dear readers, our very first Backstage at Kritzerland went very well, I think, surprisingly well, I think.  I honestly had no idea if anyone would care or not, but everyone who watched and commented as it was happening or after the fact, said they really loved hearing the performers tell their stories and thought they were funny and moving.  I knew enough about each of them to know the right questions to ask and how to never let any interview overstay its welcome.  We planned this very carefully – originally, I thought it would be really easy, but these things are never really easy if you want to do them the right way.  For me, the absolute WRONG way to do them is to do them the way they're usually done, with terrible sound, lousy image quality, freezing, people getting booted off because of bad Internet, all that stuff.  So, again, we took the time to figure it out and so thankfully it all came off without a single hiccup, which is what I strive for in our online endeavors.  For me, it's never enough to just do the easiest or most expeditious thing or to do what everyone else does when I don't like what everyone else does.  And, of course, when they take a gander at us, they immediately try to figure out what we did and then to "emulate" us – it's funny to watch and amusing on some level, although I haven't quite figured out what that level is.  We did a lot of private testing on this one until I knew it would be fine.  Karl Sonnenberg took over for Hartley because Hartley is in her busiest season at work, and he did a fine job of it, too.  He had to deal with all the keying in of photos during the interviews and all that kind of thing.  In the end, it's about the performers and presentation and I could not have been happier about both.  After it was over, I finally ate some food: I made three bean, onions, and cheese burritos, because I had the makings here.  They were quite good and VERY filling – all in, it was 900 calories for the three, not bad at all.  And now, I am sitting here like so much full fish, listening to music, namely the music of a marvelous composer named John Veale – composed classical and a lot of great film music.  I think we're going to do a CD of his music once we get back to work.
Yesterday was a very short day.  That's because I got over ten hours of sleep and didn't arise until the early afternoon.  Once up, I did the usual things in the usual way, relaxed, shaved and showered, and then it was almost time to do our show, surprisingly.  I got everything ready and then it was show time.  I think folks enjoy seeing the set-up photo I post on Facebook, so here it is.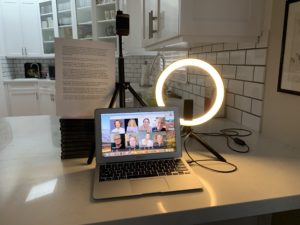 You see what happens?  Short day – short notes.  After I had tres burritos, I sat on my couch like so much fish.  In a surprising turn of events, I finally figured out where the big Hitchcock box that I've been searching for for two weeks or more was, and that was not here.  I forgot someone borrowed it, so the borrower brought it back and I'd been in the mood to watch the later movies, so I began with Hitchcock's 1969 film, Topaz, which I saw on its opening day in 1969 in my final month in New York.  I knew it had problems even back then, but even given those problems there was much of it that I really loved.  Like most, I wished that Bernard Herrmann would have done the music rather than Maurice Jarre, but that wasn't meant to be.  The film ran a bit long at two-hours-and-seven-minutes.  I owned an IB Tech 16mm print of it and watched that often, always enjoying the sequences I loved.  I got the VHS when it first was issued and enjoyed that even though it was open matte.  Then something odd happened: The film was re-released on tape and then DVD and suddenly the running time was two-hours-and-twenty-three minutes.  Apparently, they'd found a preview cut of the film and put that out with the usual "contains scenes never seen in the theater" – that was fine, but I found it odd that the release version wasn't included on the DVD.  The preview version was certainly interesting, especially as certain shots from cut scenes were in the film's trailer and I'd always wondered about them.  But Hitchcock was right to cut it down to its theatrical running time, because the additional scenes really don't add much to the film and hurt its pace.  And ever since those releases, that is the only version of the film that's been released, and that includes the Blu-ray, where they absolutely should have included the original release version – after all, that was Hitchcock's final word on the film and it's disrespectful to not have that available.  I only got about thirty minutes in, so I'll finish that up tonight and have more to say about it and the transfer.
Then, as you know, I relaxed and had me meal of Veale.
Today, I'll be up when I'm up, I have many, many things to do, mostly to do with the upcoming November Kritzerland show, and also continuing work on project one of the two I'm in the midst of figuring out. What I eat is dependent on several factors, so we'll see how those factors play out.  I'll hopefully pick up some packages and mail, and then it will be more work on the show, and then at some point I'll relax, watch, and listen.
Tomorrow and the rest of the week will be more of the same – show stuff, project stuff, eating stuff, picking up packages and stuff, and stuff stuff – and I think there may well be a couple of lunch meetings this week, too.  So, a busy week ahead and ahead a busy week.
Well, dear readers, I must take the day, I must do the things I do, I must, for example, be up when I'm up, do many, many things – Kritzerland show stuff, project one stuff – eat, hopefully pick up packages and mail, and then watch, listen, and relax.  Today's topic of discussion: From yesterday – what artists are your favorites and which of their paintings do you love best, and which art books do you own?  Let's have loads of lovely postings, shall we, whilst I hit the road to dreamland, happy that the very first Backstage at Kritzerland went well.