Well, dear readers, yes, I'm sitting here like so much fish, listening to more Szell.  It's not that I'm trying to sell you on Szell, but he's just amazing as a conductor.  I'm still in the mono years and he's even making music I don't care for sound palatable to me, especially his Mozart and mostly because he has such a light and airy touch with the music and moves it right along – no fuss, no muss.  But so far he's wonderful with every composer represented, including Dvorak, Beethoven, Haydn, Schubert, Schumann, Bach, Handel, Tchaikovsky – the best Rococo Variations I've ever heard – Liszt, Mendelssohn, and the best is yet to come when we move on to the stereo years about five discs from now.  I will also say it's cooled down considerably here and is actually a bit chilly, so I've got the heat on right now. This constant shifts in the weather has, of course, played havoc with my allergies, so I'm about to take an allergy pill.  And I may as well tell you what motion picture I watched yesterday because it does involve a rant, and I've only myself to blame for having endured it, but my curiosity got the better of me.  The film in question was on Blu and Ray and entitled The Girl in the Spider's Web.  Now, I know what you're thinking – you're thinking that sounds like one of the Stieg Larsson's Dragon Tattoo books.  But since Mr. Larsson passed away after the third book in his marvelous trilogy, he obviously did not write The Girl in the Spider's Web.  No, instead it's yet another disgusting cash grab that never should have happened, written by someone who simply shouldn't have even attempted it.  The Larsson estate allowed it, but Larsson's partner in life hated it and thought the author was an idiotic choice.  Now, as you know, I am a huge fan of the Swedish film trilogy, but only in their extended versions, which are all available in a nice box set.  Those films are perfectly cast, especially Noomi Rapace as Lisbeth Salander and Michael Nyqvist and Mikael Blomkvist.
Then two years later, David Fincher directs an American version of the first film that, for me, was terrible – either a by-the-numbers pale imitation of the original or a film that completely blew several of the original film's surefire moments.  I lost all respect for Mr. Fincher after viewing it and Rooney Mara was not within a country mile of Rapace's performance, and the less said about Daniel Craig, one of the most boring actors I've ever seen, the better.  So, what do the Hollywood honchos decide to do?  They decide not to make the second and third book (good) – no, they decide to make The Girl in the Spider's Web.  Mistake one.  Then they hire a mediocre director to do it.  Then they hire mediocre screenwriters to adapt it.  And then they hire all new actors.  So, we don't even get Rooney Mara, we get Claire Foy.  Now, Claire Foy may be a fine actress – I really have no idea, never having seen The Crown – but she's not Lisbeth Salander.  In fact, she's anti-Lisbeth Salander – some of it's the writing, of course, but Foy gives us a character who constantly looks like she's on the verge of weeping or having a breakdown, who's constantly getting the merde kicked out of her – this is not Lisbeth Salander, sorry, no, it's a big fail.  And they cast some guy as Blomkvist who has no personality and is too young and then they give him nothing to do.  So, we just get action scenes, a really badly developed back story not from the books, and a villain who is clearly modeled after every female villain of the last ten years, mostly played by Lena Olin.  It's a complete bore from start to finish and should be avoided at all costs.  And to close this rant, I'm so tired of idiots sitting at their little computers and coloring in things digitally – Mr. Paul Newman had BLUE eyes – they weren't digitally enhanced, they just were.  Ms. Foy has nice blue eyes, but in all the closer shots they've been blued to death – why?  All this technology hasn't made better films, just more artificial ones.  End of motion picture rant.
Yesterday was okay.  I think I got eight hours of sleep.  I got up, answered e-mails, then went to the mail place and picked up a Sunday delivery, came right home, did a little futzing and finessing on project one and moved forward on it, and then it was time for the first of two Zoom rehearsals.  First was Daniel Bellusci – we ran his two solos, which will be great, then Sami Staitman joined us, and we talked through their duet.  It's not possible to run a duet on Zoom – too much lag and freezing – it's quite ridiculous, really.  But we got them on the same page and so it will be fine.  Then Sami ran her other number and I had not a single note, which may be a first.  She just got it – the intention and how to play it.
After that, I had a roasted garlic chicken pizza from CPK.  It was great.  Then I did more work on project one, but realized I had to make a show order and get the commentary written.  Normally I'd have already done that and I don't know why I haven't, other than my head has really been in project one.  So, I made the show order, got everything ready, and then watched the movie, which you know about.
Then I began writing the commentary, took a Gelson's break and got food for the next three days, all calorie-friendly, and some apples, of course, came home and continued writing the commentary, all the while listening to the Szell set.  I got halfway through and I may either try to finish after I post these here notes, or instead I might go back to project one and if I do then I'll finish the commentary today.  It's probably another hour of writing to do, but I do want to get it out of the way so I can concentrate on project one.
Today, I'll be up when I'm up, I'll do whatever needs doing, I'll hopefully pick up some packages and mail, I'll eat one of the meals I got at Gelson's, probably the steak, which is super calorie friendly.  If I haven't finished the commentary, I will, and I'll work on project one.  At some point, I'll watch, listen, and relax.
The rest of the week is more of the same – lots of project one, getting all our ducks in a row for the Kritzerland show, which is just two weeks away, and I also have the spark of an idea for the 2021 book.   Oh, and here's the new flyer for the November 8 show.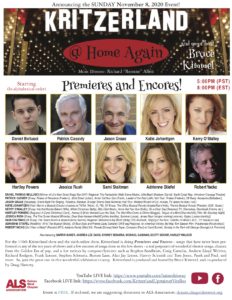 Well, dear readers, I must take the day, I must do the things I do, I must, for example, be up when I'm up, do whatever needs doing, hopefully pick up packages and mail, eat, finish the commentary, work on project one, and then watch, listen, and relax.  Today's topic of discussion: What are your favorite book to movie adaptations, ones you thought were really successful in capturing the essence of the book.  I'll start – Rosemary's Baby, which literally IS the book on screen.  Your turn.  Let's have loads of lovely postings, shall we, whilst I hit the road to dreamland, hoping they make no further movies based on characters created by Stieg Larsson.