Well, dear readers, let's just announce our two new releases, shall we?  It's our first new release announcement since March, I think, and I'm really hoping these two do well and that next week's do as well.  First up, we have the infamous flop musical, Lolita, My Love, with music by John Barry (whose birthday it is as I type these here notes) and lyrics by Alan Jay Lerner.  This is a live soundboard tape of the entire show on 2-CDs.  There are, of course, copies of it floating around, but I think the tape I got forty years ago was possibly the first generation and our mastering guy, James Nelson, has done a great job with it.  The songs and dialogue are all tracked separately so if you only want the songs it's easy to program.  I love this score so it's a pleasure to put it out – not optimal, of course, but just to have it sounding nice is great. For example, a collector sent me his copy to see how it compared, along with another performance from Boston but they both sounded dreadful. We do have a bunch of demos but we couldn't fit them all on CD 2 so we may do a separate release of all that stuff, depending on how this
sells.  Doug did his own cover, which I love, but for the fans, we also have the original flyer art on the back of the booklet, so you can display whichever you like.  The second release is another in the Ben Bagley series, Irving Berlin Revisited, one of his best, and boy has James made a miracle, sound-wise.  The channels were reversed on many of the songs and a lot of weird stuff, but he fixed it all and now it sounds incredible. Ben did these things as cheaply as he could and one of the reasons the sound field is always so weird is that he used a cheapo studio and recorded on four-track.  So, on a group number the entire band is in the middle and the singers are on the right and left.  Just too weird.  But the cast is amazing and it's just great – Richard Chamberlain, Dorothy Loudon, Bobby Short, and Blossom Dearie and quite a few extra songs done just for the CD.  Here are all those covers.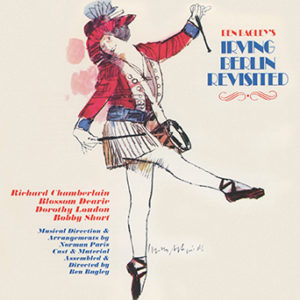 Otherwise, I'm sitting here like so much fish, being almost successful at staying off Facebook – when I put up the announcement, I could see that everyone was doing what everyone does on Facebook – defeatist, negative – it's just so irritating.  No one knows anything at this point and won't for another couple of days.  I hadn't listened to music until beginning these here notes – we had a brilliant Prokofiev piano concerto three with Szell and Gary Graffman, as well as the Prokofiev piano concert one and one of his sonatas.  Now we're having more Beethoven but not too much – an album of his overtures, which is not my favorite music, but Szell excels, as always, and the sound is great. And I'm writing these here notes.
Yesterday was a wacky old day.  I was up at ten after seven hours of sleep, had a notice that a package was delivered and then a second one – since one was contained perishables, I drove right over and retrieved them.  I came home and unpacked the perishables package that contained four 10-inch pepperoni pizzas from a famous pizzeria called Regina in Boston.  As you know, I was going to make the rest of the ground beef and do tacos or nachos or something, but I couldn't resist cracking open one of the pizzas.  Heating it was a breeze – pre-heat the oven to 400-degrees, then put the pizza directly on the oven rack and it was ready in six minutes flat.  And it was GOOOOOOD.  Oh, my yes, it was GOOOOOOD.  I'd already done the calorie check so I knew what I was in for – just under 1000 calories, so that was great.  And it was GOOOOOOD.  I ate the whole damn thing and was sated buy happy.
Most of the day was spent at the piano recording stuff, making little lyric and music adjustments as I went along, and I got about half of it done, so that was good.  At some point I sat on my couch like so much fish.
Last night, I watched the Blu and Ray called Samuel Barber: Absolute Beauty, a documentary about Samuel Barber, which you probably surmised from the title.  I was really looking forward to it, but I'm sad to say I didn't love it.  It has interesting things in it, certainly, but it's structured poorly, not well directed, and I really wanted to know more about Barber, how he wrote, and more information about more of his music.  They touch on a lot, but nothing about the symphonies and other stuff I love.  It's nice to have it, and you do get some music as it goes on, but I was just hoping for more somehow – and it's long, too, over two hours.  Quality is fine, both sound and image.
After that, I ate an apple and the remaining grapes, then some carrots, as I had the pizza at noon-thirty.  So, I'm actually quite hungry at this moment. The rest you know and you know the rest, not necessarily in that order.
Today, I'll be up when I'm up, I'll hope for a beautiful day, I'll do whatever needs doing, I'll do more work at the piano, which will most likely be the majority of the day, I'll eat (if the ground beef is still good, which it should be, then it will be tacos for sure), I'll hopefully pick up some packages, I'll hopefully print out a LOT of orders for both titles, and then at some point I'll watch, listen, and relax.
The rest of the week will be getting the December Kritzerland on its way – I've chosen over half the songs, it's fully cast, and now I have to get everyone their music and start making tracks.  I just have to say, Beethoven was a very declamatory composer.  I feel like I'm being hit over the head with a hammer repeatedly.  And then suddenly he gets all dainty, so I have to suddenly do a minuet.
Well, dear readers, I must take the day, I must do the things I do, I must, for example, be up when I'm up, hope for a beautiful day, do whatever needs doing, do more work at the piano, eat, hopefully pick up packages, hopefully print out a LOT of orders, and then watch, listen, and relax.  Today's topic of discussion: It's Ask BK Day, the day in which you get to ask me or any dear reader any old question you like and we get to give any old answer we like.  So, let's have loads of lovely questions and loads of lovely answers and loads of lovely postings, shall we, whilst I hit the road to dreamland, happy that we're able to finally have some Kritzerland releases.