Well, dear readers, I am sitting here like so much fish, listening to Verdi's La Traviata, starring Miss Anna Moffo, Mr. Richard Tucker, and Mr. Robert Merrill, a Living Stereo recording from 1960. The sound of it is amazing. I'm still trying to get with Mr. Verdi. I do like his Requiem very much. I'm going to give all his big works a try because why should I, BK, say Bye Bye Verdi without giving him the full weight of my attention. Speaking of my full weight, I ate too much food yesterday and I'm quite certain I've gained back a good deal of what I'd lost, because when I'm writing a book, I just eat all the time. It comes with the territory. But starting today, I am back on the diet road and strongly so. I must say, there are lot of well-known tunes in La Traviata. And I must say, I really do like Anna Moffo, who I think is boffo. As soon as I'm finished with Traviata I move directly to Aida, and who wouldn't. The recording I have is Miss Leontyne Price and Mr. Jon Vickers.  Earlier, I tried again to listen to the recent American opera of Elmer Gantry, but unlike Desire Under the Elms, I just can't get with it. I've tried, oh, yes, I've tried, but it's a no-go. The composer, Robert Aldridge is, for me, nothing more than average, and certainly no Robert Ward or Menotti or Barber or any of my American favorites. Earlier than that, I listened to another recording of Massenet's Manon. And what a difference a cast and conductor make. I didn't care for the first one I heard, but this is something wholly other – Beverly Sills is the star and she's in wonderful voice and the conductor, Julius Rudel, knows what he's doing, and the rest of the cast is excellent. The sound is fine – not as good as this Living Stereo thing I'm listening to as I type these here notes, but pretty good for its era of the early 1970s. And finally, as the midnight hour approaches, let us bask in the hopeful light and sanity that will hopefully wrap itself around us at noon. Heaven knows, we need it. I'll leave it at that and accentuate the positive, oh, yes, I will accentuate the positive by singing a high C.
Yesterday was a productive little day. I only got six hours of sleep due to ABS (Active Brain Syndrome) and the high of finishing a new book. Once up, I answered e-mails, then futzed and finessed that last ten pages of the book. The two paragraphs that end the book were the ones I thought I would really have to futz and finesse the most, but when I got to them, I really liked the way they felt so I didn't change a word of either. Otherwise, I smoothed a few things out, deleted a couple of things, and added a couple of things – the page count remained the same.
Then I went and picked up some packages, including the two Verdi operas, came home, and ordered my celebratory meal from Stanley's – their chicken pasta with broccoli and red onions and cashews – fantastic, as always. Then I went back to the start of the book and entered the small Muse Margaret adjustments – very small and all things that smooth out a few sections, mostly word changes or deletions. Then I did all the other adjustments to the first third of the book because when I got a third in I realized certain timelines were not making sense and that's what that was about. And one other set of adjustments along similar lines. And fixing one whopper of a mistake that Muse Margaret caught – I'm sure I would have when I reread it, but it had to be fixed. Fixing it took some research that involved another free trial with newspapers.com. And as long as I have the free week, I'm going to take the few hours it will take and go through all of the July and August movie sections and try to find the night we did the very first preview of Nudie Musical – I can't remember exactly what theater it was in, other than it was huge and we showed the workprint in interlock with the mag sound. I suspect it was in July at some point, a couple of weeks after I finished cutting the film. I suppose it could have been early August, but then again I think we would have been doing the final mix and locking the picture and submitting it to the ratings board.
After all that, I decided I needed a sweet treat, but not cake or pastry, which I just can't handle right now. So, I got some ice cream from a high-end jernt near here – Nutter Butter was the flavor, and it was pretty good. Then I sat on my couch like so much fish.
Last night, I watched another production of Hansel Und Gretel from Australia, sung in English. This one had bad sets, modern dress for no real reason, and it was horribly staged. The Hansel and Gretel were fine, the witch was bland, and the mother and father were okay. The old Met broadcast is still best for me of the video incarnations.
After that, I had a bagel and cream cheese, then began listening to stuff. The rest you know.
Today, I'll be up by eleven, at noon we will hopefully have the light and sanity we all so need, then I'll begin going through project two to make sure everything is clear – I'm not changing anything at all at this point, but I did write a long "author's note" so that the actors who'll be reading it don't get confused by it, and I changed the names of the characters and want to make sure it all went through when I did that. Then that will go to Doug Haverty and the gal who'll be producing it, and I think we'll cast it in a couple of weeks. Meanwhile, Doug came up with this fun art for project one, which will be premiering sometime in the next three weeks.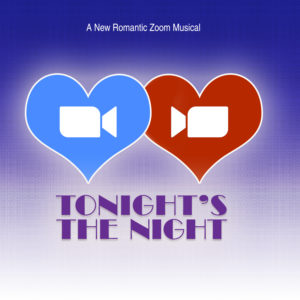 Isn't that fun? We'll also be doing a final mix on the songs for project one, I'll hopefully pick up some packages, I'll eat (probably the low-calorie hot dog diet), I'll Xerox the final batch of sixty-eight pages for Muse Margaret, and then I can watch, listen, and relax.
Tomorrow, I'll deliver the pages to Muse Margaret and we'll continue the final mixes, and I'll start on the March Kritzerland show and hope for what will be a major miracle if it happens. And we need one right about now. And then I'm hoping to see a first cut of project one on Friday and I'm very excited about that.
Well, dear readers, I must take the day, I must do the things I do, I must, for example, be up by eleven, have light and sanity at noon, go through project two and then send it off to those who need it, hopefully pick up some packages, eat, Xerox, and then watch, listen, and relax. Today's topic of discussion: What was the very first trip you ever took? And which trip was your favorite? And we're not talking about LSD. Let's have loads of lovely postings, shall we, whilst I hit the road to dreamland, as I listen to Verdi and hope for light and sanity at noon.