Well, dear readers, I am sitting here like so much fish, listening to William Alwyn's opera of Miss Julie. This is my second go-through of it and I'm enjoying it more than I did for the first time, probably because I'm more in that opera mode than I was the first time. I've been an Alwyn fan ever since I heard his score for Gary Cooper's final film, The Naked Edge. When Lyrita released its Alwyn conducts Alwyn series on LP I bought them all and loved them all. That series was heaven-sent. Then Chandos in the CD era did their own series, and I bought them all but wasn't thrilled with either sound or performance. And then, finally, Lyrita began releasing CDs and the Alwyn CDs were in the first batch, I think. And those recordings are, for me, definitive in both performance and sound. Miss Julie has many wonderful, lyrical moments, some bombast that seems a bit perhaps too bombastic for the libretto, but Alwyn was a masterful composer and even when this isn't quite working, it's still very enjoyable. Up until recently, this was the only recording but along came Chandos and I have no interest in even hearing theirs.  Otherwise, I was pondering memory. Not the song from CATS, mind you, but actual memory. I have always felt I have a pretty perfect memory for my childhood and teen years.  I mean like pretty perfect. Writing the Kritzer books was like being there, like reliving all those things in great detail. There was not a single thing I didn't remember for those books. But just to make sure, I went downtown to the main library and pulled out the microfilm for several years so I could make sure I saw what I saw where I remembered seeing it, and I was never wrong. Of course, today we have newspapers.com and that's been fun finding stuff there. My memory did fail me on two films that I was positive I saw at the Village Theater in Westwood – The High and the Mighty and The Tender Trap (in the downtown library visit, I never pulled those rolls of microfilm). Well, I had the Westwood part right, but not the theater – both films played the Picwood and that's where I saw them, I guess, but boy was I sure it was the Village, right down to being able to visualize sitting there. And while I haven't looked at every week subsequent to the Picwood showings, I cannot imagine they would have played the Picwood and somehow moved to the Village. But as to movies that played at my three neighborhood houses, those I was never wrong about. I got worried at one point in my library visit that I was misremembering the double bill that adorns the cover of Benjamin Kritzer – The Man Who Knew Too Much and Autumn Leaves, although that double bill was seared into my memory. But the first week The Man Who Knew Too Much played there it had a different second feature, but a week later, when I saw it, it was indeed Autumn Leaves. That was the Lido Theater – and here's the proof, which is on the page rather than in the pudding.

And I knew I'd seen The Court Jester at the Lido, but in one of the most confusing things ever, it also played the other two local theaters, the Stadium and the Picfair. Those theaters were all within a mile of each other, so that's pretty wacky, no? I didn't remember the second feature for The Court Jester because I probably didn't stay for it – Mario Lanza in Serenade. Here's the living proof of that.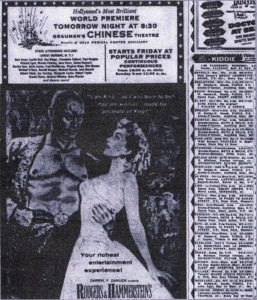 And before seeing The Man Who Knew Too Much and The Court Jester I know I had a hamburger at Kentucky Boys, the little diner on the corner of Pico and Sherbourne (Sherbourne being my street), only three blocks from my house. The building is still there but it's a mortuary now! I've posted photos of the building itself (as mortuary) but never when it was Kentucky Boys because I could never find anything about it at all, other than a matchbook and the rare and completely random find of the original architect drawing from the late 1930s. What are the odds that I would attend ONE antique fair that was happening across the way from the Pasadena Book Fair, that I'd just happen to stop at a random booth and find that? I couldn't believe it. It cost all of twenty bucks.
But last week, I got an e-mail from someone who'd found a mention of Kentucky Boys right here at haineshisway.com as well as the Peek Inside thing at Amazon for Benjamin Kritzer. Turns out his parents owned the building – not when it was Kentucky Boys, but after and long before it was rented out to the mortuary. Isn't that funny? He'd read about the architect drawing here at haineshisway.com and asked if I could send him a photo, which I did, along with a photo of the matchbook. And he sent me what must be the only existing photo of it as Kentucky Boys, probably right from the time when I was seeing The Court Jester and The Man Who Knew Too Much, which came out the same year. And here for your visual delectation is said photo.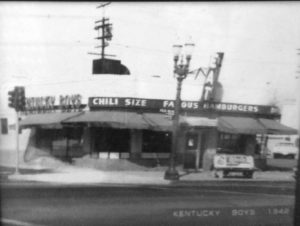 I'm just astonished when I go down the rabbit hole that is newspapers.com how right I am most of the time about what I saw where. I see what was playing at the Picfair or Lido or Stadium and I know that I was there that week. I found The Naked Edge there (just a few months before the theater would close), but still haven't quite found Village of the Damned, The Time Machine, or The Seventh Voyage of Sinbad, all of which I saw there. Perhaps tonight will be the night for that. The way I find things is to find the first release of the film (and the imdb is rarely right about that stuff), then whatever film it is usually hits the nabes about a month later. On the other hand, I will think of something that I want to do – for example, I'll be in the bedroom and think of it and I will walk directly to the computer to do it and by the time I get there I can't remember why I went there. It does eventually come to me, but I find that ever so amusing. But ask me about something that happened to me in 1957 and I'm there. And that, dear readers, is memory.
Yesterday was a rather nondescript day. I got a little over seven hours of sleep, worked on the Kritzerland show (only four songs left to choose, and I think we have the first of the guest stars I asked so hopefully that will indeed work out), then Marshall Harvey came by and we put the Outside the Box episode that we were shortening on his back-up drive and he went home and is already done with it. I wasn't expecting any packages, so I didn't go to the mail place. I made faux chicken stroganoff over rice and that was excellent and filling. Then I had one of those chocolate covered coconut fruit bars, which are really quite tasty and not bad calorically. Grant dropped by – he thinks he can start on the new book over the weekend, so that will be good. Then I finally sat on my couch like so much fish.
Last night, I watched a DVD screener entitled Judas and the Black Messiah. It was okay but went on too long and was too by the numbers. The actors were very good but a little hard to understand. The musical score is credited to Mark Isham and one other guy – I don't know what they actually wrote, since there's very little music in the film – just some sound design-type things – and there's and additional music by credit at the end – it's really become a joke, but the biggest joke of all is the beautiful piano and orchestra music used to underscore the romance between two characters. Clearly the editor or music supervisor temped it with the piece that's used and then couldn't bear to be without it and so licensed it. And I'm sure that people who know not of music will assume that Mr. Isham wrote it, which is what I find so vile about that stuff.
The fact is, the piece is by Claus Ogerman from his great jazz piece for Bill Evans called Symbiosis, which I've had since the day it came out on LP. But let me tell you, the nabobs who did this film only know it because it was already used in a movie – Sideways, if memory serves. Of course, it's the only music in this film that's actually music. Anyway, didn't love it, didn't hate it.
After that, I took a twenty-minute drive just to keep the engine in the motor car healthy, and then I listened to Miss Julie.
Today, I'll be up when I'm up, I'll do whatever needs doing, I'll finish choosing the final four songs, and actually they're pretty much chosen, I just have to figure out who's singing them, I'll hopefully pick up some packages, I'll eat, and then I'll watch, listen, and relax.
Tomorrow night, we have our Zoom casting session, after which I'll finalize who'll be in project two. Then I'm hoping Grant will indeed get to the book on the weekend so I'll be prepared to proof that – it does require me printing out another copy, which is costly, but I can't properly proof on the computer and when we do corrections, I got sit there with the book and we do them one by one and check them off as we go.
Well, dear readers, I must take the day, I must do the things I do, I must, for example, be up when I'm up, do whatever needs doing, finish assigning songs, hopefully pick up packages, eat, and then watch, listen, and relax. Today's topic of discussion: It's Ask BK Day, the day in which you get to ask me or any dear reader any old question you like and we get to give any old answer we like. So, let's have loads of lovely questions and loads of lovely answers and loads of lovely postings, shall we, whilst I hit the road to dreamland, happy that my memory is still pretty razor-sharp.