Well, dear readers, we had a little Indiegogo action yesterday and we reached 110%, so that was nice news. That should, I hope, cover the Indiegogo fees, so now we enter our stretch goal so that we can hopefully do the commentaries, and put some more fun extras, so we have around twelve days left and I'm hoping we can keep going onward and upward so we can do all that. I may put up just a couple of new perks tomorrow, so I'll alert the media, i.e. you dear readers, when that happens. Here's the handy-dandy link.
https://www.indiegogo.com/projects/tonight-s-the-night?fbclid=IwAR1tgHR6KaSLQ-Q7Lw2gguXGrU5Tt4rD-4Af2d7tWakyd05drkh9s34Tn70#/
Otherwise, I'm listening to some music (Herb Alpert's Midnight Sun CD, just because it came up after what I was really listening to, the wonderful music of Henryk Wars aka Henry Vars – really great stuff. He wrote lots of classical music and even some early German cabaret songs but came to Hollywood and became a film composer – he did quite a few films, most especially Fritz Lang's The Big Heat. And prior to that, I finished watching The Winter's Tale ballet with the Royal Ballet, choreographed by Christopher Wheeldon. I enjoyed it very much. I'm not sure if he's a great choreographer or not, but he's certainly better than some I've seen, and he has some clever ideas. Then I moved on to a Blu-ray of three ballets by Kenneth MacMillan. The curtain raiser was called Elite Syncopations, mostly to the music of Scott Joplin, but including some other ragtime composers. It was very colorful, and I should have loved it but didn't, and I couldn't quite put my finger on why. Everyone looked a little too, I don't know, full of themselves, and some of the costumes were a little wacky to me, especially the lead gal, who, I'd guess, was not wearing anything under her very tight tights, leaving nothing to the imagination, if you get my meaning and I know you do. It also seemed a bit disjointed and even a little sloppy. Onstage band was fun, but I wanted to love it and didn't.
Second was The Judas Tree, a very dark, weird ballet – I suppose allegorical, but that's not how it played. It looked like it was right out of West Side Story in its setting and involved what I suppose was a promiscuous woman who threw herself (quite literally) at three different men and seemed to delight in it and her sexuality, but then a big group of men come on and gang-assault her. It's very unpleasant and it doesn't end well for anyone. It's certainly dramatic. The third piece was the best of the bunch – set to the music of Shostakovich's second piano concerto. I really liked that one.
I went to read up on MacMillan via Google and I searched all three ballets. When I searched Elite Syncopations, I found the entire ballet on YouTube from a 1974 broadcast of the original Royal Ballet production, with all the dancers for whom MacMillan created it. I watched it and it was like watching a whole other thing. It was so much fun, so sharp, with many laughs, and had a real spirit and sense of joy, no one looked full of themselves, and I just adored it and finally understood what I was seeing. The choreography had been created for these specific bodies and abilities, and here, all these years later, these other dancers were taught it by someone other than the choreographer (who died in the 1990s) and it was simply not a comfortable fit or they weren't directed properly. I liken it to seeing the original company of A Chorus Line – that choreography was perfection on that cast because it was created for them – no one has ever danced the Sammy Williams track like Sammy – he was unique in the way he moved. All the others I've seen are fine dancers, excellent technicians, did the steps perfectly, but none had that look, that joy of dancing, that spirit. One can say the same thing about Donna McKechnie in Promises, Promises. No one will ever dance that the way she did because it was created specifically for her strengths and uniqueness. And so, I absolutely adored Elite Syncopations once I saw its intentions and incredible performances. I found that fascinating.
After that, I watched the first act of MacMillan's Romeo and Juliet with the Royal Ballet and that one is magical so far and stars my favorite, Lauren Cuthbertson.
Yesterday was a day that began early and lasted – well, we don't know how long it lasted because it isn't over yet. I was up at eight-thirty and out of here by nine. I went to Hugo's, who are now open for indoor dining, too. But I opted for outdoors, as it was very nice out. I had eggs benedict and their potatoes, and it was very good. I was there for ninety minutes or so. Then I picked up some packages, drove around for a bit, then came home and she of the Evil Eye had finished and was gone. I caught up on e-mails and did some work on the computer, but didn't get around to doing any liner notes, which I'll try to start today. I did have some telephonic conversations, I did a Gelson's run and got a Caesar salad for the evening food, along with a muffin top, came home, ate that, and then settled in for my viewing, which you already know about so I shan't repeat any of that. That would be redundantly redundant, and we can't have that, now can we? No, we cannot have that.
Today, I'll be up when I'm up, I'll do whatever needs doing, I'll start writing some liner notes, but mostly I'll relax until it's time for the Kritzerland show, which I hope you'll all watch live so we can have your fun comments. Here are the direct links for the show.
YouTube Live: https://youtu.be/srQY4NAhhHA
Facebook Live: https://www.facebook.com/KritzerlandUpstairsatVitellos
Be there or be round. I'll probably eat directly after it's over, but I have no idea what. And then I'll finish up Romeo and Juliet.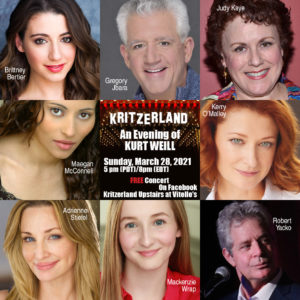 Tomorrow, I'll be up early and then I go get my second vaccination at eleven-thirty. I'll leave more time than I need to get there and then I'll just wait in the car until it's time to go in and tell them I'm here. After they let me leave, I'll probably just do a few things that need doing and then come right home. Of course, I'm hopeful I will have no side effects other than a sore arm, so send excellent vibes and xylophones if you can. The rest of the week is all writing liner notes and preparing for project two aka Revenge.
Well, dear readers, I must take the day, I must do the things I do, I must, for example, be up when I'm up, do whatever needs doing, write some liner notes, relax, do the Kritzerland show, eat, and then watch, listen, and relax. Today's topic of discussion: It's free-for-all day, the day in which you dear readers get to make with the topics and we all get to post about them. So, let's have loads of lovely topics and loads of lovely postings, shall we, whilst I hit the road to dreamland, happy to have gotten to 110% and happy to have seen the originals do Elite Syncopations.