Well, dear readers, I do believe we had a day of rest yesterday, with not a single contribution and no movement, even though someone had promised they'd contribute yesterday – I heard from that person and it will be today. One simply must have a regular movement if one is to stay healthy, so hopefully today we will get back on track and take this puppy home. I'll probably put up a couple more perks to perk things up. That said, the Indiegogo site did update and so we're at 89%, a mere 11% away from our goal. But I really think the Facebook algorithms are really working overtime to make sure no one sees the posts. Handy-dandy link is handily right here.
https://www.indiegogo.com/projects/tonight-s-the-night/x/9165600?fbclid=IwAR1FNZtZAEZA21CfuDLo4xv-HygajzD1lGGsbamfi95b8NDeD4Hvbt0sQvM#/
Otherwise, I'm listening to the music from the ballet, The Cellist – fortunately it's on YouTube (video is very poor quality but sound is fine) and that's where I grabbed it. It's a wonderful score by Philip Feeney. I'm listening because I just finished watching the ballet on Blu and Ray. So, here are my thoughts. The opener is Jerome Robbins' Dances at a Gathering, which is a beautiful work all set to the piano music of Chopin. No one stages like Robbins and the Royal Ballet does very well with it, although I'd love to see it with the dancers for whom it was created. But it was grand to see it and I loved it. Then came the second half of the program, The Cellist, which I originally saw a few months ago on the Tube of You and I'm pretty certain I raved about it. Actually, I can't find a single word about it in the Notes archive so maybe I mentioned it in a post. The Cellist is a very moving and emotional ballet based on the life of Jacqueline du Pre, who died at much too young an age of MS. The choreography and storytelling of Cathy Marston work really well and Philip Feeney's score is brilliant (it incorporates her most well-known piece, the Elgar cello concerto). The leading lady, Lauren Cuthbertson, for whom the ballet was created, is breathtaking and extraordinary. She shines luminously, she's joyous, and then ultimately heartbreaking as the story moves to its conclusion. The "cello" is danced by Marcelino Sambe and he's amazing, and Emma Lucano as the young du Pre is fantastic, too – she's someone to keep your eye on, especially if she can dance. She reminded me of the young gal who played Bob Fosse's daughter in All That Jazz. I just loved every second of this Blu-ray and it comes highly recommended by the likes of me. And thanks to dear reader elmore for alerting me to its existence. And prior to that, I supped with von Suppe, my first von Suppe, Die Schone Galathee, which I found rather delightful. Loved the overture, and it's light and airy and very tuneful and fun.
Yesterday was certainly a day and mostly a day sans Indiegogo action, so I had a hard time cheerleading. I got up at noon after nine hours of needed sleep. Once up, I answered many e-mails, went to the mail place and picked up one package, stopped at Taco Bell and got food, came home, ate it, and that was that portion of the day. Then I had to attend to some project two aka Revenge details, which I did, and Doug sent me a new flyer with credits, so here's that.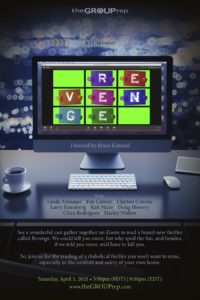 I had several telephonic conversations, attended to some Kritzerland show stuff as we're getting close to the air date. Have you ever had an air date? I've had a few, but let's not talk about love. I went to Gelson's and got a muffin top – corn – which I came home and ate. Then I took on some PC woke Internet warriors who were decrying The King and I as dated and racist and that it should be put away in mothballs. The only problem with that idiocy is that every time it's revived it's a hit, and that includes just four years ago. But there's no reasoning with these, well, nincompoops because they're all righteous and everything and if you try to educate them, they not only double down on their idiocy, they out and out call you a racist. They don't seem to have the ability to understand the period in which the story takes place, the period in which it was written, that it was based on a book by the woman whose story it is, and that the story is told through HER eyes and is not a history lesson. The worst of these bores said eff Yul Brynner and that he should be erased from history for having the temerity to both audition and get cast. You try to explain he was an actor for hire, but they don't want to hear reality. They want him erased and shamed. I'm not making any of this up. Ultimately, I joust and have fun setting them straight, which others agree with, and then I block their sorry butt cheeks because I get bored with their silliness. You'd have to condemn just about every book, play, movie, musical and any art prior to the year 2021 if one were to follow their crazy logic. You know what? If something makes you uncomfortable don't watch it, but do not dictate to others what they should and should not watch or enjoy. And do not lecture anyone. One of these types teaches here in LA at AMDA. No wonder those kids think the way they do. The wonderful Charles Busch PMd me to thank me for taking them on. He said he pulled a Bruce Kimmel on someone who was ragging on Bette Davis on some Facebook film group. The rest you know and you know the rest.
Today, I'll be up when I'm up, I'll do whatever needs doing, I'll hopefully pick up some packages and perhaps the important envelope that should have been here yesterday but wasn't, I'll eat (probably make something here), I'll hope we pass the 90% line, which will enable me to cheerlead, I'll do stuff for Kritzerland and project two aka Revenge, and then at some point I'll watch, listen, and relax.
Tomorrow should be an interesting day and I'm quite looking forward to it, actually, and then the rest of the week is more of the same and plenty of it, then we livestream the Kritzerland show on Sunday and I get my second vaccine on Monday morning.
Well, dear readers, I must take the day, I must do the things I do, I must, for example, be up when I'm up, do whatever needs doing, hopefully pick up packages and an important envelope, I'll eat, hopefully we'll pass the 90% line and keep going up from there, do Kritzerland and project two stuff, and then watch, listen, and relax. Today's topic of discussion: So, what do you think of all this cancelling of the past, arts-wise? Let's hear it. And how do you deal with it on the Book of Face, presuming you do? Let's have loads of lovely postings, shall we, whilst I hit the road to dreamland, as we hope for a good Indiegogo day and happy that I spent time with Jerome Robbins and The Cellist.