Well, dear readers, I have had part one of the vaccine thing. The left arm is a bit sore and that's about it so far. But in the confusing department, I'm also having my normal allergy issues, so my nose is running, or at least fast walking and I don't want to take an allergy pill yet. It all happened according to Hoyle, this part one of the vaccine thing. I allowed plenty of time to get to CVS at La Cienega and Santa Monica Boulevard and I was there by eleven. I parked in their garage and waited until 11:15 to go in. I checked in via text, and with the gal who was checking in folks. I guess they flag those sans insurance, so she had me go to a window – but that was nothing, just ten seconds, gave my name, and he said to go back to the gal and say all was well, which I did. My appointment was for 11:30. I sat down to wait to be called, which I was at 11:40. I was brought to the woman who would give me the shot, and we bantered and had fun. I don't look when the shot is given. It wasn't too bad when the needle went in and the whole thing took less than two minutes, start to Band-Aid. Then I was brought to another area where I sat for fifteen minutes. After that, I was allowed to go on my merry way. I found some I Be Profane in case I had pain or headache. The generic brand costs eighteen bucks, but I joined the CVS program – five bucks a month and major savings and the I Be Profane ended up costing $4.98.  I was in my car at 12:05. Now, the irony of having to go to that location was that that location plays a small but fun role in the new book, which does not take place in 2021 or even in the 2000s. In fact, it takes place in 1975. It is a mystery novel. It has a title, and the cover is by Doug Haverty. So, here you are, the reveal.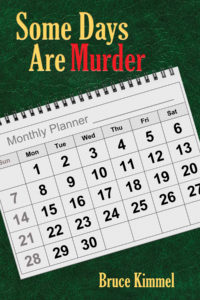 I had so much fun writing this. I didn't decide until almost the end of last year what I'd write – I just didn't have anything come to me that inspired me. But then I got this idea, came up with a title (slightly different to the final title for reasons I won't go into), and came up with a lead character I could really write well and a fun supporting cast of characters. Once I had the general idea, setting, a notion of a plot, and the players, I wrote four pages during the final week of December, and I have to tell you, they never changed, save for one adjustment to a character name. I'm looking forward to getting it out there in the world, oh, yes, I'm looking forward to getting it out there in the world.
So, yesterday ended up being quite an okay day. I got about seven hours of sleep, maybe a bit more, and then right after I left CVS, I came back to the Valley (no traffic either way). I decided to see how bad the line was at the bank where I have to cash my monthly pension check. Surprise of surprises, no line at all. I parked and go in there pronto. Inside, there were only two people ahead of me, but one guy had been there for thirty minutes taking up everyone's time. The next in line finally went to the one teller when she opened up. Then the nice lady who'd been helping the man who'd been there for thirty minutes asked if I was just making a deposit. I said, no, I was cashing a check. She suggested using one of the two huge banking machines (different from the ATMs). I was rather surprised to find that even though I have no account at that bank I could indeed cash it. She walked me through each step and the damn thing cashed just fine and I was out of there in five minutes flat. I then walked over to my bank and surprise of surprises, no line and no one there but the tellers. Usually, on the first of a month it's insane, but luck was with me and I was out of there in less than two minutes.
I then went to the mail place to pick up the lesser of the two important envelopes, which indeed was there. No packages, even though I knew two were arriving. One arrived shortly after I left and the other didn't arrive until after six. I'd already decided to get those today.
I came home, ordered food from Granville – their Uptown Mac-and-Cheese. That arrived about forty minutes later and it was really excellent, and I had a chocolate chip muffin for a sweet. Then I did some work on the computer, and then it was finally time for our first Zoom rehearsal for project two. It was kind of a stop-and-start thing, where I'd give little notes along the way. It all went very well and no more can I say, other than we're all having fun. I can, of course, tell you that it's not a musical. The rehearsal lasted ninety minutes, half the time we scheduled, and I suspect that will be the case for the few rehearsals we're having before we do the damn thing.
After that, I sat on my couch like so much fish and nosed around YouTube on the big boy TV, but I can't figure out how to navigate it with the remote. I did look at a little of the Kritzerland holiday show and thought it looked very good on the big screen.
After that, I went to Gelson's and got some turkey breast, some buns, some Swiss cheese, and then came home and made a turkey, Swiss sandwich on a bun with honey mustard and pickles. It was very good. So good, that I had a second one.  Then I listened to the seventh, eighth, and ninth symphonies of Dvorak.
Today, I'll be up when I'm up, I'll do whatever needs doing, I'll hopefully pick up some packages, I'll eat, I'll try to get everything ready for the little Indiegogo campaign we'll do for the Tonight's the Night/Outside the Box Blu and Ray. It's been a year and a half since the last one. I'm hoping we can fun quickly, so I don't have to go crazy. Then we have our second Zoom rehearsal, and then I'll watch, listen, and relax.
Tomorrow is more of the same, we have Thursday off, and then we work on Friday, Saturday, and Sunday, and I'll have one additional one-hour day, hopefully on Monday.
Well, dear readers, I must take the day, I must do the things I do, I must, for example, be up when I'm up, do whatever needs doing, hopefully pick up packages, eat, work on the Indiegogo campaign, have a rehearsal, and then watch, listen, and relax. Today's topic of discussion: What are your favorite kinds of sandwiches to make at home, and what are your favorite kinds of sandwiches to order in restaurants. And what kinds of sandwiches would you never allow in your mouth? Let's have loads of lovely postings, shall we, whilst I hit the road to dreamland, having had part one of the vaccine thing and wondering if I'll need to take the I Be Profane.