Well, dear readers, this week is flying by, like a gazelle doing the Turkey Trot in the middle of a busy intersection whilst eating baked beans out of a small paper bowl. I could go on, but there are other fish to fry, so let's fry 'em. I did hear a delightful opera by Reynaldo Hahn. I hadn't loved the first one I heard, but this one I did love – L'Ile du reve is its title, and it's really delightful and has lovely tunes from start to finish, and it's short – sixty-one minutes to be exact. It's part of that series that are books with CDs in them – beautiful packaging, but the recordings are all top-notch, with excellent performances and bands. I can also tell you that today is the day the Darling Daughter came into the world, and in so doing considerably brightened up my world and still does. She is a delightfully delightful woman now, who definitely inherited my eyes and my sense of humor. And here she is at an early age.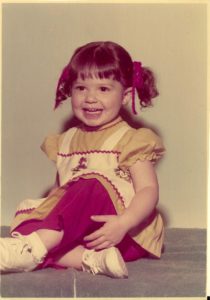 In other fish to fry news, it was a slow Indiegogo day, despite a lot of new perks. We're still doing really well this early in the game, 59% at the moment, but we really need to keep moving up this week or it will be a really scary push as we go along. So, check out the new perks, and there'll be a couple more going up today at some point, but I'm guessing no one has the dough for the higher-priced stuff, even at the bargain prices I'm doing. But, can't give this stuff away, I'm afraid. Truly surprised no one has snapped up the Bye Bye Birdie first edition, which is worth so much more than I'm asking, even as an investment. Anway, hoping we have some good action today. Here's the handy-dandy link.
https://www.indiegogo.com/projects/tonight-s-the-night/x/9165600?fbclid=IwAR1FNZtZAEZA21CfuDLo4xv-HygajzD1lGGsbamfi95b8NDeD4Hvbt0sQvM#/
Yesterday was a weird kind of day. I was up by eleven after seven hours of sleep, I made a show order, I tried to cheerlead, but that is virtually impossible to do without ACTION – we did go up two percent, so it wasn't a total bust. Then I went to the mail place to pick up the package that had been delivered the day before. There was no slip in the box, so I asked them for it. They handed me a package, but it was a package that had just arrived, even though I'd said loud and clear it was a package from the day before. I didn't realize it until I opened it when I got back home. I called and got someone on the phone and said this has to stop happening. She whined about it being really busy and I had to explain to her that people who PAY to get their mail and packages there need to get them and that we don't care about Amazon returns and that stuff. Really annoying to make the drive and not get what I actually came for.
Once home, I decided to make the second Lou Malnotti's pizza. This time, though, I gave a third of it to the fellow in the back house, so it wasn't quite so filling as it was last week. It was also better, and I ate it all up. That was it for food, save for a small can of baked beans a little while ago (only 250 calories and a few bites). Then I had a nice chat with a nice gent from Australia. We've been chatting for about two months now and I finally gave him the go-ahead to announce what he's going to announce. As soon as he does, I'll let you know what it's about, but it could be really fun if all goes according to Hoyle. Then I finally sat on my couch like so much fish.
Last night, I finished the final three episodes of The Queen's Gambit. I really enjoyed most of it and the final episode was very good. Around episode four I began to get irritated with the sudden intrusion of songs into the show and that lasted until the final episode – really don't like that stuff, just lazy. The actors are all good. I'm told that Anya Taylor-Joy's performance and attractiveness are at odds with Walter Tevis' novel, but since I haven't read it, it really didn't bother me. The music is strictly from Downton Abbey-ville, which is also annoying, but that's today for you. But I completely understand why it was popular with the populace and apparently sales zoomed way up on chess sets. I'd somehow misread the publication date of the novel as 1963 rather than 1983 (when print is tiny, six and eight looks too much alike). In fact, Tevis died a year after the publication. So, he wrote four books made into movies – The Hustler, The Man Who Fell to Earth, The Color of Money, and The Queen's Gambit. Not bad. He was only fifty-six when he died of lung cancer (heavy smoker). I have The Crown here, so I might give that a go.
After that, I listened to some John Williams soundtracks – The Fury, Presumed Innocent, Pete 'N' Tillie, and now playing is my favorite, The Accidental Tourist. When he's on his game, there is no one better.
Today, I'll be up by eleven again, I'll begin writing the commentary, I'll hopefully pick up Sunday's package and one that's due today, I'll eat (probably a Gelson's day), and I'll hope and pray for some Indiegogo action so I can do a little cheerleading, and then I'll watch, listen, and relax.
The rest of the week is more of the same, and getting the final Kritzerland show videos, and trying to keep up the Indiegogo fun and excitement. And I'll do a little project two aka project two work, as well.
Well, dear readers, I must take the day, I must do the things I do, I must, for example, be up by eleven, write commentary, hopefully pick up packaes, eat, hope and pray for Indiegogo action, and then watch, listen, and relax. Today's topic of discussion: What are your favorite film scores of Mr. John Williams? Let's have loads of lovely postings, shall we, whilst I hit the road to dreamland, happy that on this day I was blessed with a most wonderful Darling Daughter and that we've at least got to 59%.