Well, dear readers, that Scriabin fellow sure could write a memorable tune. Yes, you heard it here, dear readers, that Scriabin sure could write a memorable tune. His symphonies are filled with them, some instantly recognizable, his piano concerto has them, too, including one tune I knew instantly. For a composer who's basically known for one piece, The Poem of Ecstasy, it's really surprising that his entire body of work isn't considered alongside it and that some of that body of work isn't programmed regularly. It's really kind of shocking when you think about it and I just thought about it, hence me beginning the notes with these sentiments, as the Scriabin continues to play as I'm typing these here notes. I think I have two complete sets of his orchestral music, but the first one I got is the one I love, conducted by Dimitri Kitaenko in wonderful performances and available in an inexpensive box set on Sony/BMG. I found my copy at Amoeba for fourteen bucks or something and instantly fell in love with all the symphonies, the concerto, and I grew to love The Poem of Ecstasy, I piece I could never quite get with until I played the Stokowski version, which is wonderful. I'm just playing stuff in iTunes randomly, whilst waiting for several overdue CDs that are overdue because they're late. I've got an Offenbach coming, so that should make elmore happy, I've got two Reynald Hahn operas (or are they operettas) coming – I listened to a sample of one of them and it was great – another Pfitzner short opera, another Pfitzner long opera, another Reynald Hahn operetta, and the complete Lulu with Stratas. Where the HELL are these things. I'm filing a complaint with haineshisway.com. I also attended the big ABAA book fair, with a couple hundred dealers from all over the world. Of course, "attending" would not be in the usual sense, since it is a virtual fair. The most books any single dealer had listed was about thirty, I think, maybe not even that many. The one thing I've noticed since the pandemic began is that book sellers are tone deaf to the economy and the world in which we're living. They're not only tone deaf and blind to boot, but they actually keep upping their prices. I've never seen prices like these. I don't think they sell the really high-end items and it seems to me most of the sales are dealer to dealer, which is a game they all enjoy playing for some reason. One dealer has a book, say, at an okay price. Another dealer gets a dealer discount of twenty to thirty percent, then he marks it up, and on and on it goes. My favorite story where that happened was at one of the Pasadena fairs. I arrived early on the first day, and already it was the talk of the fair. My friends at Vagabond Books had a nice copy of the first edition of Laura. When they'd gotten there on Friday evening to set up, another dealer saw it and bought it for around $900 after his dealer discount. He was literally one booth away from them. He immediately marked it up to $3,000. Another dealer saw it, bought it for about $2500, and he marked it up to $4,500. By the time I got there at ten, it had passed to two more dealers and was now selling for almost $10,000. Of course, no one bought it for that price, but that kind of thing happens all the time.
I get catalogs in the mail and I'm just amazed at what they're asking for books I've had many times in my various collections. There are still a couple of dealers who are at least more reasonable and if I actually was in the buying mode, which I'm not, they'd give me twenty percent, but even their prices are climbing, or at least they climb at the fairs. Anyway, I always enjoy perusing, but when it's virtual, you don't get to haggle and you don't get to hold and inspect the book, and that's most of the fun of a book fair. Hopefully, by September, we'll be back to normal and things will be fun again. I think we could all use fun right about now.
Yesterday was a weird day, just because I didn't really fell like doing anything and I think it was wise not to, actually. I woke up after two hours of sleep, which was annoying, was up for an hour, then went back to bed and slept and by the time I got up I'd gotten about nine hours of sleep, which I needed. Once up, I answered e-mails, did a few things of no real importance, made the decision to just have a ME day, picked up one package, came home, ordered food from Barbie-Q, my beloved pulled pork sandwich, this time with beans as the side. It arrived about thirty minutes later and I ate the sandwich all up and it was really great, as always. The beans were a bit weird, but I ate them all up, too. The sandwich was very filling. I was in the barbecue mood because just as I got up, Fed Ex delivered a box o' barbecue that Sandy Bainum sent me. It contained chopped barbecue beef in sauce, burnt ends, beans, sauce, and a carrot cake. I put everything in the freezer but ended up taking the beef, burnt ends, and beans and putting them in the refrigerator to thaw, which can take anywhere from twenty-four to seventy-two hours. So, I figure by Sunday I'll be able to heat and eat. I'll probably share some with the fellow in the back house, if he's around, or Grant, if he's interested. Meanwhile, here is an actual photograph of the pulled pork sandwich. You can't see the coleslaw and onions in this photograph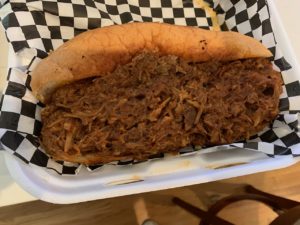 I spent several hours reading – I got Rutanya Alda's little book she put out, her diary kept during the making of Mommie Dearest. It's fun in a way, but when she's giving us her history prior to the film, she spends a little too much time telling everyone who she slept with, which isn't really the story. Once we get to the diary, then it's fun. I haven't gotten to the actual filming yet, but already Miss Dunaway is being, well, Miss Dunaway. Alda plays Joan Crawford's loyal secretary. I wish she'd self-published through a company like Author House because the book, created via CreateSpace, just looks really cheap, and the type is too small, at least for my eyes. It's only about 155 pages or thereabouts.
I didn't watch anything, and I didn't really start listening to music until much later in the evening. I had a chocolate covered coconut bar for a snack, along with a few almonds. And that was pretty much it.
Today, I'll be up by ten-thirty, the Blu-ray guy is picking up the hard drive that has Tonight's the Night and both seasons of Outside the Box so he can get all that transferred to his folks. Once he's gone, then I have to prepare everything for the Indiegogo campaign, which I'll probably start next Tuesday if everything is ready. I'm hoping Marshall Harvey can just put a few clips together for the little video you have to do, and I also have to figure out all the perks. Luckily, I have a bunch of stuff I've been looking through and then filing, so that's all handy should I want to use any of that for perks. Then I'll hopefully pick up some packages, eat, and then I'll prepare to be back in project two land for the next four days. As I said, each evening is scheduled for three hours, but I'm thinking we won't go more than two, but that's hard to know – the first night will tell that tale. After we're done, then I'll watch, listen, and relax.
The weekend and Monday is more of that there, then on Tuesday we start getting the Kritzerland show ready. I'll have a few rehearsals, and then the singers can shoot their videos. I actually already have two of Kerry O'Malley's and it's going to be a really fun show, I think.
Well, dear readers, I must take the day, I must do the things I do, I must, for example, be up by ten-thirty, give the Blu-ray guy the hard drive, prepare the Indiegogo campaign, hopefully pick up packages, eat, and then work on project two, after which I'll watch, listen, and relax. Today's topic of discussion: It's Friday – what is currently in your CD player, and your DVD/Blu and Ray player? I'll start – nothing, but I may stream Ma Rainey's Black Bottom if I'm in the mood. Your turn. Let's have loads of lovely postings, shall we, whilst I hit the road to dreamland, happy to have attended a virtual book fair with nothing but insane prices.