Well, dear readers, we had a very good beginning of week two for the Indiegogo campaign. We began the day at 62% and ended it at 67%, with several nice contributions. I'm hopeful we'll have a good second week and perhaps get over the 70% mark soon, but we're two-thirds of the way there, so that's a good thing. I may put up a couple of new perks today. Funnily, what went from Michael Shayne asking for a signed BK musical quote went to me making five available, of which four were taken. So, someone grab the last one. Here's the handy-dandy link.
https://www.indiegogo.com/projects/tonight-s-the-night/x/9165600?fbclid=IwAR1FNZtZAEZA21CfuDLo4xv-HygajzD1lGGsbamfi95b8NDeD4Hvbt0sQvM#/
Otherwise, I've been listening for the second time to a very good opera by Hans Krasa because nothing else arrived, although I've been playing other music in iTunes. But I have another Offenbach on its way, along with Mussorgsky's Khovanshchina. I also finally girded my loins and watched Sound of Metal, which I ended up enjoying but not loving. How it got a best picture nomination I'll never know, but it's well acted, too long at two hours, and I can't say I enjoyed the direction, which is mostly of the shakycam variety, which I have zero tolerance for these days or any days really. The best thing about it and which will probably garner it an Oscar is the sound design.
Yesterday was a perfectly okay day as perfectly okay days go. I was up at eleven-thirty after eight hours of sleep, I answered a plethora of e-mails, and then was happy that we got several excellent contributions in a row that kept us creeping up all day and evening, percentage-wise. I wasn't expecting anything at the mail place – I suppose some screeners might have arrived, but I didn't feel like driving there. I drove over to Gelson's and got a chicken Caesar salad and a small half-rack of ribs (five), came home, and ate that all up. The ribs were very small with not a huge amount of meat on them, so that was only around 250 calories. The salad was very good.
After that, I had a nice chat with editor Marshall Harvey, then I buckled down, Winsocki and wrote more commentary, getting through two-thirds of it before needing a little respite. I got more videos in and I think there are now only two left to go, so that will be a load off. After relaxing for bit, I then finished writing the commentary. This one's a bit shorter than some of the other online commentaries, but that just goes how it goes. I'm sure I'll futz and finesse it at some point this weekend.
Then I watched the movie, after which I went and put gas in the motor car, $65 of gas, which shockingly only bought me fifteen gallons. If I'd put in the other two gallons the tally would have been a disgusting $73. And it was full up with cars at nine-thirty. Someone has to put a stop to this gouging. And it's so obvious why they're doing it, because they lost a lot of money last year during the lockdowns when no one was driving. Then I made another Gelson's stop and got tuna for today's food, along with a jar of pickles – I always forget that I enjoy a nice pickle and that they have zero calories. I came home, had a bagel and an apple for my evening snack. The rest you know and you know the rest because one cannot put anything past dear readers such as yourselves.
Today, I'll be up by eleven, I'll do whatever needs doing, I'll hope for some good Indiegogo action, I'll go see if there's anything at the mail place, and then at two o'clock David Wechter and I are doing an interview – seems like it's some sort of video podcast, if that's a thing – said interview being about how we created The Faculty. So, hopefully that will be fun. After that, I'll eat tuna sandwiches for food, and then I have a few other things to do, after which I'll watch, listen, and relax.
Tomorrow and the weekend will be more of the same, but I'm hoping to get some good relaxing in because next week is all getting the Kritzerland show ready. It's going to be a little crazy for the next three weeks – not only the Kritzerland show on March 28, but just days later, project two on April 3. Anyway, here's the flyer for the Kritzerland show.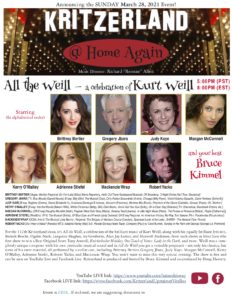 Well, dear readers, I must take the day, I must do the things I do, I must, for example, be up by eleven, do whatever needs doing, hope for some good Indiegogo action, I'll see if there's anything at the mail place and if there is I'll go retrieve whatever it might be, I'll do an interview, I'll eat, do a few other things, and then watch, listen, and relax. Today's topic of discussion: I'm listening to Harry Lubin's amazing theme for the 1950s TV show One Step Beyond. What are your favorite TV themes from the Golden Age of Television, say 1950 to 1970. Let's have loads of lovely postings, shall we, whilst I hit the road to dreamland, happy to have had a good start to week two of the Indiegogo campaign.