Well, dear readers, this month is flying by, like a gazelle who's gained back all the weight its lost. I know the feeling. Damn them, damn them all to HELL. Otherwise, I'm sitting here like so much fish, listening to Alexandre Desplat's score to Roman Polanski's film of Venus in Furs. That is because no new CDs have arrived and that is irking me, oh, yes, that is irking me. And an irked me is not a pretty sight. I enjoy the Desplat scores for this and for The Ghost Writer, because he's kind of doing his own thing and not aping a temp track. I would hate to be a film composer in today's world (well, the past three decades, when temp-tracking really went out of control), where idiot directors and studios force them to copy the temp-track slavishly, merely changing notes. And when they don't they have their scores replaced by someone who will or they'll just buy the temp track theme they like. Can you even imagine one of these people trying to tell Mr. Bernard Herrmann he has to copy a temp-track? He would devour them in a heartbeat and turn them to jelly. And he'd walk out before they could fire him. In today's world, the Psycho score would not exist. He would not have that freedom. Elmer Bernstein couldn't write his To Kill a Mockingbird score today – they'd make him do music that didn't function as actual film music, just a lot of held whole notes with a few tinkling piano notes here and there and that film would be robbed of fifty percent of its emotional underpinnings. Jerry Goldsmith wouldn't be able to write Planet of the Apes today. Every score I hear sounds like every other score I hear. And when, on the off chance, you do hear something even remotely different, then everyone has to copy that. I understand the need for the temp-track and even the need for directors to say, "that's the kind of feel" because none of the newer directors today know squat about film music and how it's supposed to function, and their films are lesser for that. But to force a composer to basically copy another person's work by just changing some notes so no one can be sued, well, that's not art, I'm afraid, that's insecure directors, producers, and studios who are afraid of anything that is original. Just think back to your favorite scores of the 1970s, 1960s,1950s and before – those composers had freedom to create, to make a real contribution to how a film plays. Why do you get teary-eyed at the end of To Kill a Mockingbird when Scout meets Boo – Elmer Bernstein, that's why. Why do you jump when the shower curtain is pulled back and poor Marion Crane gets done in with a butcher knife – Bernard Herrmann, that's why. Why do cheer in Star Wars during the finale – John Williams, that's why. Why do you get emotional when Homer comes home to his parents and girlfriend and they see he has no hands – Hugo Friedhofer, that's why. Some of the films I see that I kind of like are ultimately kept from being better by the score – no film composer today is allowed to actually write film music that functions as film music. They write pad, sound design, chords, tinkling. And movies are the worse for it. End of rant. I had no idea that I was going to rant, but there you are.
Yesterday was a pretty okay day. I got eight and a half hours of sleep, got up, the Blu-ray man came and picked up the hard drive, then I wrote the stuff for the Indiegogo video. Then I went and picked up a couple of packages, after which I came right home. I ordered from the California Chicken Café – breast and wing and chicken pasta salad. I then began the draft for the campaign and wrote all the stuff for the home page. And I began doing the perks list and there's already some cool stuff besides the obvious get the Blu-ray stuff. This one's a little larger goal than the Creature DVD because the goal amount for the Creature DVD turned out to be way too low and thankfully, we raised 253% of our goal and were able to cover all costs and add tons of extra material. This time the goal is $7,500 – we've raised much more than that in every campaign. That will cover the actual costs of getting the finished Blu-ray. But if we can raise more, then every penny goes to adding extras like commentary tracks for both Tonight's the Night and some of the Outside the Box episodes, but adding a few classic Kritzerland performances, and some other rarities. We'll probably go live next Tuesday if all goes according to Hoyle. All that took up most of the afternoon.
Then we had our Zoom session. Because I'm dealing with a few actors who aren't tech savvy, we had an issue that required us to back up and do things again, but we got that all straightened out and everything went well and we finished an hour ahead of schedule even with the tech delay, so that was good. We're all having fun with it. After that, I had some nuts and some Swiss cheese for a snack and listened to some film music.
Today, I'll be up when I'm up, I'll do whatever needs doing, I'll hopefully pick up some packages, I'll try to shoot the Indiegogo video (my part of it) so we can get that uploaded, eat, I'll continue doing the perks. Then at seven we have our Zoom session. I know it won't take the three hours that are scheduled. In fact, I suspect we'll finish in about ninety minutes. After that, I'll watch, listen, and relax.
Tomorrow is more of the same and another Zoom session that also won't last more than an hour. Monday there's another hour work session for project two that's a bit different than the Zoom sessions, and then next week is all Kritzerland rehearsals and receiving finished videos. On Saturday March 13, we have our one and only encore showing of project one aka Tonight's the Night at 5:00 PST/8:00 EST, and we'll do the Q&A thing afterwards. Here's that flyer.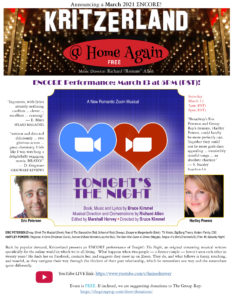 Well, dear readers, I must take the day, I must do the things I do, I must, for example, be up when I'm up, do whatever needs doing, hopefully pick up some packages, shoot a video, eat, continue doing perks, have a Zoom session, and then watch, listen, and relax. Today's topic of discussion: What are your favorite film scores prior to the 1990s? Let's have loads of lovely postings, shall we, whilst I hit the road to dreamland, as I continue listening to real film music from when film music was film music.