Well, dear readers, let's just get the big news right out in the open first thing – we had us a wonderful April first miracle that was no April Fool's Day joke. DRUM ROLL PLEASE – 141%!!! Yes, you heard that right, dear readers, someone came in as an executive producer and took us up about ten percent and over $10,000 and then just before posting these here notes, someone grabbed the three Sondheim first editions. We can now do the commentary tracks for sure and are making those arrangements, so that's great. And now, the higher we go, the more fun stuff I can add, and I have about five or six things that would be great to have on it and that I know would make people happy. So, let's keep going, onward and upward, and go to infinity and beyond and make the most jam-packed, best Blu-ray we can possibly do. Here's the handy-dandy link for you handy-dandy link types.
https://www.indiegogo.com/projects/tonight-s-the-night?fbclid=IwAR1tgHR6KaSLQ-Q7Lw2gguXGrU5Tt4rD-4Af2d7tWakyd05drkh9s34Tn70#/
Otherwise, I am sitting here like so much fish, listening to a CD of the music for the ballet The Two Pigeons by Andre Messager as arranged by John Lanchbery. It's really wonderful music, just a delight all the way. I'm actually on my third listen. And speaking of ballet, earlier I watched the Frederick Ashton version of Cinderella for the Royal Ballet. It couldn't be more different than the Northern Ballet version, which I actually preferred for many reasons. But this one has its charms, and it has Ashton and Robert Helpmann as the wicked stepsisters, and they're very amusing. The costumes are nice, the sets are very old-fashioned, and I enjoyed it, just not as much as the Northern Ballet version. It isn't helped by having been taped in 1970 and so you know what you're in for – soft video with no detail at all and a director who keeps wide for almost the entirety of it (I don't recall a single close-up) – it's the polar opposite of Ross MacGibbon, but the happy medium lies somewhere in between. I did like Antoinette Sibley as Cinderella – I gather she and her Prince were beloved by all and something of a team – his name is Anthony Dowell.
Yesterday turned out to be a fine day any way you look at it and I look at it head-on. I got nine hours of sleep, and my arm is almost all better, which means I can now sleep on it. We had no Indiegogo action at all the entire day, but I did do some work on the computer, I answered a lot of e-mails, I went to Gelson's and got a chicken Caesar salad and two chicken tenders for food, came home, and ate all that – very good foodstuffs. After that, I had some telephonic conversations, attended to some project two aka Revenge details, then finally went to the mail place because Amazon delivered late in the day. I got there at four-thirty, picked up two small packages and thankfully the important envelope. I immediately went to the bank where I cash that check and they were open, having just changed their hours from nine to five rather than nine to four. I walked right in and was the only customer. I used their big indoor ATM and that went very smoothly and dispensed the cash, and I was in and out of there in two minutes. I hied myself down to the Bank of America down the street, but they still close at four. So, I got back in the motor car and came directly home.
Once back home, I did more work on the computer, then watched Cinderella. I took a little break after act one, which is when I saw that someone had grabbed the executive producer perk and that, of course, was the hot fudge, whipped cream, and cherry on the sundae. Then I finished the ballet and began listening to music. Now playing, a wonderful Richard Rodney Bennett piece, which I had no idea was written for a Frederick Ashton ballet at the Royal Ballet – called Jazz Calendar. I'd love to see it, but it doesn't ever seem to have been recorded. What a shame.
Today, I'll be up when I'm up, I'll do whatever needs doing, I'll bank, I'll hopefully pick up some packages, I'll eat something light but fun, and then I'll continue on the liner notes journey, after which I'll watch, listen, and relax.
Tomorrow is the big day, Saturday, when project two aka Revenge will livestream on the Tube of You. I'll have the direct link and also the invite for the Q&A right here for easy access. Here's the poster again for your mental delectation. And be sure to arrive early – you want to watch from the start. Looking forward to the Q&A a lot.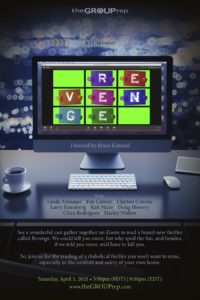 Sunday is a complete and total ME day, where I shall do ME things that ME wishes to do or I may do nothing if that's what ME feels like. Then next week is liner notes, figuring out the next two Kritzerland releases, deciding if we'll do an online May Kritzerland show (I'm leaning towards doing so), and getting to the finish line of the Indiegogo campaign. I'm thinking if we can get to $12,500, we can put everything I want to on this Blu-ray, every last bit of it, which I'd love. And that would most likely include that new hi-rez mix of the Sandy Bainum ME album so that everyone would have it – it's like a whole different listening experience and I like the new order so much better, too. So, a very busy week ahead.
Well, dear readers, I must take the day, I must do the things I do, I must, for example, be up when I'm up, do whatever needs doing, bank, hopefully pick up some packages, eat something light but fun, write liner notes, and then watch, listen, and relax. Today's topic of discussion: It's Friday – what is currently in your CD player and your DVD/Blu and Ray player? I'll start – CD, who knows what might show up? Blu-ray, probably Jack the Giant Killer, which I never got around to watching. Your turn. Let's have loads of lovely postings, shall we, whilst I hit the road to dreamland, so happy we jumped to 141% and began April on such a high note. May it only continue.