Actor William Haines started his film career in 1922 in bit parts as a contract player for Goldwyn Pictures. After his studio became part of Metro Goldwyn Mayer in 1924, the size of his roles increased as did his popularity in silent films. He successfully transferred his wise-cracking character to the Talkies. Haines was a top-five box-office star from 1928 to 1932, including the top attraction in a 1930 poll of movie exhibitors. His contract with MGM was cancelled in 1933 and by 1935 he ended his acting career and started a successful career as an interior designer with his life partner, Jimmie Shields. Virtually no one today has heard of Haines or his career, even though his films do appear occasionally on Turner Classics.
It was his relationship with Shields (which lasted 47 years until Haines's death in 1973) and his run-ins with law enforcement during gay bar raids and an infamous arrest at the Los Angeles YMCA in 1933 that led to the switch in careers for Haines. MGM boss Louis B. Mayer insisted Haines ditch Shields and agree to a Lavender Marriage with a starlet of his choice. With the looming censorship of the Hays Office and the increasing difficulty in getting scandal sheets from reporting the truth about Haines's sexuality, Mayer drew a line in the sand. When Haines protested that other MGM stars such as fellow hell-raisers Clark Gable and Joan Crawford were as guilty of creating scandal as he was, his sexuality was thrown in his face.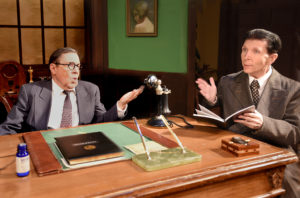 Jeffrey Winner as L.B. Mayer and Kevin Dulude as Irving Thalberg
In Jack Rushen's new play, Taming the Lion, currently playing at Beverly Hills' Theatre 40, the playwright looks at a short time frame in 1933 when Haines's relationship and his scandal-ridden extracurricular escapades could no longer be tolerated by studio boss Louis B. Mayer. Even though the script has Haines begin and end the play talking to the audience about what was about to happen/what did happen, the play's main character seems to be Mayer (Jeffrey Winner) rather than Haines (Landon Beatty). It's Mayer's desk and office that dominates center stage in Jeff G. Rack's splendid set design. As written by Rushen and played by Winner, Mayer comes off more as a buffoonish clown than a feared mogul. Irving Thalberg (Kevin Dulude) and Jimmie (Sean Ross) are reduced to nearly bit player roles. Mayer's secretary Ida (Jean Mackie, channeling Eve Arden) has a larger role and better dialogue than either character.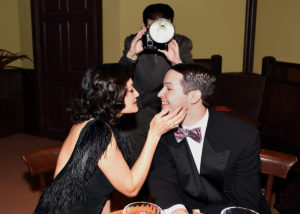 Marie Broderick as Joan Crawford and Landon Beatty as William Haines (all photos by Amir Kajoory)
Beatty easily essays the classy charm and wise-cracking attitude that was Haines's trademark, on and off screen. He effortlessly holds your attention whenever on stage. He is given great support by Marie Broderick as Crawford, one of Haines's best friends and sympathizers. She described Haines and Shields as "the happiest married couple in Hollywood". Beatty and Broderick are in sync and their scenes together contain the sizzle and drama of which this story needs more. Melanie MacQueen directed.
Taming the Lion serves as a decent introduction to Haines but in concentrating on such a small timeframe and set of characters, it cheats its audience of the richness of Haines's boundary breaking story. After leaving MGM, Haines became a renowned interior designer, doing homes for his friends like Crawford, Marion Davies, Carole Lombard, George Cukor and Gloria Swanson. He later designed for such luminaries as Nancy Reagan, Betsy Bloomingdale and U.S. Ambassador Annenberg. Claudio Macor's biographical play, The Tailor-Made Man, and William J. Mann's biography Wisecracker: The LIfe and Times of William Haines, Hollywood's First Openly Gay Star provide much more detail.

Theatre 40, 241 S. Moreno Dr. in Beverly Hills. Ends Aug. 1. www.theatre40.org