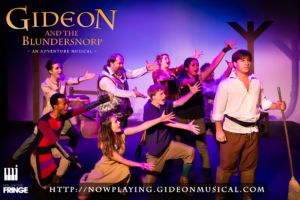 New Musicals Inc. Has returned to the Hollywood Fringe Festival with a new musical by Michael Gordon Shapiro, the writer, lyricist and composer for former Fringe hit, The Bully Problem. This time Shapiro eschews high school bullies and takes us to a fantasy world of knights, damsels in distress, dastardly villains, monsters and daring heroes in Gideon and The Blundersnorp.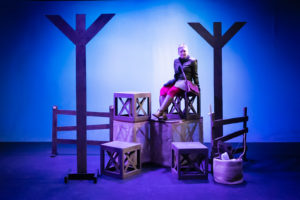 Ember Everett (all photos by Matt Kamimura)
The mood is set by the jolly Troubadour (Ember Everett) as she sings about the exciting adventure in store for the audience as she tells her story of orphan stableboy Gideon (Dan Amerman). Gideon dreams of being a Royal Cavalier (a knight in these realms). His dreams are dashed when a Cavalier (Jeremy Lee Staple) stops by the stable one day to have his saddle repaired. Gideon despairs when told that Cavaliers, their Squires, their Squires' Pages are all of noble birth. Gideon may have lost his aspirations, but he still has his trusty steed Aspiration and soon sets off on a rescue mission. A Royal Decree just announced that a hideous, killer Blundersnorp is headed for the kingdom and the Cavalier is unknowingly going right into its path.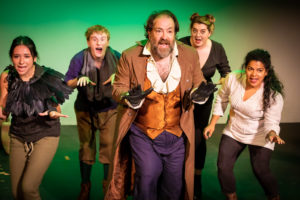 The merry band of brigands
Gideon sets out but once he is in the North Woods, he is abducted by a gang of bandits who plan to sell him for ransom. Then unfortunately Vicountess Alanna (Maggie Ek) is also abducted. Who will bring the bigger ransom because the gang only has room for one hostage at a time? While the gang goes off to deliberate, Gideon and Alanna decide to work together to escape. They do but end up leading the bandits a merry chase through the woods until they finally are free of them. But they end up confronting the Blundersnorp and trying to save the wounded Cavalier who in turns tries to convince them to flee for their lives. It all ends well and low born or high born, each can choose their own path in life.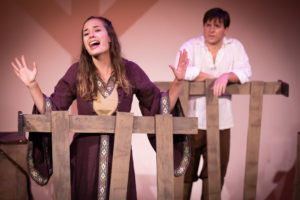 Maggie Ek and Dan Amerman
Shapiro has his tongue planted firmly in cheek as he spins his fun tale. His music is varied and his songs buzz along. Ek and Everett have really strong voices and do very well with the material. Matthew Toronto did a splendid job with his direction; well-paced and very inventive, especially in the scenes with the Blundersnorp. The hour flies by so quickly and enjoyably you want to stay and see more.

https://www.hollywoodfringe.org/projects/7121