(all photos by Joan Marcus)
Hamilton An American Musical has been a pop culture phenomenon since it premiered off-Broadway in February, 2015 and on Broadway in August of the same year. Its sold-out run had premium tickets selling for four figures. It received a record number 16 Tony nominations, winning 11 of them and also picked up a Pulitzer Prize. The National Tour of the musical played a lengthy run at Hollywood's Pantages Theatre in 2017. This reviewer had managed to miss seeing the show until last night. I must admit hip-hop and rap are nowhere near the top of my list of musical choices. They actually would not even be on any such list I would compose. I would prefer to listen to an evening of yodeling. That still applies this morning after spending nearly three hours in the company of the USA's founding fathers according to playwright, composer, lyricist Lin-Manuel Miranda.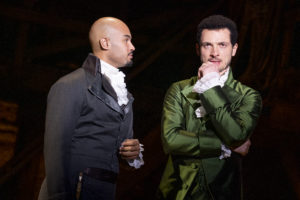 Nicholas Christopher and Jamael Westman as Burr and Hamilton
I must admit I found the show to be technically brilliant but emotionally void. It's a feast for the eyes if not the ears. I was surprised to discover the musical score is not all hip-hop. It is nearly evenly divided between that style and traditional-style showtunes. Unfortunately, the hip-hop/rap cadences did not translate to my ears and many, repeat many, important plot points were lost to this viewer. The more traditional songs were undercut by a seemingly unbalanced sound system, with the orchestra usually drowning out the voice of the singers and thereby the lyrics.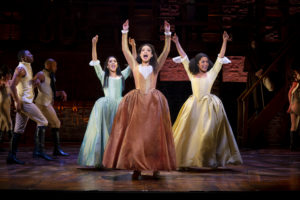 Joanna A. Jones, Sabrina Sloan and Taylor Iman Jones as the Schuyler Sisters
The story follows Hamilton (Jamael Westman) from his humble beginnings as an illegitimate inhabitant of the Caribbean Island of Nevis. He arrives in New York City in time for the beginning of the Revolutionary War and meets lifelong friends like Lafayette (Simon Longnight) and foes like Aaron Burr (Nicholas Christopher). He also meets his future wife Eliza (Joanna A. Jones) although he seems to pine for her sister Angelica (Sabrina Sloan) who seems to return his ardor. Longing for a battlefield commission, instead he becomes aide-de-camp to General Washington (Carvens Lissaint). The act ends with victory and a new form of government, with Hamilton as Secretary of the Treasury in President Washington's first cabinet. A lot more is crammed into Act Two including Hamilton's disputes with Jefferson and Madison, his writing of The Federalist Papers, his establishing a federal banking system, his affair with a married woman and the subsequent political scandal and the famous duel with Burr.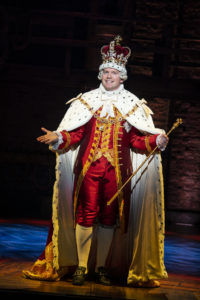 Rory O'Malley as King George
Miranda has not given his actors much subtext or even text to work with for that matter. There is no emotional connection to form with these characters. There is no real sense of urgency is winning the war or founding a new form of government. There is no depth of emotion created between the characters, there is no real perception of the animosity between Hamilton and Burr. The cast has good, strong voices but they seem more intent on keeping the beat of the lyrics than finding the heart of their meaning.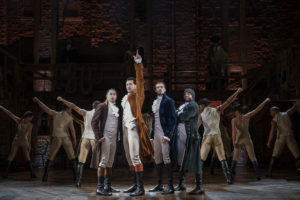 For this viewer, the staging was the key ingredient in the show. Thomas Kail's direction and Andy Blankenbuehler's choreography blended seamlessly together, giving the show a dazzling vision. Howell Binkley's lighting design was a star unto itself. David Korins's set, a two-level stark wooden design, gives no sense of time or place. The actors could just as easily be seen as playing fancy dress up in Paul Tazewell's utilitarian costumes.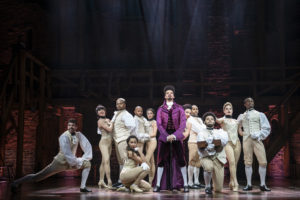 Simon Longnight as Thomas Jefferson
Miranda has described his musical as "America then, as told by America now." This is nowhere more evident than the Act Two opener, "What'd I Miss" where a purple bedecked Thomas Jefferson (Simon Longnight) looks and moves like the Artist Formerly Known as Prince. Miranda also keeps bringing back King George (Rory O'Malley) as comic relief even when he's not essential to the plot. Hamilton probably has millions of fans worldwide so my negative comments won't hurt the juggernaut. Even though Hamilton was never on my Bucket List I can now cross it off. Once and done for me, even though in my youth, in my love of American History, Alexander Hamilton was one of my favorite founding fathers, probably because his life was ended so early and abruptly.

https://www.broadwayinhollywood.com/events/detail/hamiltonla