The Hollywood Fringe Festival is back after taking off year 2020 like most public events due to Covid-19. It's two months removed from its usual June dates and its scaled down in size. There were usually 300 plus shows crammed into a very busy month. This year there are a lot less offerings and many of them besides being live are also being shown in Virtual Performance while others can only be seen virtually. For the live shows proof of Covid vaccination or a recent test result are required plus the wearing of a mask in the theatre. The shows seem to fall into the usual Fringe categories of the good, the bad, the ugly and the indifferent. Unfortunately, I began my 2021 Fringe-going with the bad—a biblical mishmash entitled Samson and the Burning Bush. It is one of those shows where the audience should be advised to leave their brain at the ticket window. How bad was it? Let me count the ways: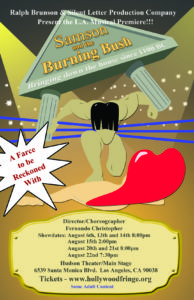 Ralph Brunson's play begins in present day Los Angeles with a very pregnant lounge singer Delilah (Sanda Munoz) and her gossipy gal pal Rachel (Caroline Hunter) fumbling over their lines as they watch Delilah's husband Samson (Zach Archuleta) and his drag queen partner DragGUYlah (Jejie Esguerra) be presented with the Bible Belt for wrestling. Their competition was the duo of diminutive David (Careliseo) and jolly giant Goliath (Mark Lopez) as well as the team of Moses (Austin Brady) and Ramses (Nick Muniz). It seems Judge Sam Sbalding has been driven from the bench to the wrestling ring over fears that his growing bald spot will make him a laughingstock. Growing his hair long, inventing a hair dye (a more important plot point than any other) and working with a drag partner have given Samson wrestling fame and enemies as well as a marriage on the rocks. When he falls asleep, he has a dream, or is it a nightmare, wherein Delilah cuts off his hair and his enemies blind and imprison him. While eating tons of Mexican food in his cell, he has a flashback to his courting days with the flame-haired Liona (Munoz). Then the flashback has a fast forward 20 years and then another three, I think. If you are still able to follow the plot, you are a better man than I, Gunga Din. Beth Israel Bodacious (Kylie Buckles-Hall), besides shaking her maracas and exciting the menfolk, at times appears as a between rounds wrestling babe, carrying signs with seemingly important info that is barely readable in the darkened scene changes. Brunson's attempt at biblical and/or topical humor are flatly written and even more flatly delivered by the cast. The laughs are few and far between. As for the show's tagline –"bringing down the house since 1100 BC"– the show ends with Samson, Delilah and the whole gang going shopping at the mall.
The nearly two hour run time comes without an intermission but with 17 songs, composed by Brunson. I would say his tunes sounded like the blandest elevator music but I wouldn't want to insult elevators. The tunes all sound alike, as played on keyboard by Brunson accompanied on bass by Freddy Uyehara. Even after David calls for a heavy rap number for the wrestlers, "Ready to Take Him Down," it sounds like every tune before and after it. The lyrics are simplistic and most songs don't move the plot along as much as they stop it dead in its tracks. Moses, who wears a cowboy hat and boots, gets a country western number, "I Mosey Along," I guess because he also carries a big staff. Ramses, an Eqyptian Pharoah, leads the cast in "Our Philly Ways," as the Phillys instruct the New Joyseyites in their worship of their god Dagon. After announcing "It's 1100 BC, Old Testament time" the cast sings about Ben Franklin, the Liberty Bell and the 4th of July.
Director Fernando Christopher's pace is glacial and scenes seem to drag on until the actors finally run out of words to say. His choreography is mostly step-in-time although Archuleta and Munoz ably execute a few Dancing With The Stars lifts in one of their duets. The voices are mediocre at best. Munoz is the only strong singer in the cast of 13. Her first solo, "Island Rendezvous," is the show's best song and would qualify as a showstopper if there only was a show to stop. Samson and the Burning Bush gives biblical musicals a bad rep.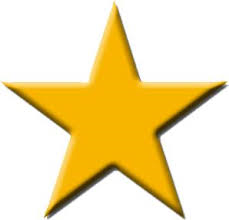 https://www.hollywoodfringe.org/projects/6602