For 50 years beginning in 1950, cartoonist Charles M. Schulz drew a daily comic strip entitled Peanuts which featured the mis-adventures of a young boy named Charlie Brown and his friends. There were 17,897 published strips during that time. Even though the majority would be drawn and published after 1967, there was still plenty of material for composer Clark Gesner and his cast to create the musical You're A Good Man, Charlie Brown. The show contained short little vignettes, sort of like the daily four-panel comic strip, as well as longer scenes reminiscent of the lengthier Sunday comics. Gesner composed a baker's dozen songs that covered such topics as Charlie Brown's inept attempts to fly a kite, win a baseball game, make an impression on his crush—the little red-haired girl, or gain incisive psychiatric insights from Dr. Lucy Van Pelt. Charlie Brown's pet beagle, the very human-like Snoopy, stole the show as he did the comic strip.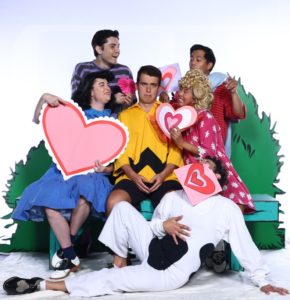 The cast with valentines (all photos by John Dlugolecki)
The original off-Broadway production ran 1,597 performances and closed in early 1971. A Broadway production was mounted in June of that year but only ran 32 performances. It has been a staple of amateur theatre groups for decades, with a rare professional production being staged now and then. The Sierra Madre Playhouse has currently mounted a production that is being performed in front of audiences seated in lawn chairs or on blankets in the city's Memorial Park. Christian Lebano directed, Sean Paxton served as musical director while Palmer Davis provided the choreography. Hamilton Davis Weaver proves a solid center as the woeful Charlie Brown, just trying to survive another day of childhood. Piano playing Schroder (Luke Sweeney) is his best friend while Marcha Kia plays his over-bearing younger sister, Sally. His eternal nemesis is bully and want-to-be-queen Lucy (Mary Zastrow) who also finds time to belittle her thumb-sucking, baby blanket obsessed younger brother, Linus (Melvin Biteng). All the performers get their moments to sparkle and shine and they make the charming evening pass with warmth and fuzzy hugs. The group highlight comes as Act One ends with a "Book Report" of Peter Rabbit. As in the comic strip, this show is stolen by Snoopy, played with exuberant elan by Alexander Mashikian. Whether howling at the moon, fighting aerial battles with The Red Baron or hunting for rabbits, Mashikian knows how to let the dogs out. His paean to "Suppertime" is the evening's showstopper.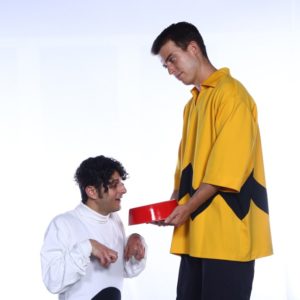 Alexander Mashikian and Hamilton Davis Weaver
Unfortunately, in 1999 director Michael Mayer expanded the material and the smallness of the show by mounting a revisal on Broadway which lasted only 149 performances but is now the version being produced. His major change was replacing the original character of Patty with Sally Brown, Charlie's younger sister. As written and played, this character just comes off as a very annoying younger version of Lucy. The result is a lot more belligerent yelling and the loss of the quirky allure the original Patty character added. There was an attempt to make big production numbers out of some of the solo songs but truly a chorus of dancers only proves a hinderance to the song's signature theme. Only Linus would indulge in a love song to his blanket and only Snoopy would really dance about celebrating a full bowl of food. Andrew Lippa provided two new songs to augment the score. "Beethoven Day" gives Schroder a chance to take center stage. However, it does give cause for another big production number. "My New Philosophy" is a cute tune and did contribute to original Sally Kristin Chenoweth's winning a Tony Award.

Sierra Madre Playhouse in Memorial Park, 222 W. Sierra Madre Blvd. in Sierra Madre. Ends Sept. 12. www.sierramadreplayhouse.org