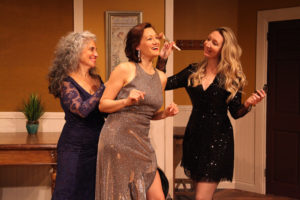 Wendy Hammers, Marie Broderick and Nicola Victoria Buck (photos by Michele Young)
Three women writers gather to bemoan their careers and the vagaries of trying to be creative and true to themselves in Marilyn Anderson's cynical movie biz comedy As Good As Gold, currently receiving its World Premiere at Theatre 40 in Beverly Hills. Maggie (Marie Broderick) has written a much admired screenplay about a saintly woman that no studio will touch. The sexy Karly (Nicola Victoria Buck) has written some TV episodes but finds more action in her sex life than in front of the computer. The older, married Elaine is stuck in a rut churning out paint-by-numbers scripts for Lifetime films. Male-oriented violent action and super hero scripts seem to be all the movie execs are interested in greenlighting. So the trio decides to work together and take a long weekend to brainstorm ideas and write a sure-fire action blockbuster. They create Luke (Chance Denman), a disgraced ex-policeman whose career was trashed when he had an affair with a nun who was really a Russian spy just hiding out in a convent. Kill Me Until I Die is soon the hottest script in town; every agency, every studio bidding for the writer. Only problem is the women were smart enough to realize their names on the script would not sell it, so they created a male front, Adam Gold. Now they have to produce him to take the meetings.

Nicola Victoria Buck, Marie Broderick, Wendy Hammers and Landon Beatty
After a casting notice on Craig's List fails to find a suitable male, the women go shoe shopping. Besides the shoes, they pick up shy former Nebraska farm boy Jeffrey (Landon Beatty) who is new to Hollywood and selling shoes on commission. Soon he is not only taking meetings with studio heads and directors, he's having wardrobe fittings along with golf and tennis lessons, with the women footing the bills. The script sells for a million plus and before it goes into production, a sequel is ordered. The women are delighted with the money and their success, but they realize they have created their own Frankenstein monster in Jeffrey/Adam, who is reveling in all the attention and looking to date Taylor Swift as well as get a bigger share of the profits. The women decide to exact revenge since they are actually the ones tasked with writing the sequel. They turn Luke from a stud action hero to a pill-popping, sobbing vulnerable loser. The plan backfires when the execs love it and soon every older male action star from Arnold to Liam wants to play Luke's father in the sequel.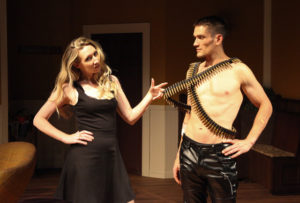 Nicola Victoria Buck and Chance Denham
Tech was Theatre 40's usual high quality–Jeff G. Rack's set design, Michele Young's costumes and Brandon Baruch's lighting. Ann Hearn Tobolowsky has directed her strong cast through the absurdity that is Hollywood Today. The women (Broderick, Buck and Hammers) all perfectly inhabit their roles, bringing out all the little quirks the writer has given the characters to make them different from each other. Beatty mines comic gold as he quickly morphs from aw-shucks farm boy to egotistical, shallow money grubber. Will Bradley also adds to the comic quotient as a Hollywood gossip monger and displays a fine ear for impersonations with his Arnold, Liam etc. Anderson's writing really shines in the scenes where the women create the character of Luke and put him through the scenarios they conjure for him. Denman easily brings the action hero to vibrant life. However, Anderson's play might be better structured as a long one-act. Coming in at around two hours the play has a lot of excess that could easily be trimmed. The first act is a good set up but the second act loses steam and gets repetitious after about 20 minutes. Not every character needs a Hollywood Ending to their story and the women's private demons cut into the play's humorous tone. At times the plot and one-liners are too insular for general theatre audiences. It may play in Hollywood but will it play in Peoria? Most folks know movie people are loony but do they need all that detail? A good dramaturge could edit and shape this script to a tighter and even funnier one.

www.theatre40.org