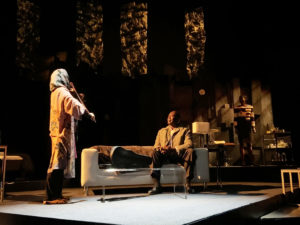 Mehrnaz Mohammadi, Oscar Best and Sydney A. Mason (Photo by Donny Jackson)
Political plays are difficult creatures. The playwright usually overwrites, expounding their favorite position on the issues and neglecting to offer a substantive counterpoint. The result is often a one-sided diatribe as in the works of Dario Fo and Vaclac Havel that this reviewer has seen. I much prefer the more balanced work of a Wencelas Square by Larry Shue or just about anything by David Hare. Embedding the politics in a family drama make it more relatable, more visceral. That is what playwright Wendy Graf has done in Closely Related Keys, being given a solid production by Long Beach's International City Theatre.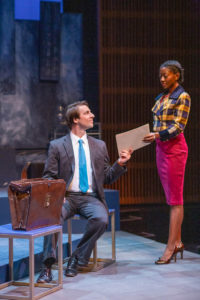 Nick Molari, Sydney A. Mason (Photo by Andrew Hofstetter)
Graf has revised her play from its initial run at Hollywood's Lounge Theatre in 2014. ICT was scheduled to present it last year before Covid 19 forced theatrical venues to shut down. Playing in the aftermath of the recent events in Afghanistan, the play is more relevant than ever as it deals with the results of America's involvement in Iraq. Julia (Sydney A. Mason) is an African-American corporate lawyer, working her way up in her prestigious New York City firm while living in a well-appointed East Side apartment (great set design by Stephanie Kerley Schwartz).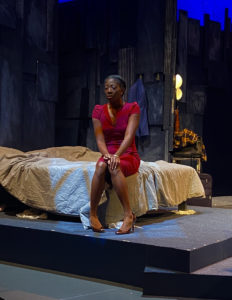 Sydney A. Mason (Photo by Donny Jackson)
Julia is carrying on an under-the-covers affair with Ron (Nick Molari), a fellow lawyer at her firm, soon to be her boss as she is assigned to be his second chair in an upcoming, high-profile trial. Out of the blue, Julia receives a visit from her estranged father, Charles (Oscar Best), who lives in Virginia. He casually informs Julia she has a sister, a half-sister, the result of his affair with an Iraqi woman he met while working as a chemist for the US government there in the late 1980s. His divorce from Julia's mother was not final at the time and he was unable to marry his love and bring her and his new daughter back to the US when he was shipped out of Iraq. He thought them both dead until Neyla (Mehrnaz Mohammadi) recently found him on Facebook. A violinist, she is coming to NYC to audition for Julliard. Charles expects Julia to house her newfound sister.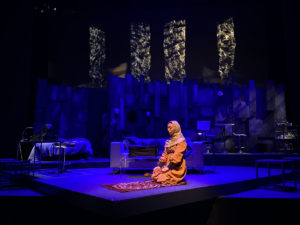 Mehrnaz Mohammadi (Photo by Donny Jackson)
Julia objects, thinking Charles is being played by the girl to get into the USA. Perhaps she is even a terrorist. Julia has reasons to be paranoid for she lost her mother in the North Tower on 9/11, a fact she still has not totally come to grips with, even as the country approaches the 10th anniversary of that tragic event. She and Neyla have a prickly relationship. The young girl was raised as a Muslim and practices her religion, even though she saw her mother brutally murdered by fanatics because of her association with Americans. Neyla is hiding things from Julia and Charles, her motives not as innocent as she first attests. She is in constant contact with the mysterious Tariq (Adrian Mohamed Tafesh). All the truths are finally revealed and this fractured family learns to bond, even if tentatively.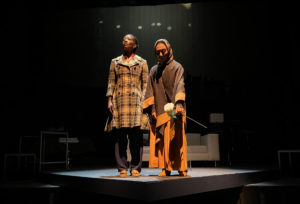 Sydney A. Mason and Mehrnaz Mohammadi (Photo by Donny Jackson)
Saundra McClain has effectively built the suspense and the emotional bonds, guiding her cast skillfully through the 100-minuted, no intermission play. Schwartz's scenic designs functions as several different locations besides the main setting of Julia's apartment. Donny Jackson has added some moody lighting and Kim DeShaza has provided Julia with a very stylish wardrobe. The acting company is uniformly capable but the stage and the play are dominated by Mason's Julia. Graf has written a play with something to think about as well as given us memorable characters to spend some time with.

https://ictlongbeach.org/