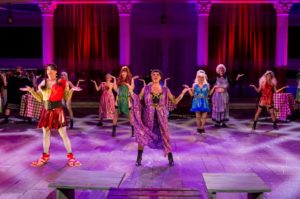 (all photos by Craig Schwartz)
Lysistrata, an anti-war comedy by Greek playwright Aristophanes had its premiere in Athens in 411 B.C. Lizastrata, a musical adaptation of the classic by Matt Walker for his Troubadour Theater, premiered at the Barbara and Lawrence Fleischman Theater at the Getty Villa Museum in Pacific Palisades on September 9, 2021. It was a boisterous, bawdy, rowdy, phallic heavy evening of slapstick and song, enjoyed by all.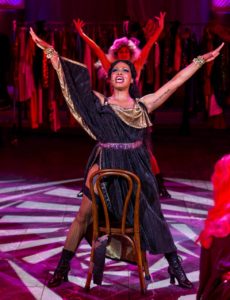 Cloie Wyatt Taylor as Lizastrata
As in the original, Lizastrata (Cloie Wyatt Taylor) calls a meeting of women from the various neighboring cities, all at war with each other, in an attempt to get their men to lay down their arms and end the non-stop fighting. Assembled are Lampito (Matt Walker), Calonice (L.T. Martinez), Myrrhine (Rick Battala), Ojai Amy (Suzanne Jolie), Karen of Tustin (Amanda Pajer), Valley Deb (Jess Coffman), Sophia of the Golden Girls (Michael Faulkner) and Madge the Librarian (Beth Kennedy). Lizastrata proposes that the women withhold sex from their men until they end their wars. The war between the vaginas and the penises takes off from there. There is a merry mixture of gender bending as males play females complete with swaying boobs while females play males with engorged phalluses. The costumes by Halei Parker are a true star in their own right and certainly Joe Seely deserves special mention as "Additional Phallus Designer". Bo Tindell's lighting really heightens the mood.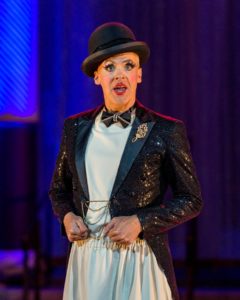 Matt Walker as the Emcee
The show is supposed to incorporate the music of Liza Minnelli into the plot as previous Troubie outings like Abbamemnon, A Christmas Carol King and The Princh Who Stole Christmas infused the music of Abba, Carol King and Prince into those tales. It may be nitpicking but the score is more Kander/Ebb than pure Liza. Walker begins the show dressed similar to the Emcee in Cabaret as he welcomes us back to the theatre after Covid and leads a kick line of Working Thespians. Another of the Emcee's songs is also used later and a couple of songs from Kander/Ebbs's Chicago score are also used. It's true Liza did perform for a few weeks in the original Broadway production in 1975 but she replaced Gwen Verdon in the cast, not Chita Rivera whose numbers are used here. Anyway, the cast is in fine voice and the numbers are well sung and staged (Walker directed and Coffman, Martinez and Jolie are credited as Movement Consultants). Music Director Ryan Whyman leads the lively four-piece on-stage band.

Rick Batalla and Beth Kennedy
The free-wheeling script gives the cast a chance to shine and really display their comedy/improv chops as well as other body parts. They seem to be enjoying themselves immensely performing in front of a live audience again after 20 months of isolation. And the audience appreciated their efforts and enjoyed laughing and groaning (at outrageous puns and shenanigans) in the Getty amphitheater. Bring on the Greeks! And the Troubies!

www.getty.edu/LIZA