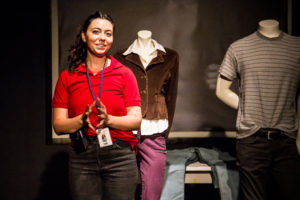 Noelle Filippone (all photos by Elvira Barjau)
In the World Premiere of Have A Good One at Hollywood's Dorie Theatre, the time is 1999 and the place is the Penderleigh & Ashe store (subbing in for Abercrombie & Fitch) in a Midwest Mall. Perky but bossy department manager Gretchen (Noelle Filippone) is opening the store with the help of floor worker Oscar (Adrian Gamez). Senior Greeter Connor (Tanner Stine) arrives, promptly removes his shirt and starts to ice his nipples which Gretchen does not approve of. New employee Joey (Tom Plumley) arrives and is quickly taken under the opposing wings of both motherly Gretchen and big bro Connor.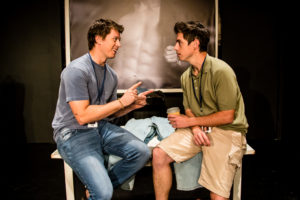 Tanner Stine, Tom Plumley
Nothing with much substance happens during the long one-act (less than 90 minutes). Most of the character development and revelations take place in individual monologues between scenes and in the "happily ever after wrap-up" just before the curtain call. Gretchen is driven to be the best and make an impression on corporate while dreaming of being an exec at the Chicago headquarters. Oscar is an over-extended single father, juggling three jobs and dreaming of law school. Connor is a cocky rich boy who plans to use his body to find success as a catalog model and as an actor on The WB (or in porn) like his role model James Van Der Beek. Joey is out in the real world for the first time since chemo for cancer at age 10. His deeply religious parents have kept him sheltered and home schooled. He is tasting freedom—a car, college and a job—as well as discovering his new lean body is erasing his self-conscious chubby past. A tequila shot party after closing one night changes their lives.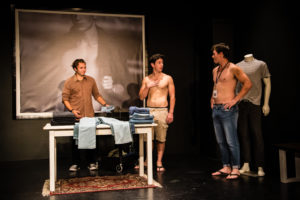 Adrian Gamez, Tom Plumley, Tanner Stine
Co-writers Stan Zimmerman and Christian McLaughlin write zippy dialogue that zips along at a fast pace under Zimmerman's direction. The young, hip audience at the performance I viewed hooted and laughed at most everything. The cast inhabited their characters well with Plumley being a real joy to watch. His Joey is like a larva emerging from its cocoon and becoming a fierce and confident butterfly in a world of moths.

https://www.brownpapertickets.com/event/5225289