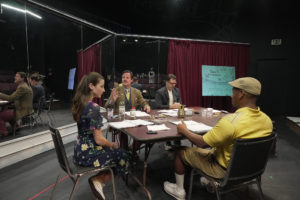 Brittney Bertier, Kevin Ashworth, Thomas Piper and Cory Washington (all photos by Jenny Graham)
Lucas Hnath is a young American playwright whose work (The Christians, Red Speedo, A Doll's House, Part 2) I have found interesting and worth experiencing. One of his earliest works, 2013's A Public Reading of an Unproduced Screenplay About the Death of Walt Disney, is receiving its West Coast Premiere by Working Barn Productions at the Odyssey Theatre in West Los Angeles. It almost takes as long to type the play's title as it does to witness the play which comes in at just under 70 minutes. The play actually is a reading of a screenplay, staged by director Peter Richards with four actors seated around a table, seemingly reading from their scripts, turning the pages in unison.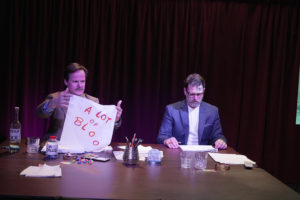 Kevin Ashworth and Thomas Piper
The screenplay is supposedly written by Walt Disney (Kevin Ashworth) to make sure his legacy survives him. Besides himself, the characters include his brother Roy (Thomas Piper), his daughter Diane (Brittney Bertier) and his son-in-law Ron (Cory Washington). The press release refers to the piece as a "highly meta screenplay-within-a-play" but it comes across as mostly a table reading. The director is quoted as saying "Hnath has taken a lot of liberties here. People should not assume that everything is true." But most of it is, if a bit more theatrical. There is Walt's desire to be known for more than his cartoons and theme park. There is the controversy over the lemmings' suicide plunge in his Oscar-winning documentary White Wilderness. There is the backlash that resulted in Walt throwing an Oscar at his brother's head. (Piper sports a bandage on his forehead throughout the reading.) There is Walt's obsession to build a perfect city in Florida instead of just another theme park. There is his fascination with cryogenics and having his head frozen after his death. There is his regiment of pills and vodka and the chain smoking that eventually led to his death from lung cancer at age 65. And there is a plethora of bloody handkerchiefs to back up that last fact.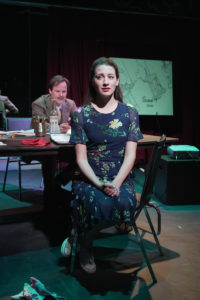 Kevin Ashworth and Brittney Bertier
The result comes across as more of a writing exercise for Hnath than a piece of theatre. There is not much director Richards or his cast can do besides execute the reading as written. The piece is mostly bland fact-telling with some occasional humor added. Bertier is given a breakout moment when she angrily tells her father she will never name her son Walt because of all the bad memories that name evokes in her. It's one very human moment in a very bland outing.


www.onstage411.com/disney