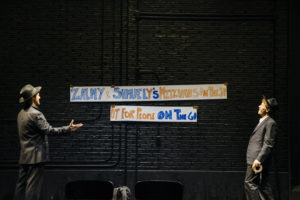 Ilan Eskenazi and Ben Hirschhorn (all photos by Jeff Lorch)
The Oxford Dictionary defines trayf as "food not satisfying the requirements of Jewish law". Lindsay Joelle's play Trayf, currently receiving its West Coast Premiere at The Geffen Playhouse, deals with a lot more than food, but provides plenty of food for thought. Days later this writer is still mulling over the characters and situations in Joelle's quick-moving 80-minute one act work, efficiently directed by Maggie Burrows.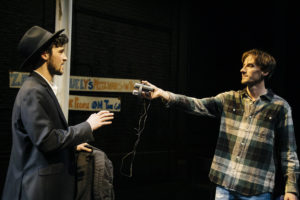 Ilan Eskenazi and Garrett Young
Zalmy (Ilan Eskenazi) and Shmuel (Ben Hirschhorn) are both 18 and life-long friends as well as members of a Hasidic Jewish community in 1991 Brooklyn. They venture out most nights in their "Mitzvah Tank" to spread the word of their rebbe to Jewish neighborhoods and occasionally to the more secular wilds of Manhattan. Schmuel drives and provides the klezmer mix tapes and recordings of the rebbe for them to listen to while Zalmy provides the snacks. The two boys are never without their yarmulkes and their joyous fervor for life and religion. Their upbringing has left them stunted socially. They are not allowed to touch a woman until they are married, and their dating rituals are usually one and done—one date is supposed to prodvide a yes or no as to their marriage prospects. Zalmy seems to be a little more knowledgeable because of his older married brothers but Shmuel really has no idea what the marriage night holds in store for him.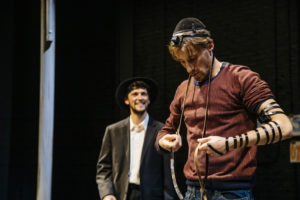 Ilan Eskenazi and Garrett Young
Zalmy is a lot more secular than he should be. He often sneaks out to roller skate to rock and roll music at a nearby rink. On one of their outings, the boys run into Jonathan (Garrett Young), a young man who is mourning the recent loss of his father and the discovery that he is of Jewish ancestry. Jonathan fascinates Zalmy because he works in a record store. He begins to tutor him in all things Jewish and soon has him expertly wearing a tefillin during morning prayers. Jonathan gives Zalmy the gift of a mix tape and a Walkman to listen with. The two young men soon seem to be on different trajectories.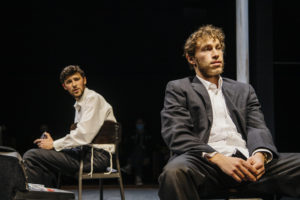 Ilan Eskenazi and Ben Hirschhorn
Shmuel does not approve since Jonathan's mother was not Jewish and therefore inherently, he is not. Shmuel is blindsided when Leah (Louisa Jacobson), Jonathan's girlfriend, confronts him about Jonathan's growing estrangement from her and his previous life. As Jonathan becomes more orthodox, quitting his relationship with Leah as well as his record store job, Zalmy becomes more secular, always with his Walkman and mix tape. Poor Schmuel is caught in between.

Ben Hirschhorn and Louisa Jacobson
Joelle has written a thoughtful play with plenty of humor to leaven the dogma. Burrows has expertly guided her talented quartet of actors, each seemingly born to play these characters. It's a simply staged work in the small confines of the smaller Audrey Skirball Kenis Theater at The Geffen but scenic designer Tim Macabee and lighting designer Lap Chi Chu pull out all the stops in the play's final moments to create a stunning image that leaves the audience smiling. Trayf is a well delivered mitzvah. Mazel tov to all involved.


https://www.geffenplayhouse.org/shows/trayf/