In 1879, Norwegian playwright Henrik Ibsen shook up the theatrical world with his "feminist" play A Doll's House. In 2017, up and coming young American playwright Lucas Hnath wrote a sequel, A Doll's House, Part 2, that picked up the action 15 years later. In the original, Ibsen had Nora, a young woman who was unhappy and unfulfilled in her eight-year marriage to a banker, decide to leave her husband Torvald and their three children. She emphatically slammed the door on her way out. That's basically all the info you need if you have never seen the Ibsen classic. Hnath gives you everything else you need to enjoy his fanciful tangent.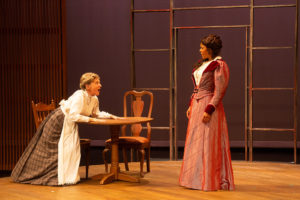 Eileen T'Kaye and Jennifer Shelton (all photos by Kayte Deioma)
Nora (an incandescent Jennifer Shelton), a successful writer of books, has returned to her home to clear up a little matter that is causing her some legal problems. She just assumed her husband would have filed for divorce when he realized she was serious and not returning, but he never did. She has been signing contracts, living as an unwed woman and doing other acts that are not legal for a married woman. In turn of the century Norway, it is much easier for a man to obtain a divorce than it is for a woman. She hopes to enlist the aid of her former nanny Anne Marie (Eileen T'Kaye) to convince Torvald to proceed with the divorce. But Anne Marie, who stayed in Torvald's home to raise the three children Nora abandoned, has a lot of anger issues to work out. T'Kaye relishes her role with vigor, spite and a string of curses.
Anne Marie won't help but she encourages Nora to talk to her now grown daughter Emmy (Nicolette Ellis), the apple of her father's eye, and enlist her help. Emmy, a cool and calculating performance by Ellis, is more than willing to help her mother because she already is planning her future with a young banker and wants everything her mother abhors. A quick and quiet divorce, or better yet a faked death certificate, would be just the ticket to Emmy's happy ending.
Torvald (Scott Roberts) is at first flabbergasted that Nora has returned. But he can't quite grasp the situation and soon departs. After an afternoon of purchasing and reading Nora's best-selling book, he returns for an epic confrontation. He has found that the infamous book is all about his marriage and he does not come off well at all. The duo finally has what is probably their first honest conversation with grievances aired and forgiveness a possibility.
Trevor Bishop-Gillespie has directed with a sure hand and there is not a wasted moment in the 90-minute production. The cast is stellar with Shelton dominating the stage as she never leaves it for a moment.


https://ictlongbeach.org/