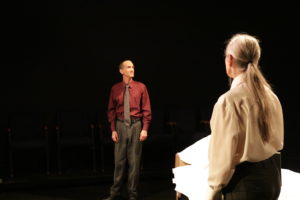 Gregory Blair and Sarah Fleming (all photos by Kodi Jackman)
Foolish Production Co and director Mikey Mulhearn took on an enormous challenge when they decided to mount playwright Tony Kushner's monumental Pulitzer and Tony Award-winning two-part epic Angels in America. They chose the 60-seat Broadwater Black Box Theatre on Santa Monica Blvd., with its theatre-in-the-square configuration, and damn if they did not succeed! The work is divided into two three-hour-plus plays—Millenium Approaches and Perestroika. The lengthy playing time passes by effortlessly under Mulhearn's skilled and precise direction. The only set piece is a hospital bed and there are minimal props and costumes. The eight-member cast inhabit their roles and you soon don't notice or mind that they are sitting on the floor rather than in a chair and the other production limitations.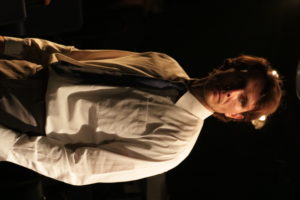 Dane Larsen
The biggest plus in this bare bones' presentation is that Kushner's brilliant script is truly front and center and after 30-plus years it has not lost a bit of its bite and fury or its humor. Mulhearn and his cast really make every word, every emotion hit its target. Gregory Blair dominates the early scenes as Roy Cohn, the notorious closeted gay Republican power broker lawyer and demagogue, trained in his anti-Communist fervor at the knee of Senator Joseph McCarthy. Blair doesn't rant and shout as much as his predecessors in this role have. Instead, he shows the craftiness and cunning that made Cohn the monster that he was.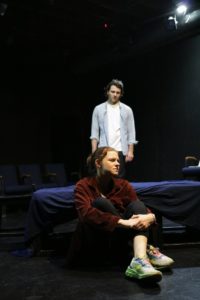 Emma Maltby and Dane Larsen
Dane Larsen as Joe Pitt is very convincing as the Mormon law clerk Cohn hopes to promote and have under his thumb. Joe's marriage is on the rocks because his latent homosexual urges are becoming harder to ignore. As his agoraphobic wife Harper, Emma Maltby shows the full spectrum of her talent–funny and sad, often at the same moment. Director Mulhearn himself plays the role of Prior Walter, a former drag queen who becomes more militant the more his illness attacks him.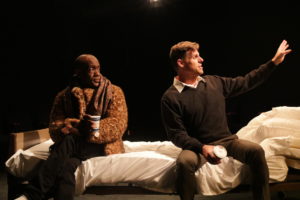 Michael Matts and Nathan Frizzell
Nathan Frizzell gives a nuanced performance as Louis, a gay data processor in Joe's law office, who flees from his lover as the first signs of the dreaded KS lesions appear on Prior's body. Michael Matts provides strong support as Belize, another former drag queen and ex-lover of Prior's who finds himself as night nurse on the AIDS ward; confronting and befriending the despicable Cohn. Jahel Caldera plays several smaller roles and makes an indelible impression as a fearsome and fierce angel. Sarah Fleming also plays several roles including Joe's mother Hannah as well as the ghost of Ethel Rosenberg. Hannah is the character that evolves the most in Kushner's script, from strict Mormon Mom to caregiver to Prior and supportive mother figure to others in need of a kind word and gesture.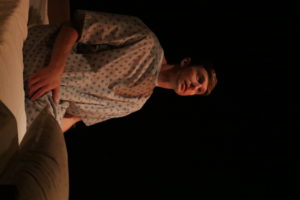 Mikey Mulhearn
The script is a marvel in how it examines human interaction, whether it be the marital problems of a Mormon couple adrift in Brooklyn or a gay couple adrift in the early years of the AIDS epidemic. Kushner subtitled his work "A Gay Fantasia on National Themes." The fantasy elements are present in Harper's valium-induced hallucinations that have her traveling to Antartica to view the hole in the ozone while also commiserating with Prior, the abandoned lover of the man who now sleeps with her husband. Prior is infused with his own fantasies in which his ancestors herald him a prophet and announce the coming of an angel. Cohn has his own visions of his long-deceased nemesis and bête noir, Ethel Rosenberg, a woman he personally and illegally campaigned to receive the death penalty. Everything comes together beautifully and fantasy and reality blend seamlessly because of Kushner's beautiful words and the craft of the director and his cast.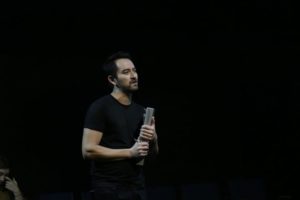 Jahel Caldera
Ray Jones has provided the wonderful lighting that makes the special moments truly special while Stephanie Yackovesty has designed the spectacular sound effects. Celina Surniak was the Fight Director for the brutal breakup of Louis and Joe that, in the confines of this intimate space, is really in your face. If you have never seen Angels in America before, don't miss this rare chance. If you have seen it before, don't miss this chance to see it up close and even more personal.


https://www.foolishproductionco.org/angels-in-america