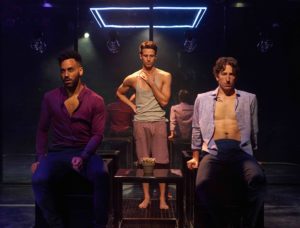 James Hayden Rodriguez, Nathan Mohebbi and Noah Bridgestock (all photos by Mati Gelman)
Have you ever been in a threesome? Or attempted a triad relationship? That is the gist of S. Asher Gelman's three-hander one-act Afterglow, at Hollywood's Hudson Mainstage thru July 24. Josh (Noah Bridgestock) is a New York theatre actor married to Alex (James Hayden Rodriguez) a chemist. After nine years together, they are successful enough to afford a kick-ass apartment and are contemplating having a child through surrogacy. As the action opens, Josh and Alex are amid some hot sex play with their latest pickup, Darius (Nathan Mohebbi). Three ways are allowed in their open relationship, even one-on-ones, just no sleepovers. So it is into the shower for Darius. The threesome gets nude and wet a lot in the following 90 minutes. It is safe to say Ann Beyersdorfer's scenic design is the real star of the play. The modular set pieces and mats easily transform into a variety of locations. Jamie Roderick's lighting also helps set the mood.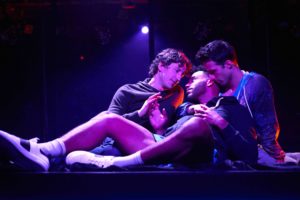 Noah Bridgestock, James Hayden Rodriguez and Nathan Mohebbi
Josh becomes obsessed with Darius and the two engage in a lot of sex, with Alex's blessing at first. But the more sex with Darius, the less sex with Alex and soon there is trouble in paradise. Even more so when Alex finds out Josh has been supporting Darius (who must be the poorest masseur in Manhattan) to keep him in New York and in his life. Will the threesome survive, or will even the twosome survive?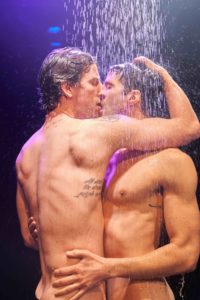 Noah Bridgestock and Nathan Mohebbi
Gelman directs his own work and keeps the action flowing smoothly from scene to scene. The nudity might seem gratuitous at first, but given the context of gay relationships, the sex scenes are much more realistic and natural than the sex scenes in the classic Sex and the City where the main ladies kept their bra and panties on during their numerous sex scenes.


www.afterglowtheplay.com