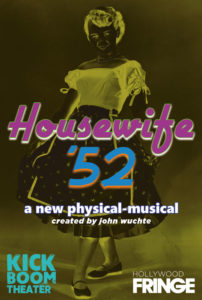 Writer/director/choreographer/percussionist John Wuchte and Kick Boom Theater had a big success at the 2019 Hollywood Fringe Festival with Scarlett Fever, a physical movement piece that looked behind the scenes at the search for an actress to play Scarlett O'Hara in the classic film Gone With the Wind. They are back this year with a look at the lives of wives in suburbia, Housewife '52. The time is "a day in 1952", the place is "a train ride away from NYC". It sounds so simple as life was in that last year of the Truman administration, yet Wuchte has layered so much subtext into the simplest of ideas. His four housewives find themselves buried in a heap of blinding white laundry, mostly the sparkling white shirts, complete with collar stays, of their husbands. The wives literally rise from their buried state as the 75-minute show begins. The Housewives sing "Everyday Coming Back to Me" about the monotony of their daily chores—washing, starching, ironing, creasing. Their Husbands get to leave their cul-de-sac (French for dead end we are told), take the train into the city where they get to interact with the world, after eyeing the female passengers. After their day at the office, they come home to their worn-out wives who still manage to smile and massage their feet.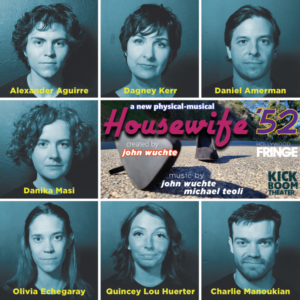 The wives are fenced into their roles as the song titles clearly illustrate– "Fold the Laundry," "You Should Taste Her Pot Roast," "Almonds and Brie," "Underneath this Apron," and "Roll the Cuff". Harold (Daniel Amerman) and Judy (Dagney Kerr) are a long-married couple while Arthur (Alexander Aguirre) and Nancy (Quincey Lou Huerter) have only been married six months. Dorothy's (Danika Masi) Raymond (Charlie Manoukian) has a wandering eye, lately it's set its sights on newly widowed Helen (Olivia Echegaray). There is not much plot but that doesn't mean these characters don't have a story to tell. Dorothy is at the edge of her tolerance of Raymond's philandering. Nancy is showing an independent streak as she plans to attend night school, leaving Arthur's dinner in a warm oven. The strain on Judy and Harold's marriage rises to the surface at the party for his latest promotion.
The cast is perfection in vocal prowess, dance moves and characterization. Wuchte announced at the show's conclusion that the piece had been in the works for years and there were about 100 hours of rehearsal required. It's easy to see that it all paid off. To paraphrase Velma Kelly, "they do it in perfect unison". Housewife '52 is sure to be among the top shows of Fringe, probably of the year. Don't miss it!


https://www.hollywoodfringe.org/projects/6841