Playwright Ellen Thompson started having serious health problems in 2014 with chronic pain in her knees, nausea and vomiting. Chronic fatigue and anxiety followed. Six doctors in over 10 months could not diagnose her symptoms. Finally in late 2015 she was diagnosed with late-stage Lyme disease. After treatments and a relapse, in 2021 she finally achieved 85% remission. She wrote, produced and directed an award-winning comedic music video "Pay Attention (For Lyme Disease Prevention)". Now she has written the book and lyrics for her first musical (with music by Hughie Stone Fish), Lyme Disease: The Musical, which is premiering at the Hollywood Fringe Festival.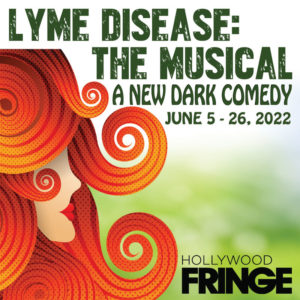 It's obvious that the material means a great deal to Thompson whose lead character, teacher Cassie (Taylor Murphy-Sinclair), is clearly a fictionalized self-portrait. Her heart and passion are in the right place. She needs an editor like Maxwell Perkins, who shaped and sharpened the work of such authors as Hemmingway, Fitzgerald and Thomas Wolfe. Basically, any good editor should be able to sharpen the focus, separate the wheat from the chaff. Billed as a "dark comedy" the show never sets a clear tone. There are a lot of short, choppy scenes that are extraneous and could easily be jettisoned. There are some truly black comedy moments, mostly in doctors' offices. Then there are times when you feel you are in a lecture hall being warned about the dos and don'ts of Lyme Disease, as if you were a first-year medical student. Then there is this tangential plot of two different times of Spirochetes falling in love in Cassie's bloodstream, sort of like Romeo and Juliet which Thompson parodies quite well for a few laughs. But too much time is spent with these creatures. Having The Tick (a hilariously comic portrayal by Todd Risenmay whose accent at times unfortunately blunts his delivery) act as narrator for the tale is an inspired decision.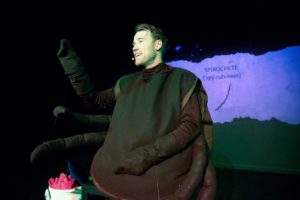 Todd Risenmay
Director Robert Glen Decker has done a skillful job of making all these disparate scenes work as well as possible in this good first draft. That's what Fringe is all about—-getting a show up on its feet, giving it a good look, and seeing what works and what doesn't. Another plus for this production is Thompson's clever costume design for The Tick, the Spirochetes and Cassie's faithful and loving cat Socks (Brendan McCay).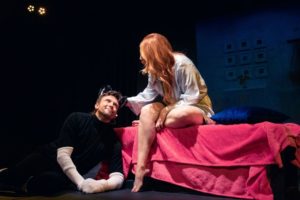 Brendan McCay and Taylor Murphy-Sinclair
There are only nine songs (and several reprises) in this 90-minute no intermission show, and they are a mixed bag. The clear audience favorite was "Sometimes You Have to Eat Shit" which left this viewer cold. I preferred the lively "Lyme Rage Rag" and the ballad "My Future's Not Bright". The cast of six contains strong voices and, more songs, less lectures would make for a better show. Shanta' Robinson provided the energetic choreography for the several hip-hoppy tunes.


https://www.hollywoodfringe.org/projects/5715